Welcome to Skardu, a very beautiful place in Pakistan. Skardu is a great spot for adventurers and people who love nature. In this article, we will talk about some of the most beautiful places in Skardu that you must visit. These places to visit have amazing views, a rich culture, and an interesting history.
Skardu is surrounded by big mountains called the Karakoram mountain range. It's famous for having some of the world's highest peaks, like K2, which is the second-tallest mountain on Earth. But Skardu is not only for people who like climbing mountains. It has many things to do for all kinds of travelers.
Come with us on this journey as we discover the amazing landscapes, cultural treasures, and natural beauty that make Skardu a must-visit place. Skardu is a unique and charming destination that will stay in your heart forever, especially if you love adventure and the outdoors.
Best Places to Visit in Skardu
Khaplu Valley
Katpana Cold Dessert
Sheosar Lake
Basho Valley
Satpara Lake
Deosai National Park
Upper Kachura Lake
Shigar Valley
Skardu Fort
Manthoka Waterfall
Khaplu Valley
First on our list is the Khaplu Valley, and it's a truly beautiful place. The road to get there is winding and has lots of trees that make the view even better. No camera can capture the amazing beauty of the place. What's even more exciting is the car ride you can take to explore the area.
This valley is very old and used to be an important place for the Yabgo Dynasty. It's right at the foot of the Karakoram mountains. There's also a fort in the valley that's now a museum, and tourists really love visiting it. 
Katpana Cold Dessert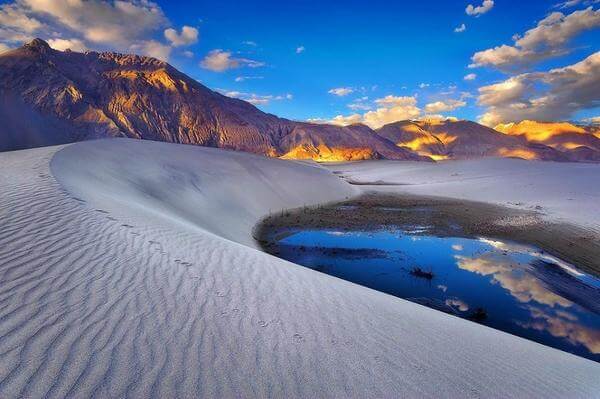 Another place to visit in Skardu is the Katpana Cold Desert as it is quite close to Skardu, only 12 kilometers away, along Airport Road. This desert has big sand dunes, and in the winter, these dunes can even be covered in snow. It's a beautiful sight to see.
Sheosar Lake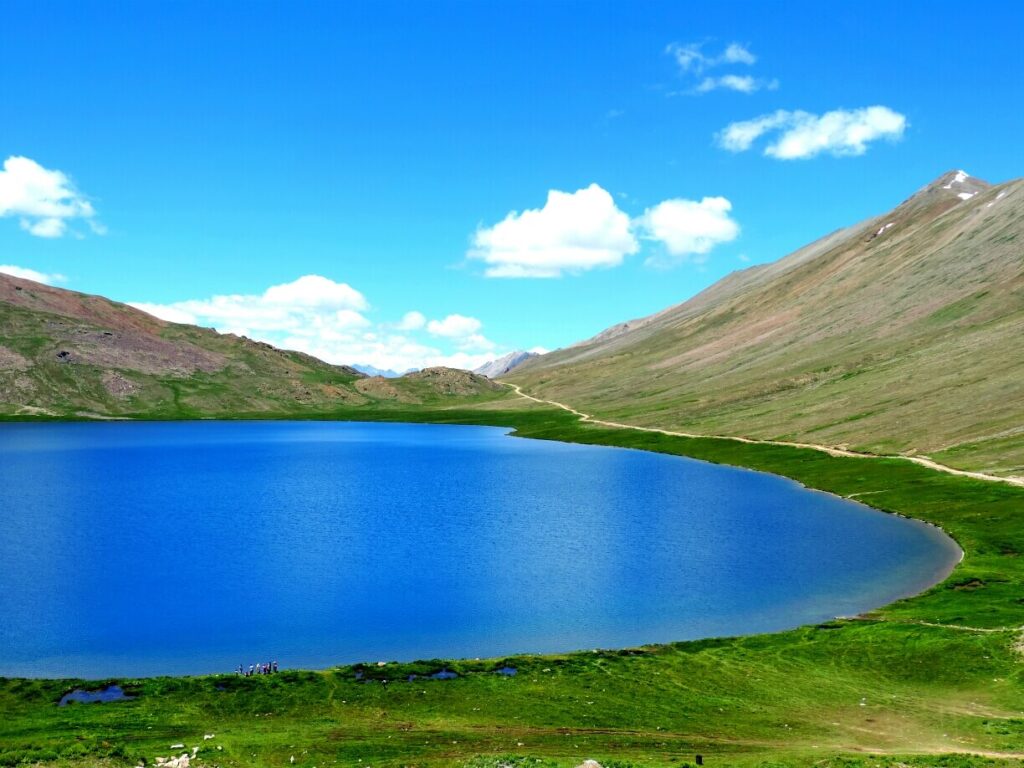 When you're exploring the wide open plains of Deosai, you'll come across a stunning lake called Sheosar Lake nestled among the plateaus. This lake is the highest of its kind in the world, sitting at a remarkable altitude of 13,589 feet above sea level. The green fields of Deosai wrap around the deep blue water, and in the background, you'll see the towering Nanga Parbat, creating a truly enchanting view.
Each season brings its own special beauty to the lake. In the winter, the lake freezes over, creating a serene icy landscape. In the summer, it transforms into a colorful wonderland, captivating tourists with its ever-changing hues. Sheosar Lake is a place of wonder and beauty, no matter when you visit.
Basho Valley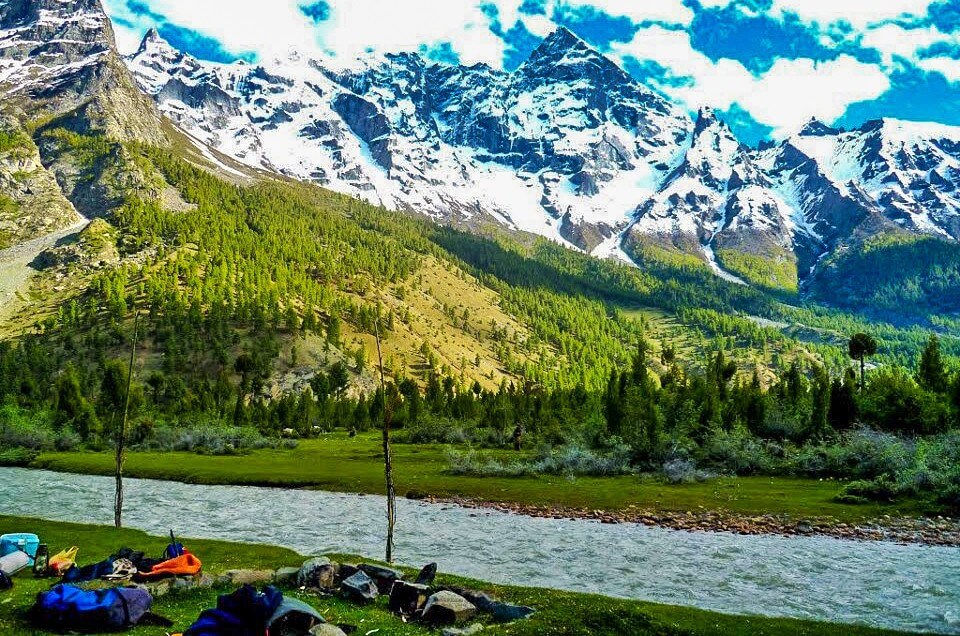 Next, we have the Basho Valley in Skardu, which is a must-visit. It's about a 2-hour drive from the main city of Skardu, and you can easily get there by jeep. What's great about this place is that even in the hot summer, the valley has a pleasant and cool atmosphere.
This valley is perfect for camping and hiking because it has wide green fields and streams. At night, it becomes even more amazing as the weather cools down, and you can see thousands of stars in the sky above. It's a place you shouldn't miss when you visit Skardu.
Satpara Lake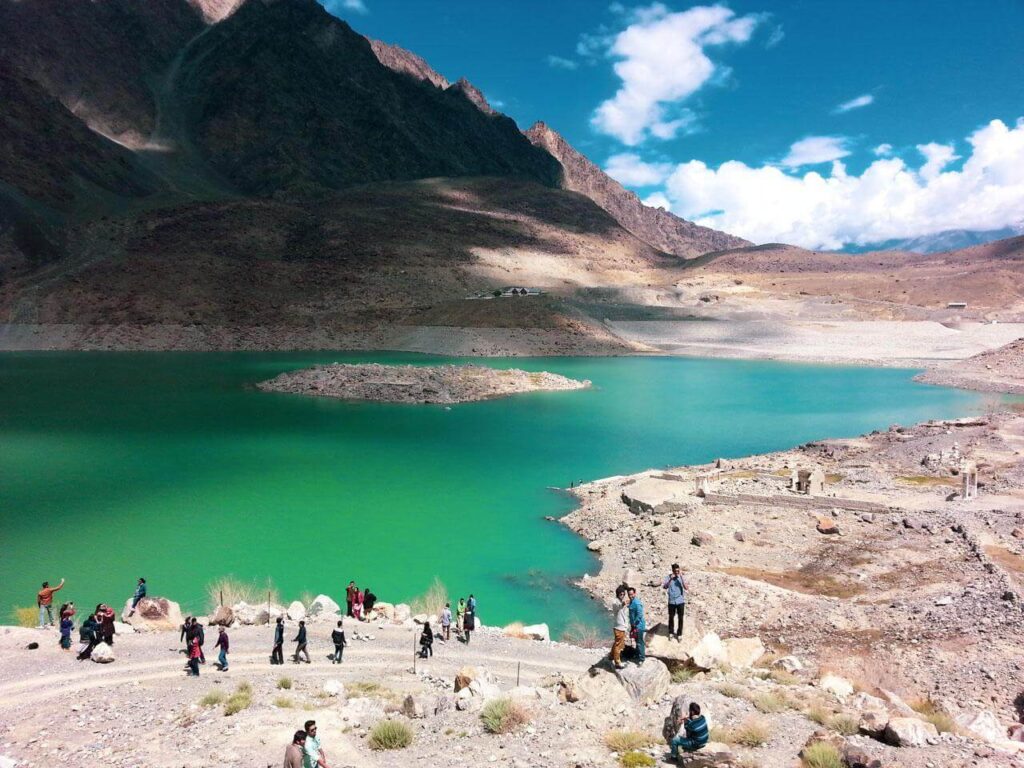 Satpara Lake is a stunning natural lake found just a short distance from Skardu in Gilgit-Baltistan, Pakistan. It's situated along the route to the Deosai and plays a vital role in supplying water to the Skardu Valley. The lake is nourished by the Satpara Stream, making it a source of freshwater for the region.
This lake is not only important but also incredibly beautiful, offering picturesque and scenic views that are truly captivating to behold. It's a place where you can immerse yourself in the natural beauty of the area and enjoy the serene surroundings.
Deosai National Park

It is one of the most famous places in Skardu. A Skardu tour wouldn't be complete without a visit to the expansive Deosai plains. Known as the "Land of Giants," Deosai National Park is home to the majestic brown bears. When tourists come here, they experience absolute tranquility because the plains are incredibly silent, so quiet that you can hear your own heartbeat.
Furthermore, Deosai is a place where you can discover rare types of plants and animals, making it a haven for wildlife enthusiasts. Additionally, witnessing the sunrise and sunset in this breathtaking landscape is something you must experience at least once in your lifetime.
Upper Kachura Lake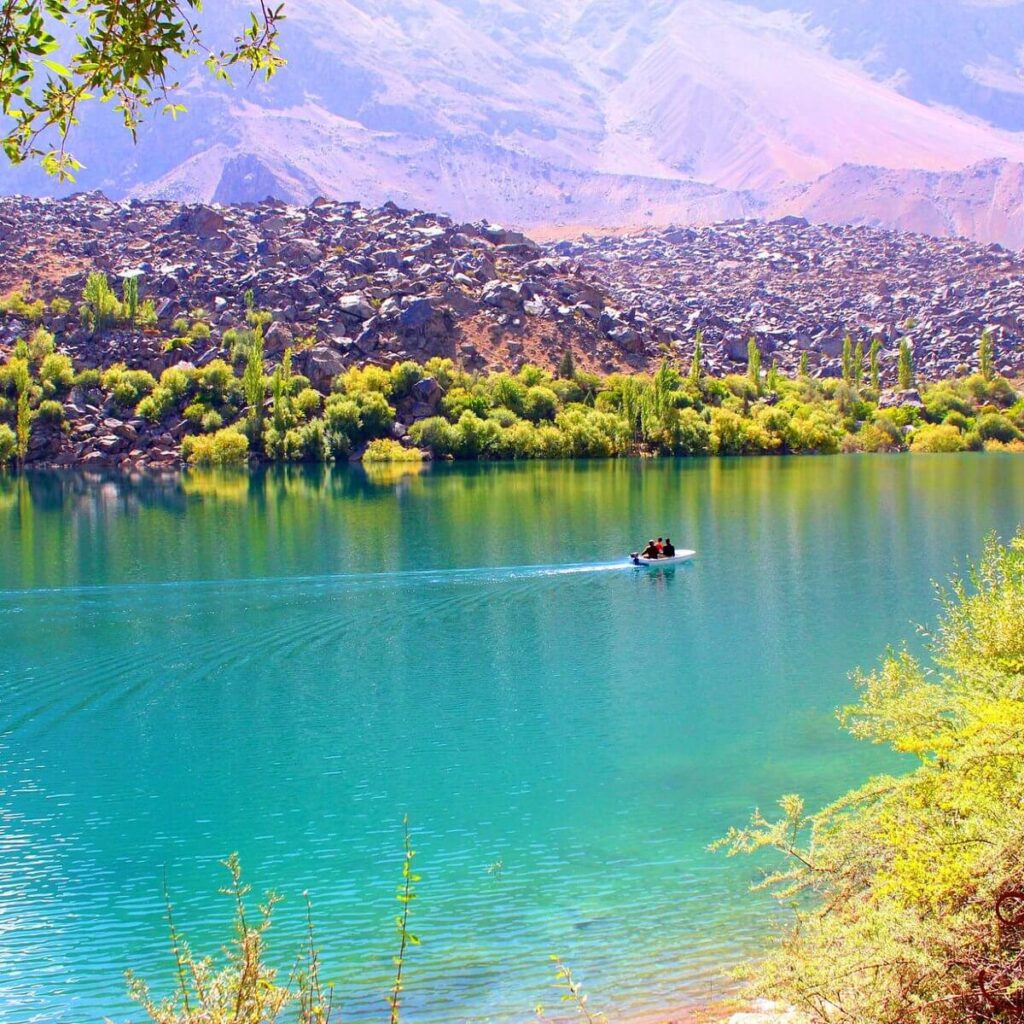 Upper Kachura Lake is a remarkable spot situated just 2 kilometers from Kachura or Shangrila Lake. To reach Upper Kachura Lake, it's advisable to use a jeep, although you can drive a car there too, but the road isn't in great condition for regular cars. Jeep rides are a better option for visiting the picturesque Upper Kachura Lake.
If you are thinking about fun things to do in Skardu then this place is renowned for its fantastic boating opportunities and offers a serene and scenic environment for visitors to enjoy.
Shigar Valley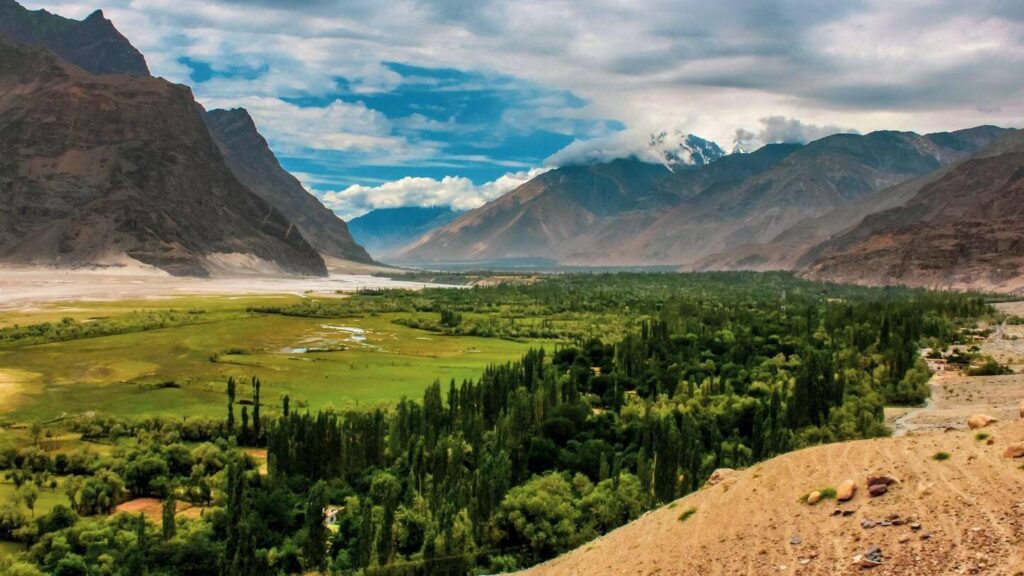 Shigar Valley is not too far from Skardu city, about 51 kilometers away. It's considered one of the top places to visit in Skardu. In Shigar, there are lots of interesting places to see, like Shigar Fort, Embarric Mosque, Blind Lake, Sarfarnga Desert, Gram Chashma, and many more beautiful spots waiting for you to explore.
Skardu Fort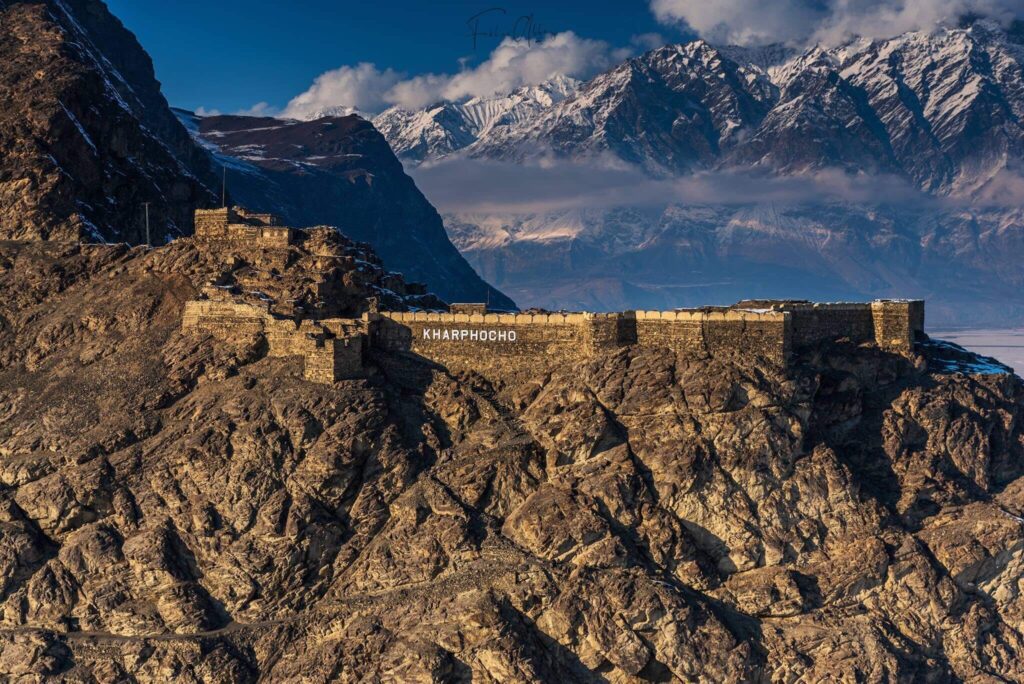 While you're discovering the wonders of Skardu Valley, don't miss out on an intriguing mystery—the Kharphocho or Skardu Fort. This ancient fort has a history that goes all the way back to the 8th century. It's a truly remarkable piece of architecture that shares similarities with Tibetan architectural styles.
Inside the fort, you'll find an old mosque that dates back to the 16th century, marking the arrival of Islam to the region. The Skardu Fort is a monumental structure that captures the hearts of tourists due to its rich history and captivating art. It's a place where you can unravel the mysteries of the past while enjoying its beauty and historical significance.
Manthoka Waterfall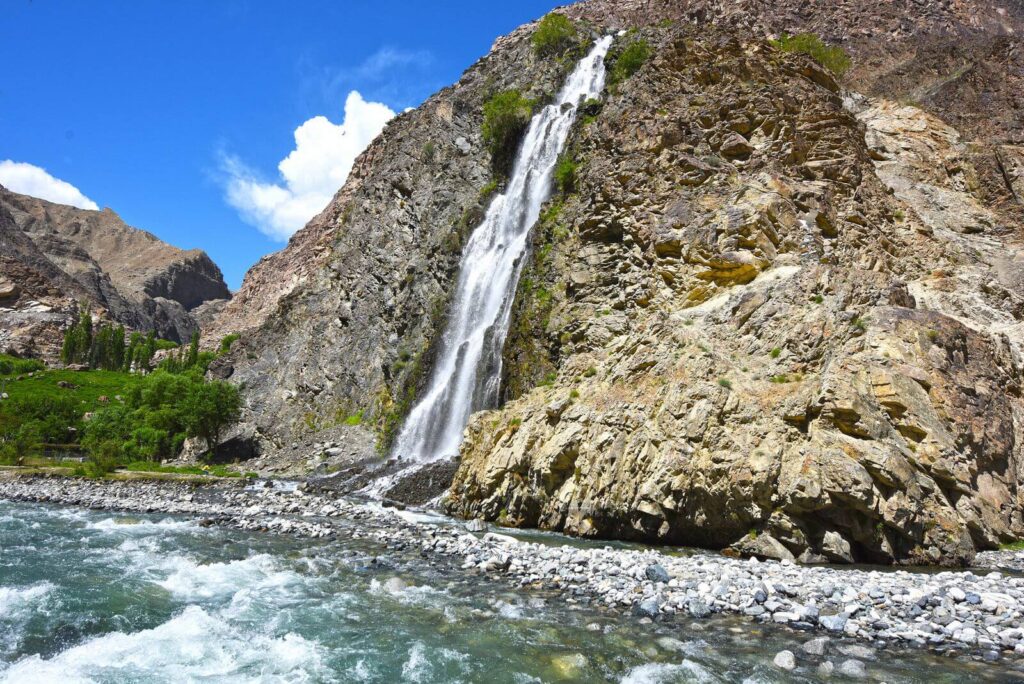 The Manthoka Waterfall is a stunning waterfall found in the Kharmang Valley, Skardu, Gilgit-Baltistan, which is in the very northern part of Pakistan. This waterfall is quite impressive, standing at about 180 feet tall, and it's situated around 80 kilometers (50 miles) away from Skardu. The view of this waterfall is an absolute must-see for all tourists, offering a memorable and beautiful sight to behold. It is one of Skardu's most beautiful places.