Are you tired of trying the average Shawarmas in Karachi? Well, you have landed on the perfect article because after trying each and every place, we have made a list of the best shawarma in Karachi. Shawarma is a Middle Eastern dish that has evolved into the most popular comfort food for most Pakistanis.
This country's adoration for shawarma necessitates the formation of high-quality shawarma restaurants. Most shawarma joints in Karachi claim to be the best, but when it comes to your favorite food, you can't trust everyone.
We've compiled a list of places that are both cheap and reliable.
Shawarma is comfort food for the soul. It has a perfect balance of meat and sauces on top of vegetables. Shawarma is simple to make at home, but the good old Sharwama is found at fast food restaurants, where the meat is skewered and served fresh and hot.
So, if you want to try one, take a look at this list of places in Karachi that serve this Lebanese delicacy.
List of Best Shawarmas in Karachi
Here is the list of the top 8 scrumpalicious Shawarma places in Karachi, Mark it on your list and get the best shawarma on the go:
| | | |
| --- | --- | --- |
| Best Shawarmas in Karachi | Contact Number | Address |
| Al Arab Shawarma Expert | 0300 2581719 | Gulistan-e-Johar |
| Paramount Fine Foods | 0307 0009647 | D.H.A Phase 7 |
| Beirut Shawarma | 0332 8881373 | Nagan Chowrangi |
| Rowtisserie | 021 111769769 | D.H.A Phase 5 |
| Monty Shawarma | 0334 3775060 | Sindhi Muslim CHS |
| Pita | 021 38899889 | Bukhari Commercial |
| MR. Arab | 0321 6712722 | Amil Colony |
| Kabsa Express | 0335 5227522 | Gulistan-e-Johar |
Al Arab Shawarma Expert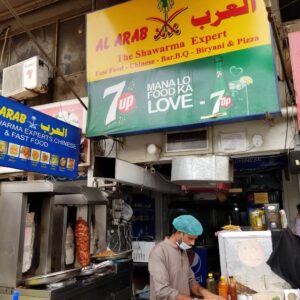 Looking for a place with a Middle Eastern touch and local flavors? Al Arab Shawarma stands out with its authentic Arabic shawarma that comes with hummus and raita, setting it apart from the rest.
The highlight is their Cheesy Potatoes – perfectly fried with just the right balance of sauces and cheese.
While seating might be a bit crowded due to its location, the flavorful experience is worth it. With consistently great taste, Al Arab delivers on its specialties like Flavored Fries and Shawarma Platters.
Specialties at Al Arab Shawarma include Cheesy Potatoes, Flavored Fries, Shawarma Platter
Menu: Check out the complete Al Arab Shawarma Expert menu here.
Address: Gulistan-e-Johar, Near continental bakery, Decent Towers, Block 15, Karachi
Contact Number: 0300 2581719
Paramount Fine Foods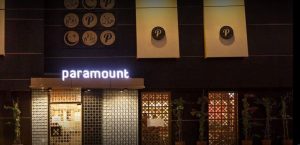 When it comes to your favorite snack, Paramount Fine Foods knows how to win your heart. Every bite of shawarma you eat here will take you to a new level of contentment. If you don't believe me, I recommend you go try it out as soon as possible.
Not only is the shawarma filling delicious, but the freshness and softness of the bread melt in your mouth. There is no reason to avoid trying out Paramount Fine Foods, which is an affordable shawarma restaurant in Karachi.
The restaurant provides dine-in, takeout, and delivery options. The restaurant's ambiance is very inviting and welcoming. This setting complements the tasty food perfectly. If you live in Karachi, you must visit this restaurant, or if you ever visit Karachi, this place should be on your list to visit.
Menu: Check out the complete Paramount Fine Foods menu here.
Address: Shop No. 5, Plot No. 34-C Khayaban-e-Rahat, D.H.A Phase Vii, Karachi
Contact Number: 0307 0009647
Beirut Shawarma
One of the important things to consider while judging shawarma is the quality of its bread because the taste of other ingredients greatly depends on the softness and freshness of the bread.
At Beirut, the pita bread is freshly baked with inner munchies in it, and the imported spices in which chicken is marinated can freshen up your taste buds in an instant. The french fries and unique sauces make it different and scrumpalicious from all other shawarma.
The added tomatoes blend with all other ingredients and enhance the taste of this shawarma. Beirut Shawarma Station and Fast Food will provide you with an unforgettable dining experience.
You can eat your favorite shawarmas at the restaurant or take them home. The best thing about shawarmas is that they are just as tasty on the go as they are at home.
Menu: Check out the complete Beirut Shawarma menu here.
Address: Nagan Chowrangi, Iqbal Plaza, Karachi
Contact Number: 0332 8881373
Rowtisserie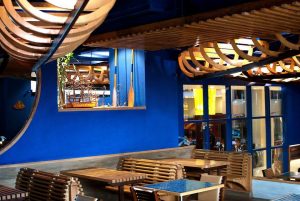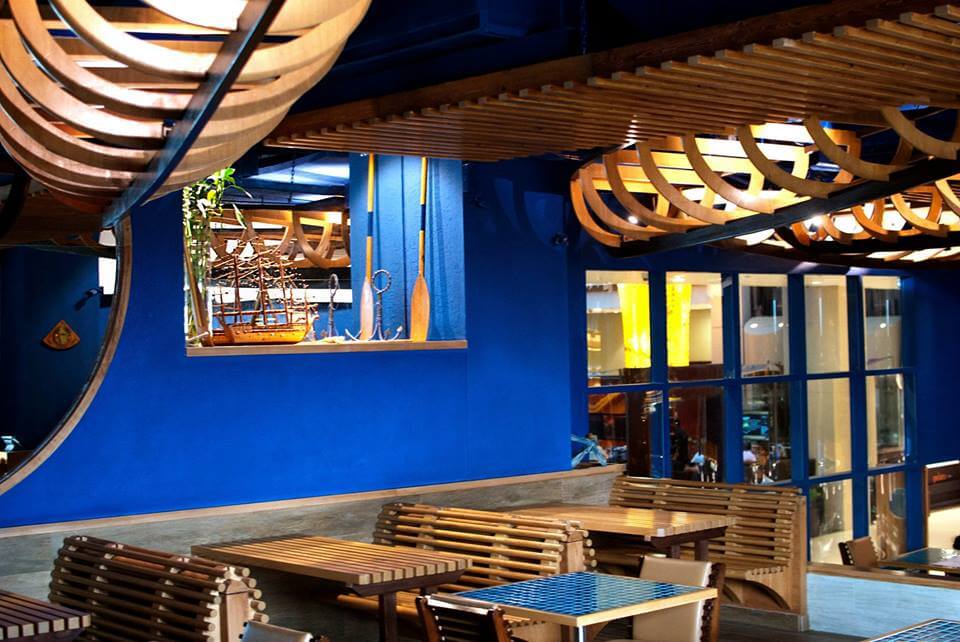 Although the shawarma is a little bit overpriced as compared to the other mentioned places, However, the place is perfect if you want to treat yourself and your tummy for a day. The Shawarma at Rowtisserie is known and famous for its unique garlicky taste; the aroma of the shawarma is irresistible and tempting.
The quality of meat, veggies, and spices justifies the price, and you will find yourself visiting Rowtisserie pretty often to enjoy the scrumpalicious shawarma. Rowtisserie's ambiance is ideal for a romantic evening meal. The staff is friendly and will make sure you are well served. If you're looking for a great place to eat with your family, Rowtisserie is the place to go.
Menu: Check out the complete Rowtisserie menu here.
Address: Khayaban-e-Shamsheer, Stadium Commercial Area Defence Phase V, Karachi.
Contact Number: 021 111769769
Monty Shawarma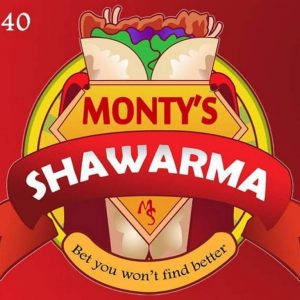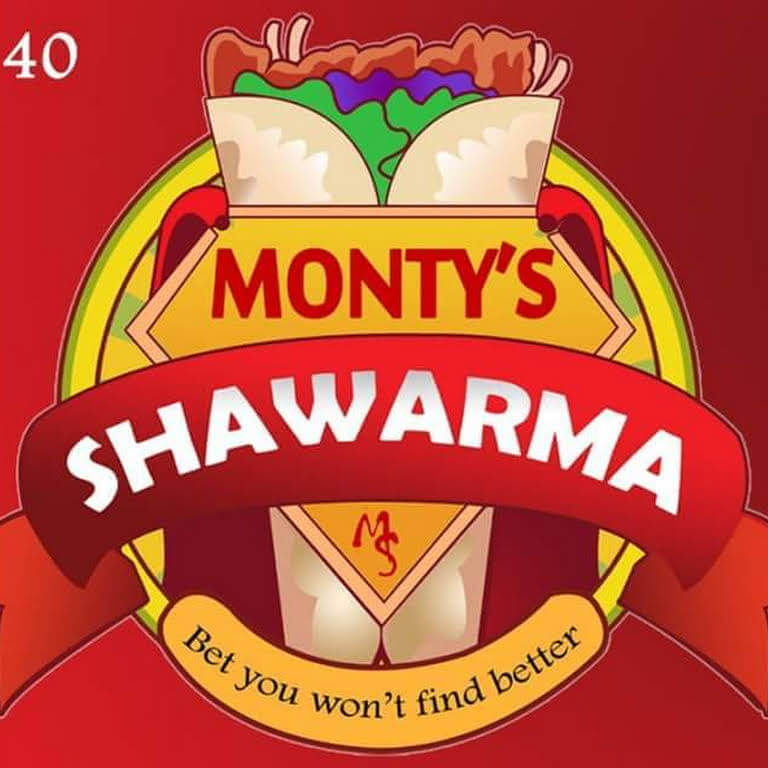 Visit Monty Shawarma for the most delicious Shawarma wraps and platters. If you are someone who is not a fan of shawarma then this place is capable enough to change your mind about this delicacy. You will find various flavors and options here; the serving and taste of each item are appetizing and unique in their own way.
The prices are also very affordable and reasonable; hence, a perfect place to give treats to your friends and colleagues. No matter what you choose from the menu you won't regret your choice.
Menu: Check out the complete Monty Shawarma menu here.
Address: Shahrah-e-Faisal, Besides TRG Head Office Building،, Block B Sindhi Muslim CHS, Karachi.
Contact Number: 0334 3775060
PITA – The Shawarma Revolution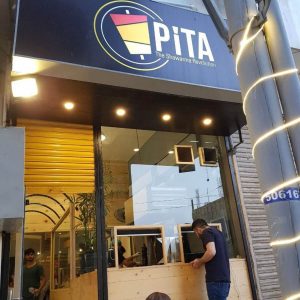 If you are looking for authentic shawarma then this place is ideal for you as they provide the most authentic Lebanese Shawarma there. However, the taste was too strong for some people; therefore, they have added new flavors to the menu so that everyone can enjoy their shawarma.
At Pita, you will be served shawarma with a rich garlic sauce and lightly spiced meat. The ambiance is very calm, and the staff is also very cooperative. Take your friends and family there today and enjoy the most original Shawarmas in town.
Menu: Check out the complete PITA menu here.
Address: Bukhari Commercial, Lane 12, Karachi (more locations across Karachi)
Contact Number: 021 38899889
Mr. Arab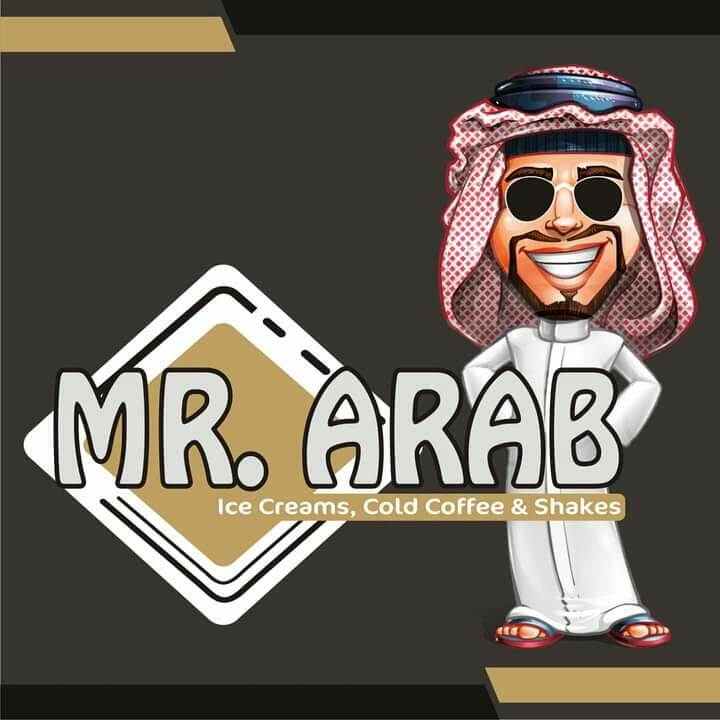 Another amazing option is to try to get the best shawarma in the town. You should definitely try the Shawarma on Coal and Arabic Shawarma to get the taste of those appetizing spices.
You should take your friends there, and if someone would like to order something other than shawarma, they will find plenty of options there. The staff is very cooperative and guides you through the menu very well.
Menu: Check out the complete Mr. Arab menu here.
Address: Jamshed Rd, Jamshed Quarter, Amil Colony, Karachi.
Contact Number: 0321 6712722
Kabsa Express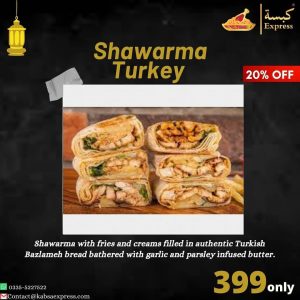 Kabsa Express is the place where you can find all the authentic Arabic dishes and cuisines. They have one of the best shawarma, and you will surely visit them again if you try their shawarma once.
The shawarma platter is one of a kind, and one serving is enough to fill your tummy and satisfy your cravings. The staff of Kabsa Express is very polite, and they answer all your queries regarding the menu very precisely.
Menu: Check out the complete Kabsa Express menu here.
Address: Block 16 Gulistan-e-Johar, Karachi.
Contact Number: 0335 5227522
Let's Have a Shawarma Party!
Order the best shawarmas in town, that too at a very reasonable price. Call your friends and family and have a little shawarma party. Also, Let us know in the comments below about the place where you had your best shawarma.