Due to the prevailing weather conditions in Karachi, the Federal Public Service Commission (FPSC) has decided to postpone the exams for General Recruitment (GR) in Karachi.
The FPSC released an official notice stating that they will be announcing the new timetable of GR exams in due time. There will be no interruption in service for exams in other cities.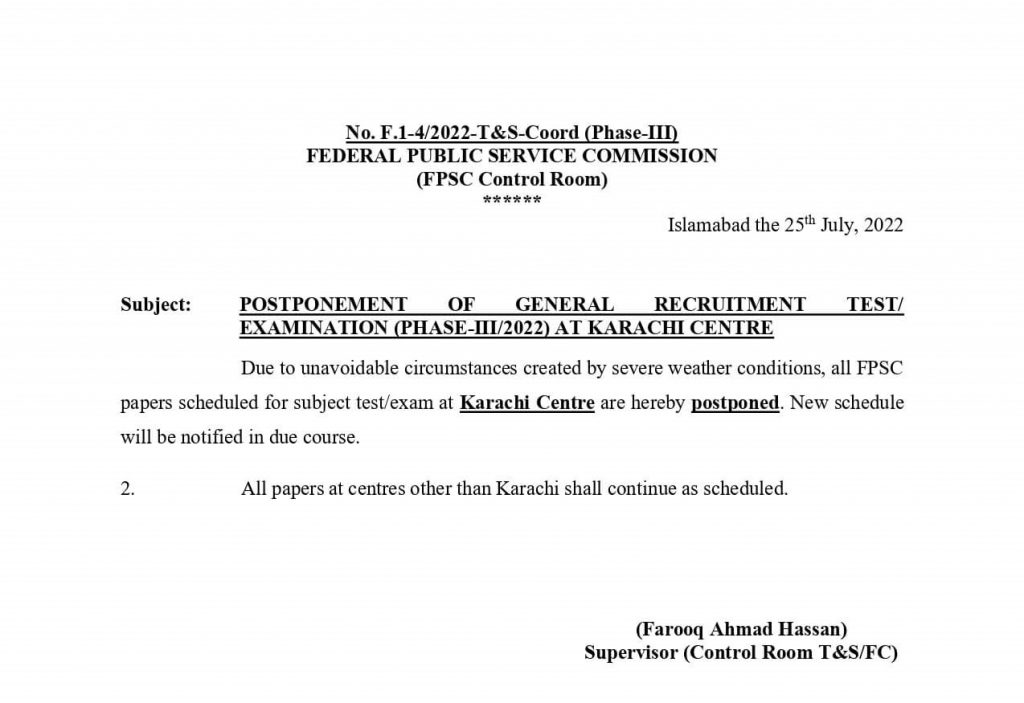 Karachi has been ravaged by monsoon rains that have lashed the city for days at a time. The torrential rains have also caused flooding in the city, which has hampered daily life in the provincial capital. Every element of life has been adversely affected, from school activities to plane travel, because of the bad weather.
After the PMD issued a flood warning for Karachi and Hyderabad, the Sindh government declared Monday, July 25, a public holiday for the two cities. Murtaza Wahab, the city's administrator, announced the decision and asked residents to refrain from unnecessary travel in light of the forecasted on-going rainfall.
In response to the official declaration, Karachi University (KU) and Jinnah Sindh Medical University (JSMU) also postponed the exams scheduled for July 25. University officials expect to release the updated schedule in the near future for both institutions.
In addition, bad weather forced the cancellation or delay of roughly 18 scheduled domestic and international flights from Karachi's Jinnah International Airport on Sunday. There were four PIA flights that were reportedly delayed, according to the Civil Aviation Authority (CAA).