Prime Minister Youth Program has arranged a talent hunt hockey trial which is organised by the Directorate of Sports Balochistan (UET) in alliance with HEC and the Prime minister office Islamabad.
The Prime Minister Youth Program was started in 2013 and the main aim of the program was to involve the most precious asset of Pakistan that is the youth of Pakistan to engage, educate, and empower them in the most productive manner.
Islamabad Hockey Talent Hunt 2022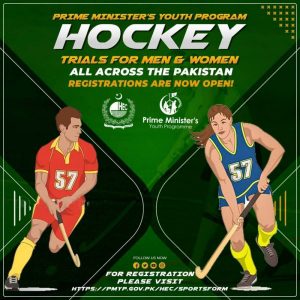 The Hockey talent hunt will start tomorrow and all the players in the region can visit the location for the walk-in registration. However, if you want to register online that facility is also available on the website of the Prime Minister's Youth Programme.
Eligibility Criteria
Any Pakistani including from the areas of AJK & GB.
Must have a CNIC or Form B.
Age:15-25
Timing:
For Females: 10 AM- 1 PM
For Males: 1 PM – 4 PM
Venue
Deadline for the Registration Process
The registration will start on 23 November 2022 and the deadline is 24 November 2022.