Pakistani sensation Mawra Hocane is absolutely glowing with pride as her latest television series, Nauroz, takes the world by storm. Audiences are completely enamored with the show, which premiered on Green Entertainment, and Mawra's outstanding performance in the lead role is receiving rave reviews from all corners.
Taking to social media, Mawra humbly expressed her heartfelt gratitude to her fans and well-wishers for the overwhelming support she has received. She couldn't contain her excitement as she shared the incredible news that Nauroz has been trending for the past 24 hours.
It's no wonder she's over the moon, as the love and appreciation for her work are pouring in non-stop. Mawra urged everyone to keep watching and sharing their feedback, making this journey even more special.
Among the shower of congratulatory messages, one particularly notable comment came from Ameer Gilani, who has often been linked with Mawra in the media. Ameer's warm wishes and words of encouragement melted hearts as he expressed how much Mawra deserved this success.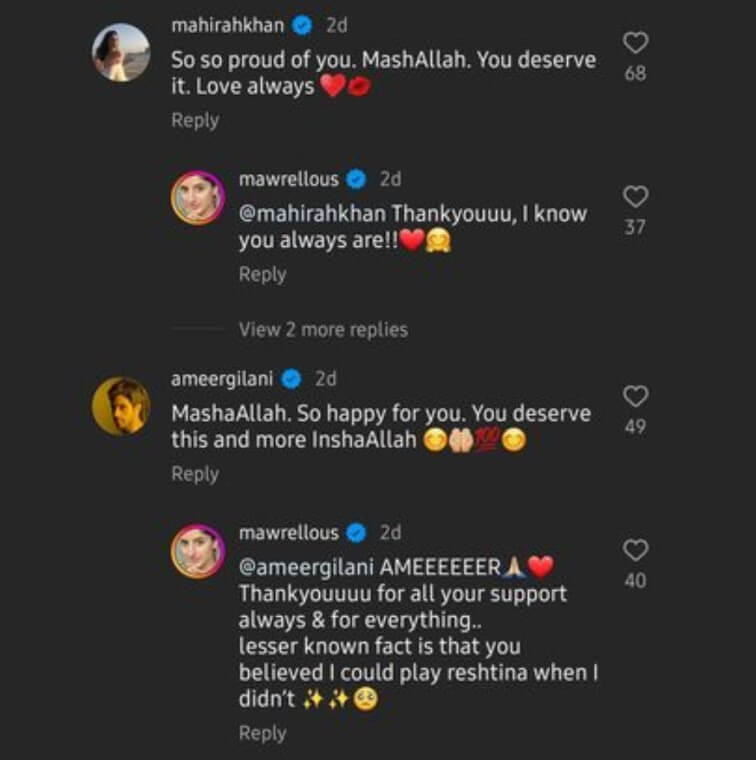 In a touching response, Mawra revealed a lesser-known fact – it was Ameer who believed in her ability to portray Reshtina when she had doubts herself. His unwavering support and faith played a vital role in boosting her confidence, and she expressed her heartfelt appreciation for his belief in her talent.
Mawra and Ameer's friendship has been the subject of much speculation, and their genuine friendship and support for each other have won the hearts of fans worldwide. Their on-screen pairing has been a favorite, and seeing them cheering each other on adds another layer of sweetness to their bond.
Not just Ameer, but another illustrious name in the industry, Mahira Khan, also joined in to celebrate Mawra's triumph. Mahira, renowned for her extraordinary talent and performances, showered Mawra with praise and conveyed her immense pride in her achievements. Such kind words from a respected colleague like Mahira are truly heartening and reaffirm the depth of admiration Mawra commands in the industry.
Nauroz is proving to be an absolute gem of a series, with its captivating storyline revolving around a girl's journey from a small village to a big city. Mawra's portrayal of the main protagonist, Reshtina, is nothing short of spectacular. Her convincing performance has left viewers spellbound, and her talent is shining brighter than ever. Nauroz has undoubtedly become a must-watch show that is leaving an indelible mark on its audience.
As Mawra continues to shine and her star ascends to new heights, her fans are eagerly waiting to see what extraordinary feats she will achieve next. With her infectious charm and unparalleled talent, Mawra Hocane is destined for even greater success, and her fans couldn't be more thrilled to witness her remarkable journey unfold.