Shehzad Anwar, the head coach of the Pakistani football team, claimed that his players have made significant improvement in training and are prepared for national service.
"The boys have made huge progress in the camp and are ready for national duty," said Shehzad while handling a 36-man camp in Lahore.
He further stated that "We are in the fourth week of this camp. Around four and a half hours training is done on a daily basis in two sessions, covering various areas. I am happy with the way the boys have so far responded,".
In November, it is very likely that a foreign team will visit Pakistan to play a two-match series, which would assist the country get some ranking points. Due to sanctions, domestic politics, and legal issues, Pakistan has spent the most of the last seven years in exile abroad and has only sometimes participated in international events.
However, the nation's top athletes had the chance to gather at the PFF headquarters in Lahore for training after FIFA removed the restriction the other month. For a series in Pakistan, the FIFA-appointed Normalization Committee has approached a number of countries in South Asia and others.
According to information that has come to light, Maldives was also approached and provided a strong response. It was discovered that Palestine is still an option. The NC seeks to host a country that might aid in the national team's return to the international stage.
"We are working hard and hopefully a good team will be prepared for the future," Shehzad, a Pro License Coach said. Once a series was confirmed, he claimed, the strength in the camp would be lowered.
"Yes, we will reduce the strength to 26 or 25 once we learn that we will play the series," said Shehzad, also a former PFF Director Technical.
Dr. Adnan, a physiotherapist who has already worked with the Pakistan Cricket Board (PCB) and Pakistan Hockey Federation, has been appointed by Pakistan (PHF). Lahore will likely be the primary location for the two-match series.
According to sources, Karachi lacks a premier venue to host an international game, and Islamabad Jinnah Stadium is undergoing renovations. The Punjab Stadium in Lahore is also undergoing renovations, but NC has been informed by Sports Board Punjab (SBP) that the venue will be ready by November. It is important to note that although Karachi's Peoples Sports Complex is a significant site, its state prevents it from hosting any international competitions.
The senior Pakistani team last competed in an international match in 2019 when it faced Cambodia in the 2022 World Cup Qualifiers, having missed numerous international matches over the previous seven years. The first leg took place in Cambodia, and Pakistan hosted the second leg in Doha. Pakistan lost both games.
Brazilian Goalkeeping Coach Hired by Pakistan Football Team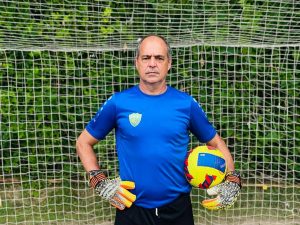 Rodrigo Santos, a Brazilian trainer, and Marcelo Costa, a goalkeeping coach, were recently hired by Pakistan. The most cutting-edge methods of training the troops have already begun.
The PFF intends to revive national football activities after FIFA lifts the football ban. In this regard, the national football team of Pakistan is actively being rebuilt.
In 1994, Marcelo Costa Schroeder started his career as a goalkeeper. He finally received coaching credentials from the Qatar Football Federation, Brazil Football Federation, and AFC Level 3 levels. He received his FIFA-approved coaching certificate in 2010.
Marcelo Costa Schroeder previously worked with the Pakistani football team in the 2019 FIFA World Cup Qualifiers. The goalkeeping coach was happy to be back with the group. He also commended PFF for having faith in his ability to rejoin the team once more.