Step into a realm where fashion meets comfort, and elegance embraces the sunny days. Pakistan's top lawn brands beckon you into a world of style and softness, where fabrics come alive with colors and patterns.
Here, we unfurl the tale of Pakistan's best lawn brands, where threads are spun into stories and prints paint the chapters of the season.
Join us as we unveil the finest lawn brands, where tradition dances with contemporary trends. Let's look into a world of effortless grace and discover how these brands have woven themselves into the very fabric of Pakistani summers.
10 Best Lawn Brands in Pakistan
Let's have a look at the top lawn brands in Pakistan:
Khaadi
Limelight
Sapphire
Cross Stitch
Maria B
Elan
Bareeze
Al Karam Studio
Saya
Sobia Nazir
Khaadi

Khaadi is like a favorite treasure chest for many women in Pakistan – a brand that's loved and cherished. From the very beginning, Khaadi has earned big awards and quickly become one of the most popular brands around. It's like a rising star that everyone notices. What's so cool is that they always surprise their customers with special clothes that come in amazing colors and prints. And guess what? These clothes mix both old and new styles, making them super stylish.
This year, Khaadi has unveiled a fantastic collection of clothes for spring and summer. People who love fashion and those who keep up with the latest trends are absolutely stunned. The collection is like a magical garden with two parts: 'Tropical Escape' and 'Classics'. It's like stepping into a tropical paradise or enjoying the timeless classics – all in the form of clothes. Isn't that just fascinating?
LimeLight
Limelight shines as one of the most pocket-friendly Pakistani lawn brands that offer top-quality lawn outfits to shoppers. Every summer, they unveil a bunch of different lawn collections. What makes Limelight stand out is its vibrant colors, eye-catching patterns, friendly prices, and strong materials. They're like the champions of lawn clothes – loved by so many people.
Imagine having a closet filled with Limelight's cool stuff. They have everyday and fancy lawn shirts, plus cool 1-piece dresses. You can pick ready-to-wear shirts or ones you can stitch yourself. And that's not all – they also have 2-piece and 3-piece lawn sets. And guess what? They even have accessories like scarves! It's like a world of stylish choices waiting for you.
Sapphire

Sapphire is a super cool brand that makes awesome summer clothes. They're known for creating really impressive stuff that not only regular people wear, but also famous models and celebrities on the runway and in movies.
Sapphire always gives their very best when they make new collections. They make sure their clothes look super good with amazing combinations of colors. It's like they put all their energy into making things that everyone loves to wear.
Cross Stitch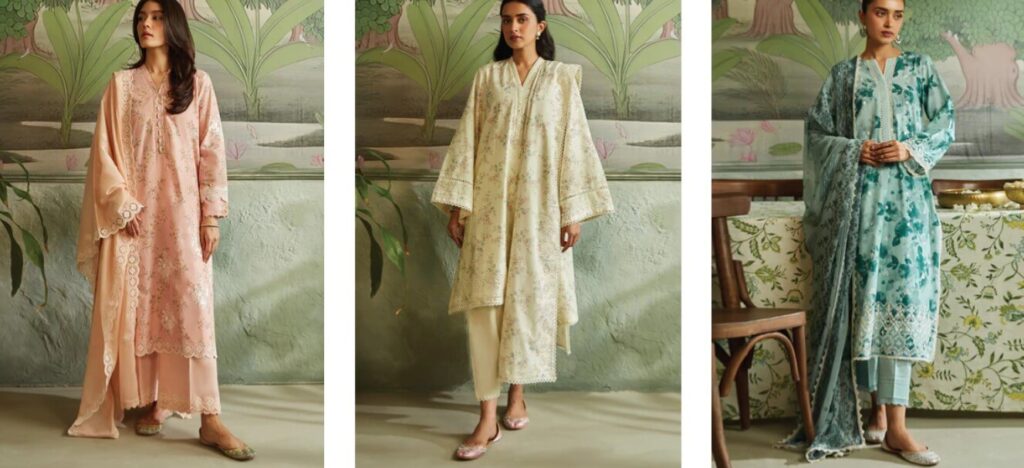 Imagine finding a brand that gives you great clothes without making your wallet sad. That's Cross Stitch! They're just as good as those fancy designer brands but don't cost as much.
Cross Stitch loves making clothes that are like a burst of happiness. They use bright colors and super fun patterns that young folks really like. It's like they're making clothes that match the energy of college students. So, if you're in university, this is your go-to place for cool outfits.
Pakistan's fashion world keeps changing and growing. Checking out new clothes from brands is always exciting, especially when these brands become famous all over the world. There are more and more creative designers joining the fashion world, bringing fresh ideas and new styles. It's like a fashion adventure waiting to happen!
Maria B

Picture this: In 1999, a talented lady named Maria B created something amazing, just like Coco Chanel did in her time. She started with one store, but guess what? Now she has 25 stores in 12 cities all over Pakistan. That's like a fashion fairy tale coming to life!
Maria B's designs are like a blend of two worlds – East and West. It's like she mixes the coolness of both styles to create something totally unique. And guess what she makes? Everything! Imagine clothes that are ready to wear, super fancy couture, everyday pret a porter, and even elegant formal wear. Oh, and let's not forget about the lawn collection – perfect for warm days. She uses different fabrics like linen and cotton and adds beautiful embroidery.
So, Maria B isn't just a name; it's a journey through fashion from Pakistan to the world. It's a bit like a magical fashion ride that you won't want to miss!
Elan

Once upon a time in Lahore, Khadija Shah brought Elan to life. It's like a star that's twinkling all over the world because of the fancy elegance and amazing style it stands for. Elan is like a magician – they keep surprising us with new and wonderful things. And guess what? They've got something special for the hot summers too. And the best part? Elan's lawn is like a soft breeze; it's not too shiny or slippery, so you'll feel comfy even when it's super humid outside.
Now, here's the cool part. Elan's clothes have these pretty embroidered bits that might need some special care when you're ironing them, but they actually help air flow better, making the outfit feel even cooler. And oh, the dupattas – those fancy scarf-like things – they're so soft and silky, almost like floating clouds as you walk with the wind. It's like wearing a piece of the sky with you. So, Elan isn't just a brand; it's a fairy tale of fashion that's both comfy and stylish. It's like a dreamy walk in a fashion wonderland!
Bareeze

Bareeze has been crafting amazing fabric designs for 30 years. It's like they're the pioneers of fancy clothes. Back in 1985, a company called Sefam started Bareeze in Lahore. And guess what? Since then, they've spread their magic all over Pakistan and even to places like the UK, UAE, Malaysia, and India. It's like a stylish journey around the world!
And here's the cool part: they've managed to keep the traditional art of hand embroidery alive. Imagine wearing clothes that have a touch of history and culture stitched into them. It's like wearing a piece of art! So, Bareeze isn't just a brand; it's a legacy of luxury that's been going strong for decades. It's like stepping into a world of elegance and tradition all wrapped up in beautiful fabrics.
Al Karam Studio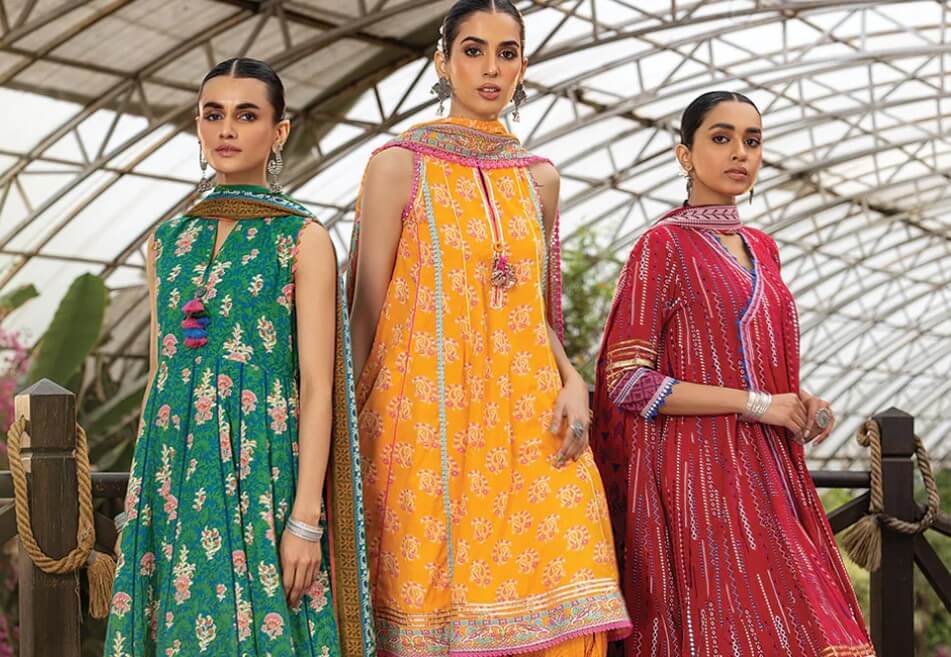 Let's talk about another favorite in the world of Pakistani lawn brands – Alkaram Studio! They're like a star when it comes to awesome clothes. Do you know what's super cool about them? They mix colors and patterns in a way that catches everyone's eye.
It's like wearing a touch of luxury when you're all dressed up. They have all sorts of styles – like dresses with silky chiffon or delicate organza scarves, or ones with a breezy lawn scarf. It's like they've got something for everyone! Now, imagine this: they've got sets that come with 2 pieces or 3 pieces. It's like a puzzle where you get to put together an awesome outfit. And right now, in their summer lawn collection for 2023, they've got a bunch of super cool stuff waiting for you.
Saya

In just a short while, Saya has become a favorite Pakistani lawn brand. People really like it because of the simple yet stylish designs and all the different colors they use in their clothes. They've got everything from single dresses to complete outfits with three pieces. It's like a garden of choices!
Not only do they have cool prints, but they also offer clothes that are just one color or have pretty decorations. It's like they have something for every mood! If you're interested, make sure to take a peek at their newest lawn collection. The good stuff goes fast, so don't miss out! Saya is like a hidden gem waiting to be discovered in the world of fashion.
Sobia Nazir

Let's talk about Sobia Nazir, a fancy fashion brand based in Islamabad. They're famous for making really beautiful clothes that don't cost a fortune. Sobia Nazir's designs are like a mix of the seasons and what Pakistani women love. They've got lots of cool choices for ladies who want to look stylish.
And here's the awesome part: their collection comes in different sizes. Whether you like dresses that are all set to wear or ones you can stitch yourself, they've got it all. And guess what? They also have a big collection of lawn clothes that look super fancy but don't cost a ton. So, if you're all about style without spending too much, Sobia Nazir is your fashion hero. It's like a treasure chest of fashionable surprises!