Looking for the best late-night restaurants in Karachi?
Here is our top pick of 24-hour open restaurants that offer you hot beverages and some exotic foods even after the clock strikes midnight.
These restaurants are best in town, have the best services, and most scrumptious food waiting for you.
24-Hour Open Restaurants in Karachi
To satiate your odd-hour hunger pangs, head to these late-night restaurants in Karachi. No matter what time of the day it is, you can enjoy the most scrumptious food at these locations:
Zaytoon Bar B.Q
Coffee 24
14th street pizza
Dera Restaurant
Tandoori hut
Al habib restaurant
Kabsa express
AA Foodies moments
Vakah Shinwari
Handi Inn
Zaytoon Bar B.Q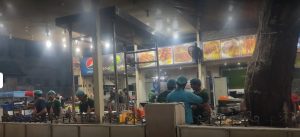 Whether it's a day or night, this restaurant always has wonderful BBQ items on the menu. People also visit this restaurant to sample the most delectable breakfast in town.
Must-Try: Chicken Tikka
Address: Regal Chowk, Saddar Artillery Maidan
Contact Number: 021 35644453
Coffee 24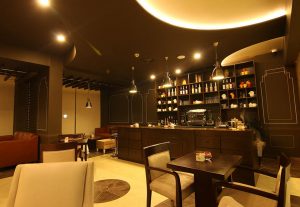 Nothing can match the level of a perfect, hot cup of coffee, making Coffee 24 one of Karachi's best late-night dining establishments. Even after midnight, the restaurant provides takeout service to customers.
Must-Try: Latte
Located in: Ramada Karachi Creek
Address: Street 1, D.H.A. Phase 8
14th Street Pizza Co.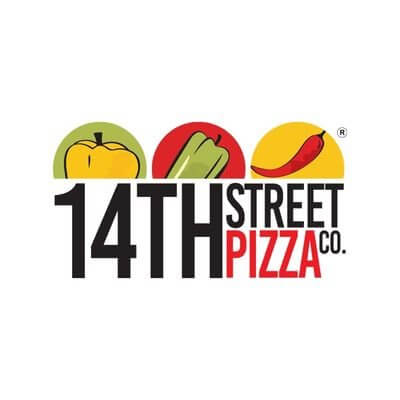 The branch of 14th street pizza that remains 24 hours open is sited in Alrida Boys Hostel. Get the biggest, tastiest pizza in town, made with the best toppings, and served with sauces of the highest quality.
Must-Try: Bar B. Q Pizza
Address: Gulshan Iqbal block, 10/A house, As7.raw 1/z National cement housing
Contact Number: 021 111363636
Dera Restaurant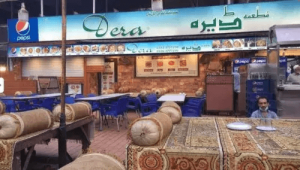 Dera Restaurant provides a delightful dining experience to customers in a traditional, well-decorated outdoor setting. They provide a wide variety of foods on their menu, including both Western and Eastern cuisine. Scrumptious chicken karahi, biryani, pulao, chanay, sandwiches, korma, wings, shashlik, and other dishes are available.
Must-Try: Dera Special Fish Karahi
Address: Block 5 Clifton, Karachi City
Contact Number: 0332 3777299
Tandoori Hut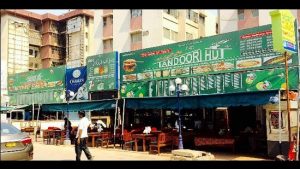 Tandoori hut has been serving flavourful cuisine to karachiates since 1984. Prepare yourself and your loved ones to savor the tastiest breakfast, lunch, and dinner meals. Online ordering, Takeaways, Free Wifi, Parking Area, and Refreshment Area are among the services and amenities provided here.
Must-Try: Garlic Chicken, Beef Chowmein
Address: Boat Basin, Block 5 Clifton
Contact Number: 0300 2418786
Al Habib Restaurant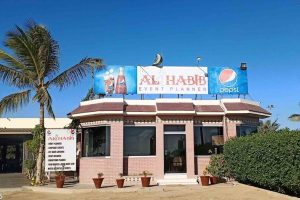 Al Habib restaurant is another fine-dining restaurant located in the heart of the city. The menu at this warm establishment features a wide range of delectable international and local cuisines. Enjoy a really special and unique dining experience as you unwind while enjoying your tasty dinner on the terrace.
Must-Try: Balochi Tikka karahi, Chicken Handi
Address: Karachi – Hyderabad Motorway, Gadap Town
Contact Number: 0300 9288548
Kabsa Express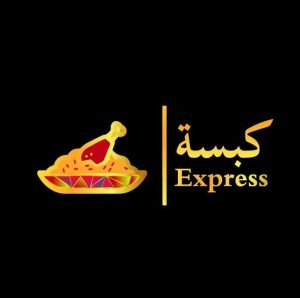 Whether you are a night owl or an early bird, Kabsa Express has you covered when it comes to enjoying delicious Arabian food. It has everything from Falafel to Shawarma to Hummus to Mandi & Madhghout.
Must-Try: Shawarma Platter
Address: Block 16 Gulistan-e-Johar, Karachi City
Contact Number: 0335 5227522
AA Foodies Moments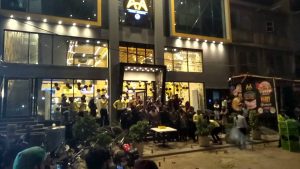 Looking for where to have magnificently prepared fast food in the city? Then you should go to this cute, adorable, little eatery. This restaurant has the best fast food items available, such as burgers, chicken, pizzas, sandwiches, and fries. Other than this, you will also find a diverse range of European and Chinese cuisines on its menu.
Must-Try: Mutton Biryani/Pulao
Address: North Nazimabad, Buffer Zone
Contact Number: 0336 7772091
Vakah Shinwari
An exquisite restaurant with terrific décor, the vakah shinwari in boat basin offers you the best shinvari karahi in town. Enjoy dining in a welcoming environment with the most thorough and attentive staff on hand to serve you all day. You should also try the special rolls and parathas here; we guarantee you'll be glad you did.
Must-Try: Charsi Tikka & Afghani botis
Address: Boat Basin, Block 5 Clifton, Karachi, Karachi City
Contact Number: 0345 2004757
Handi Inn

There is something great for everyone at this restaurant, from fantastic parathas and beverages to karahi, rice, barbecue, etc. Dine in or have your delicious meal delivered to your door at any time. This is the last restaurant in our list of best 24-hours open restaurants in Karachi.
Must-Try: Achaar Gosht Handi Chicken
Address: Boat Basin, Sea Breeze Centre, Block 5 Clifton
Contact Number: 021 35376806
Enjoy Your Meal!
Enjoy delicious late-night munchies at any of these best 24-hour restaurants in Karachi, Pakistan. These outstanding restaurants provide clients with the best food and service around-the-clock.