The Kamyab Jawan Program – Youth Entrepreneurship Scheme is focused on empowering the youth of Pakistan and providing opportunities to the under-represented segments of society. The Kamyab Jawaan program has funding of 100 Billion PKR and is providing 25% of the loan initiatives to female entrepreneurs by allocating a total of 25 Billion PKR exclusively for female-led businesses.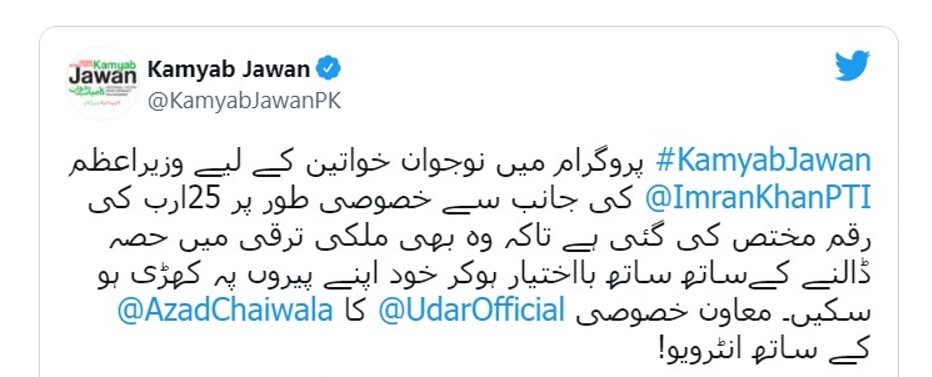 The program provides subsidized financing through 21 Commercial, Islamic, and SME banks under the umbrella of the State Bank of Pakistan.
The merit-based loan disbursement program is a remarkable tool for women's empowerment and poverty alleviation. According to the Special Assistant to the Prime Minister on Youth Affairs Usman Dar, approximately 3 Billion PKR have already been disbursed as loans to around 2500 women entrepreneurs.
The loans provided through the Kamyab Jawan Program are divided into three tiers:
Tier 1 Loans: Range from Rs 100,000 to Rs. 1 million,
Tier 2 Loans: Range from Rs 1 million to Rs 10 million,
Tier 3 Loans: Range from Rs 10 million to Rs 25 million.
The loans can be returned in a period of up to 8 years, with a grace period of 1 year.
The borrower is required to contribute to equity in the form of cash or immovable property after the approval of the loan. Until now a total of 22.7 Billion PKR have already been disbursed as easy installment loans to the worthy people of Pakistan since the inception of the Kamyab Jawaan Program.