The trillion-dollar company has become more than just a mobile manufacturing brand. It's a symbol of innovation and reliability. Apple tech is sweeping the market and attracting customers towards itself like a magnet.
The news had been rumored for almost weeks now and we are happy to confirm that Apple just unveiled its new line of product, The headphones.
Yes, AirPod Max is here, as Apple likes to call it.
AirPods Max
The headphones are powered by an H1 chipset, the same as its predecessor Airpods.
The headphones will be compatible with iOS 14.3 or later, iPad 14.3 or later, macOS Big Sur 11.1 or later, watchOS 7.2 or later, or tvOS 14.3 or later.
Features
The AirPod Max comes with High fidelity audio, Active noise cancellation with transparency mode, and spatial audio that will give you a surround sound experience anywhere anytime.
Design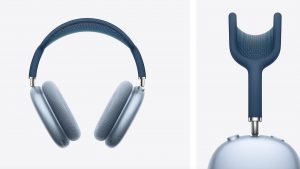 When it comes to design we know best that apple is way ahead. The listening experience has been completely redesigned. From cushions to the canopy, the headphone is made to fit all different head shapes. The canopy is made from knit mesh, that distributes the weight to reduce the pressure on the head. The extendable stainless steel headband is sleek and seamless. Delivering strength and flexibility for a variety of head shapes. The anodized aluminum cups each include memory foam for an effective seal and a mechanism that allows each cup to individually rotate.
The headphones also have a digital crown, allowing the user to control volume, play, pause, skip tracks, change tracks, attend calls, and also activate Siri.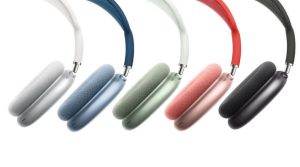 The line-up has been introduced in five colors, Space Gray, Silver, Sky Blue, Green, and Pink.
Audio Quality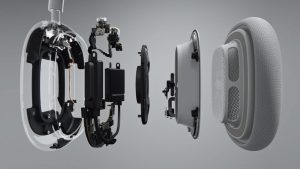 With high fidelity and active noise cancellation, the sound experience is uncanny. The headphone offers an immersive listening, blocking the unwanted background sound. The headphones have a total of six outward-facing microphones to detect noise in your environment and two inwards facing microphones to detect what your listing to.
The dynamic driver along with the neodynamic ring magnet motor minimizes the harmonic distortion, delivering your favorite songs with rich details.
Battery
Now come the real challenge and apple tackled it without difficulty. The new product is claimed to give 20 hours of continuous listing, Movie watching, or talk time. A simple 5-minute charge can deliver up to 1.5 hours of listening.
The headphones come with a slim smart case. The AirPod Max enters an ultra-low-power mode when placed inside the case, which preserves the power.
Bottomline
The headphone design is seamless and minimalistic. Whereas, the sound quality and features sound very impressive. Some of the additional features of the product are automotive switching between iPhone iPod or iMac.