Google gives us a sneak peek at its upcoming flagship smartphones for 2022.
Without introducing the Pixel 7 and Pixel 7 Pro, which will be available this fall, Google couldn't let its I/O conference go by. Tones down some of previous year's design by using new cutouts for cameras, and keeping the horizontal bar of cameras. The 7 and 7 Pro will launch with Android 13 with a next-generation Tensor chipset.
Design
This year's Pixel phones retain the horizontal camera hump that first appeared on the 6 and 6 Pro, but with an updated appearance. Instead of a large black bar that cuts off at the edges, this year's camera bar is composed of aluminum and flows into the device's side rails. Reportedly, Google will no longer use a two-toned rear panel on their devices.
Camera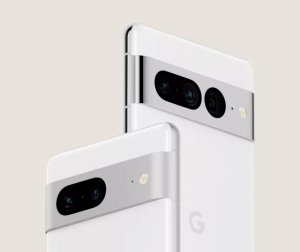 Like the Pixel 6 Pro, the Pixel 7 Pro is expected to have three rear cameras, while the Pixel 7 appears to have two rear cameras, similar to the Pixel 6. Nothing has changed in that regard either. There won't be any dual telephoto lenses like on the Samsung Galaxy S22 Ultra, as the 7 Pro appears to stay with the conventional wide/ultra wide/telephoto setup.
Hardware
In terms of what's on the inside, Google's Tensor platform powers the Pixel 7 and 7 Pro's "most helpful, most personal experience" on a smartphone.
Software
The new Tensor design would deliver AI advancements and new experiences in speech, imaging, video, and security, but Google did not provide many details about the core configuration or the fabrication node yet.
Pixel 7 and 7 Pro Release Date
Google is expected to announce its new Pixel phones around October, which is the traditional time frame for such events. There will be three platform updates and five years of security updates for both devices. As the launch date approaches, we may expect to learn more about its hardware.