Askari Bank has officially signed a Memorandum of understanding (MoU) with Qisstpay BNPL (Pvt) Ltd, entering into a strategic alliance. The MoU has been signed to encourage business inclusion and to provide quick solutions through digital innovations.
Qisstpay is one of Pakistan's leading payment systems, providing customers with a quick and safe checkout option via its Buy Now, Pay Later service.
The strategic partnership between the two businesses will promote the development of e-commerce in the country.
They will collaborate to deliver payment solutions to online buyers, merchants, and business partners, as well as to explore supply chain financing options initiatives.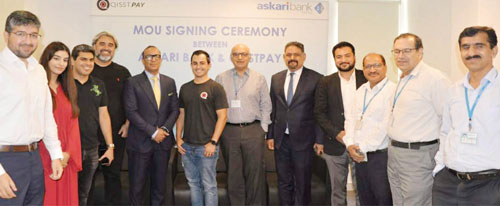 Sharing his thoughts on this, Chief Digital Officer, Mr. Shehryar Ali Shah said:
Through this strategic relationship, we intend to provide the masses with enhanced simplicity in handling their daily financial matters.
Whereas, Jordan Oliva, Founder & CEO of Qisstpay BNPL (Pvt) Ltd. said:
This partnership with Askari, a leading bank in Pakistan, is a special one because it will help us enhance the financial services infrastructure in Pakistan by making it simpler for other players in the future to use the groundwork we are building and start executing innovative solutions.
Senior representatives from both businesses, including Country Head Consumer Banking Masroor Umar, AKBL Saad Ahmed, Yasser Khan Co-Founder Qisstpay, and Global SVP also attended this ceremony.
It is worth mentioning that Askari Bank has also recently inked an MoU with Pakistan Freelancers Association with the goal of digital onboarding and facilitating the unbanked segment of freelancing individuals and startups via the Askari Freelancer Digital Account.