Babar Azam surpassed Virat Kohli to become the fastest Asian Batter to reach 10,000 runs. Virat Kohli had previously held the record for the fastest Asian player to reach 10,000 international runs, but Babar Azam has broken that record. In the first Test against Sri Lanka, the milestone was reached during a marathon innings.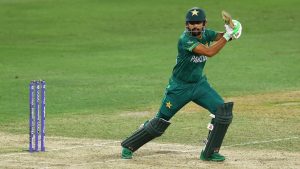 Batsman Babar Azam just joined the exclusive 10,000-run club with a record-breaking performance. The Pakistan captain has broken the record for the most innings played by an Asian cricketer by completing the feat in just 228 innings. Virat Kohli, the Indian talisman, had previously held the record for the most innings played at 232. Sir Vivian Richards, who has scored more than 10,000 runs in 206 innings, leads the list, with the Lahori in fifth place, behind Hashim Amla, Brian Lara, and Joe Root.
Azam reached the landmark during his team's first batting innings against Sri Lanka in the opening Test at Galle. Pakistan had collapsed to 112/8 in response to a score of 222 by the hosts. The third batsman, on the other hand, hung in there with the rest of the pack and finished with an incredible 119 from 244 balls, slamming 11 fours and two sixes in the process. He was Pakistan's final wicket-taker, bringing the total to 218.
Javed Miandad, Pakistan's previous record holder, had to play 20 more innings than Babar to reach the critical milestone. Azam has scored most of his runs in one-day internationals (4,442 at an average of 59.22). He has 2,851 Test runs at an average of 45.98, and 2,686 T20I runs at an average of 45.52.
For the foreseeable future, Babar Azam intends to keep up his current pace in order to smash even more records.