Who doesn't like a juicy burger that's big and tender? And, whether it's a chicken or beef burger, we're still on the lookout for the best burgers in Lahore. So, who in Lahore makes the best burgers, and what are the criteria?
We tried a lot of places and narrowed down our quest to the top spots that have the best burgers in Lahore. As avid food lovers, we're always in the mood for good food, and a burger will instantly raise your mood, so we tried a lot of places and narrowed down our search to the top spots with the best burger places in Lahore. We evaluated everything from the patty-to-bun ratio to the cooking quality and condiments.
Best Burgers in Lahore
Check out the list below for the best burger places in Lahore.
| | | | |
| --- | --- | --- | --- |
| # | Burger Spots | Location | Price Range |
| 1 | Rina's Kitchenette | DHA Phase III | Rs. 900 – Rs. 1200 |
| 2 | Johnny and Jugnu | DHA Phase IV and Johar Town | Rs. 400 – Rs. 600 |
| 3 | Howdy | Johar Town, Model Town, & M.M Alam Road | Rs. 500 – Rs. 1000 |
| 4 | Daily Deli Co. | Johar Town | Rs. 380 – Rs. 850 |
| 5 | Jessie's Burger | Gulberg II | Rs. 550 – Rs. 750 |
| 6 | Outpost BYOB | DHA Phase 8 | Rs. 550 – Rs. 700 |
| 7 | Ministry of Burgers | DHA Phase II | Rs. 600 – Rs. 850 |
| 8 | Burger King | Lahore Cantt | Rs. 250 – Rs. 650 |
| 9 | Burger Lab | Johar Town & M.M Alam Road | Rs. 350 – Rs. 900 |
| 10 | Smash Burger | Royal Park | Rs. 350 – Rs. 950 |
| 11 | My Burger | PIA Housing Scheme | Rs. 250 – Rs. 500 |
| 12 | The Grizzly Burger | DHA Phase IV | Rs. 350 – Rs. 700 |
Lets discuss in detail, the above-mentioned places to get the best burgers in Lahore.
RINA'S KITCHENETTE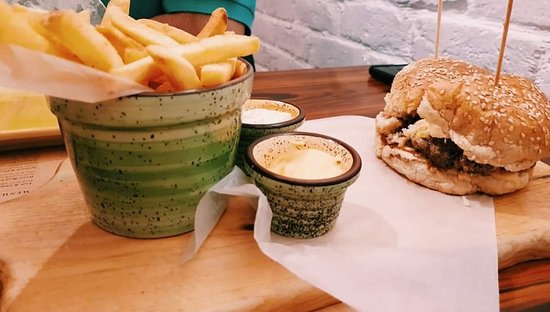 While Rina's Kitchenette has some of the best dishes on the menu, one of the reasons we keep returning is that we have a good idea of what we want to order. But, whether it's their Cheese Burger or the Smash Burger, they have the best grill burgers in Lahore. You'll be transported to food heaven with only one bite.
Rina's Kitchenette is people's favorite. They are delighted with the softness of their homemade buns that riches the taste. The Cheeseburger and Smash burger are on the top of the list, so anyone who visits this place never skips these on the menu.
Location: DHA Phase III, Lahore.
JOHNNY & JUGNU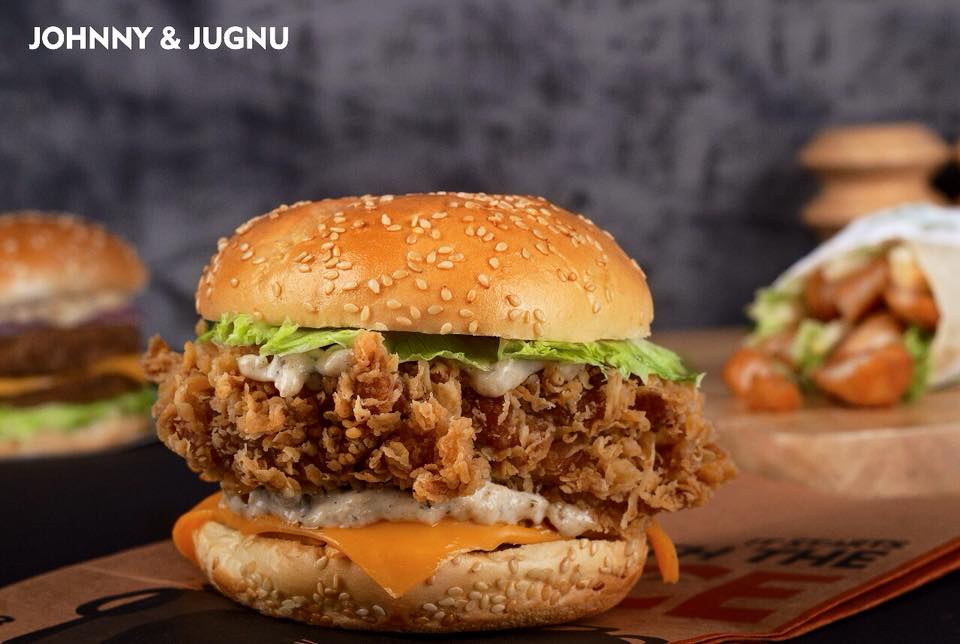 When we think of Johnny & Jugnu, three words come to mind: budget-friendly, saucy, and high-quality. If you don't want to eat meat, Johnny & Jugnu has the best chicken burgers, which range from a decent (mighty) zinger to a fillet burger covered in a tonne of saucy goodness.
People are talking greatly about Johnny & Jugnu's Wehshi Burger and Fillet Burger. Both of them are quite economical and the serving size is really good. Along with having the best burgers, their wraps are also famous and a must-try.
Location: DHA Phase IV and Johar Town, Lahore.
HOWDY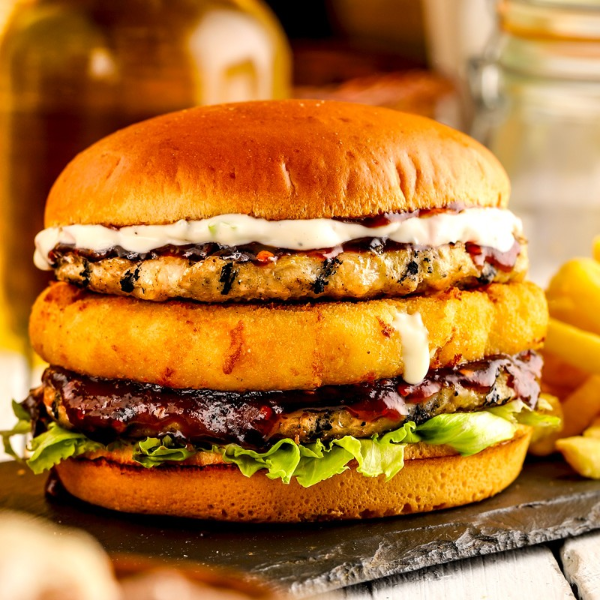 When we think about burgers, Howdy's is the first place that comes to mind. If you want the juiciest, ranchiest, wildest, and most satisfying burger, go to Howdy's. What makes a decent burger is the beef, flavor, temperature, and time, and that's just what you'll get at Howdy's. That's what there is to it! But once again, Howdy's burgers are anything but boring and probably the best burgers in Lahore.
The absolute delicious burger by Howdy is Son of a Bun. It is served with a white creamy sauce that makes it even yummier. Diners can enjoy a load of the wildest flavors in their burger variety and leave the outlet with their bellies all full.
Location: Johar Town, Model Town, and M.M Alam Road, Lahore.
DAILY DELI CO.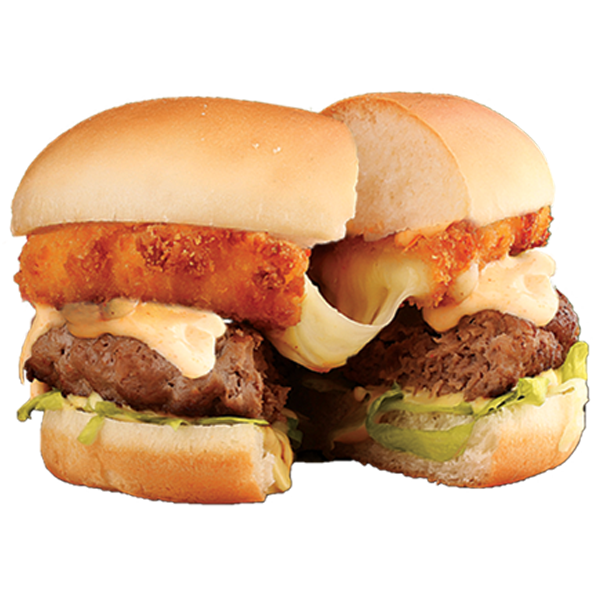 You eat it and drink it like there's no tomorrow when you want to eat a burger that wants you to prepare yourself with napkins. We love the classic beef cheeseburger, and it's a recipe we'd like to try to recreate.
A burger specialist in the city of Lahore, it is a perfect spot for beef lovers. The Molten Lava Beef Burger is probably the one that you can not taste anywhere else in Lahore. The buns are always soft and fresh that gives burgers a premium taste.
Location: Johar Town, Lahore.
JESSIE'S BURGER LAHORE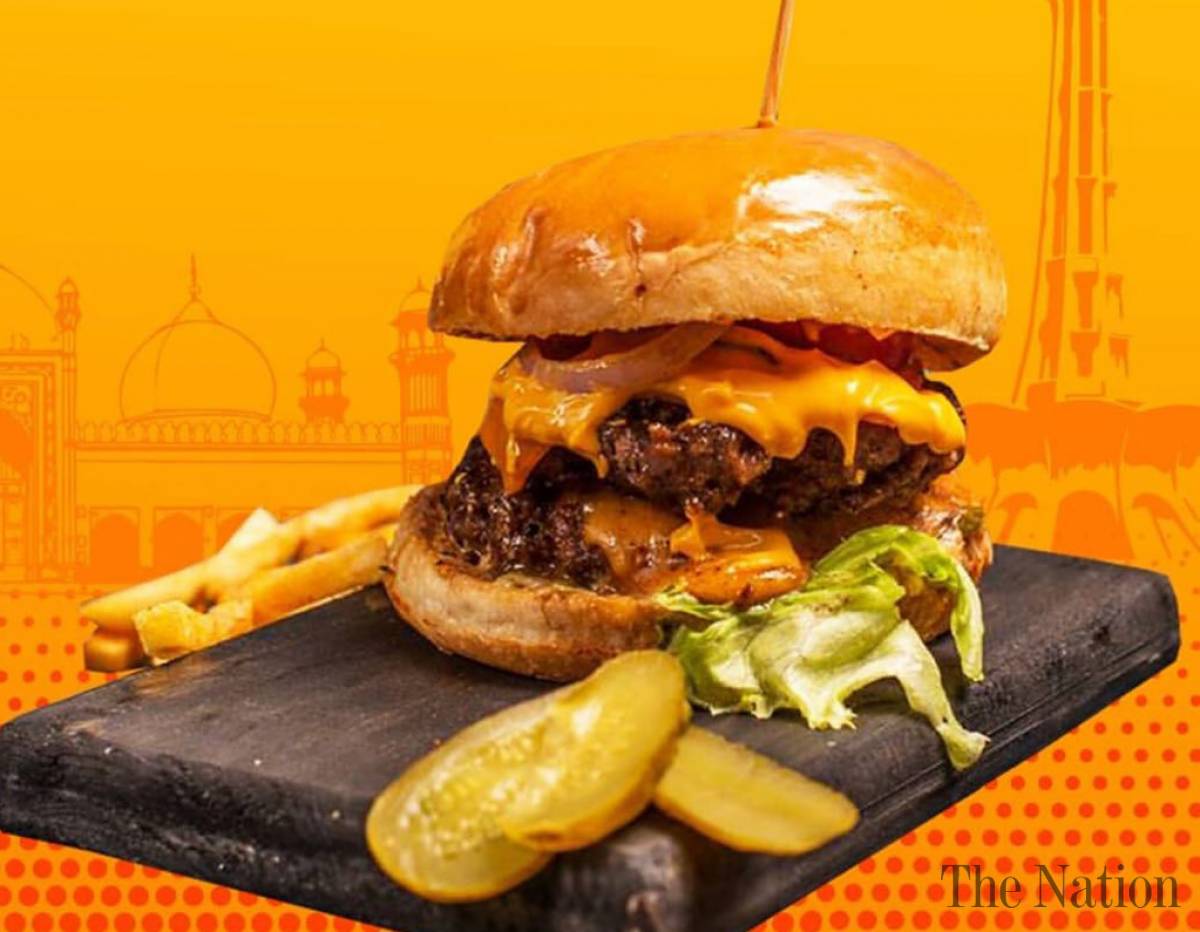 Jessie's is also one of Lahore's IT burger restaurants, serving the spicier beef burgers. The burgers are tantalizing, and there are some delicious grilled versions as well. With having branches in Islamabad and Nathiagaali, Jessie's is surely one of the best burger places in Lahore.
The true definition of burgers is fulfilled here. Indulge in their classic beef burgers filled with a cheesy sauce that leaves you craving for more. Their best burgers are Firestarter, Big Kahuna, and Crispy Boy that gives a big and juicy experience.
Location: Gulberg II, Lahore.
OUTPOST BYOB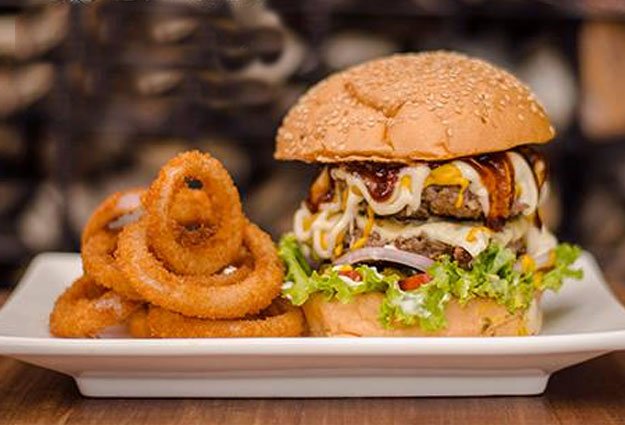 BYOB (Build Your Own Burger) is a concept where you can create your own burger from a list of ingredients and enjoy their delectable, savory gourmet burgers. They've nailed their main offering, beef burgers, which are able to tempt your taste buds and satisfy your appetite earning them the title of best burgers in Lahore.
The ultimate double patty beef burger will get your cravings satisfied. Along with that, their buffalo chicken burger is also mouthwatering. Both these will leave your tastebuds satisfied.
Location: DHA Phase 8, Lahore.
MINISTRY OF BURGERS LAHORE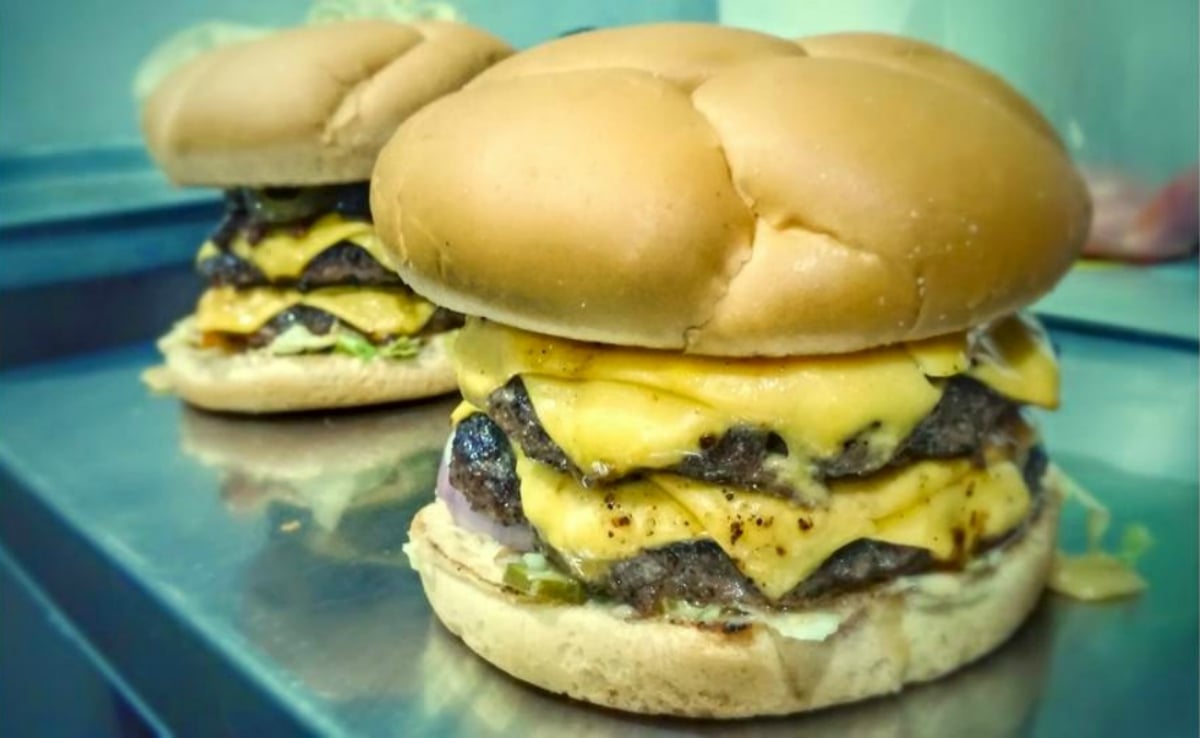 Ministry of Burgers has so far lived up to the hype of selling juicy and meaty beef burgers, which is why they are on our chart. Definitely filling, new, and nutritious. Satisfy your hunger with the only outlet that offers up to 8 patty burgers.
MOB Special beef burger makes them one of the best burger places in Lahore. Their supreme leader burger is a double smashed beef burger with double cheese and served with onion rings. A must-have burger for an amazing taste.
Location: DHA Phase II, Lahore.
BURGER KING LAHORE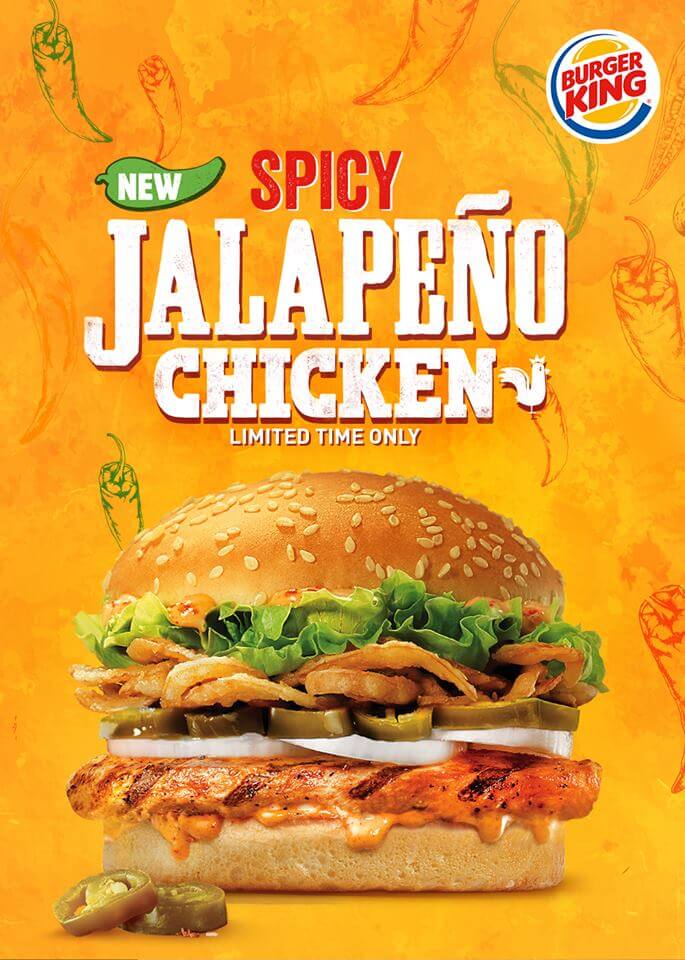 Burger King is one of the oldest burger chains in Pakistan. You can enjoy the premium experience with a range of whopper burgers. These Whopper burgers are the most-selling, available in both chicken and beef flavors.
When trying the whooper burgers, people get surprised with their rich taste. The burgers are prepared with delicacy, ensuring proper proportions of each ingredient for a fulfilling taste.
Location: Cantt, Lahore.
BURGER LAB LAHORE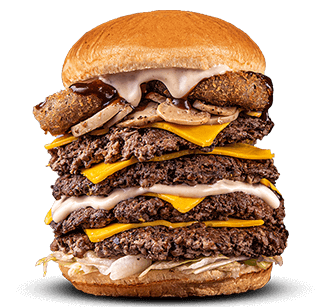 Burger Lab has served its customers with effort, consistency, and dedication. Burger lovers crave the taste offered here. They prepare each burger with creativity, hence the name Burger Lab. That indicates their experimenting and innovation in each and every burger. They have also introduced the best American smash burger technique in the market.
Their new and innovative potato buns are to die for. They are so soft and fresh that enhance the flavor of each bite. Their top burgers are FireHouse, BigBang, Doppler, and Quadra. Trying any one of these will make you love them even more.
Location: Johar Town & M.M Alam Road, Lahore.
SMASH BURGER LAHORE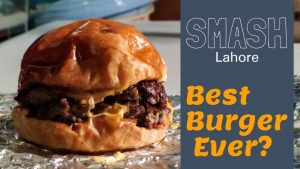 Smash burgers offer homemade-style beef burgers with nothing over the top, just some fresh meat, cheese, and veggies to choice. Their burgers are easy to eat without a mess.
They have an addicting taste, serving the best beef burgers that are cooked perfectly. People are obsessed with their burgers.
Location: Royal Park, Lahore.
MY BURGER LAHORE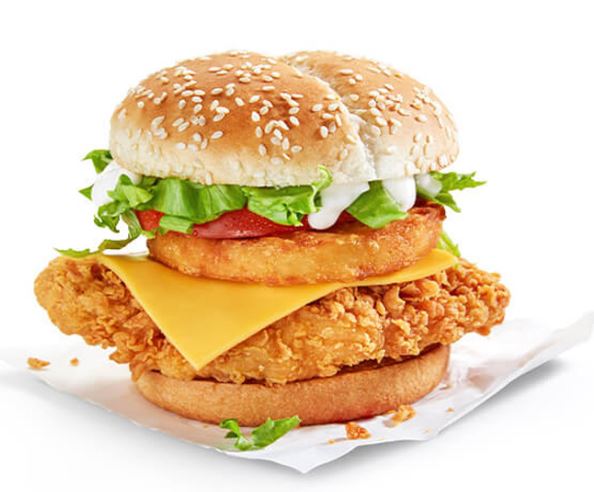 Jump into the sensation of chicken grilled burgers. They are serving one of the best burgers you can get in town. Devour the smoother and juicy single and double patty burgers that will make your buds tickled. They sell delicious and very economical burgers.
My Burger is serving its customers with the best-grilled burgers available in both chicken and beef choices. Their burgers are no doubt mouthwatering and have an affordable price.
Location: PIA Housing Scheme, Lahore.
THE GRIZZLY BURGER LAHORE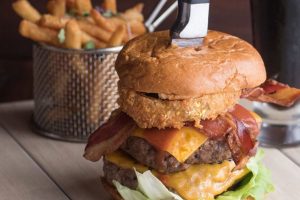 Experience the luxurious taste with the best burgers by The Grizzly Burger. Their burgers are so good that you will come back again and again. They are surely rocking the burger scene.
The dark black bear, the mighty grizzly, or luminous polar bear. Which one are you fond of? After trying any of these signature burgers, we are sure that you will feel stuffed. The flavors dance in the mouth with every bite of this mouthwatering yumminess.
Location: DHA Phase IV, Lahore.
Let us know which outlet you liked the most and had the best experience with?