Nothing can calm one down better than the comfort of your room, except… the temperature. Cool in the summers and cozy in the winters. It's what we look forward to have after a long hard day at work. What we don't look forward to is the over-the-top electricity bills. With an air conditioning (AC) unit that keeps the temperature and your bill both at a pleasant minimum, there wouldn't be any reason for thoserestless nights of worrying about the bill. Now the real question in your mind is –Where can I find those?
Latest technology suggests that Inverter ACs are the best and most efficient typesof cooling units. However, we will save you the research and give you everythingyou need to know here so that you can make a well-informed choice.
Just because the season seems to be changing a bit doesn't' mean you don't needone, this could be the best time to identify the best Inverter AC in Pakistan.
Air Conditioning and the Mechanics Behind it
First thing's first. You need to know how an AC works to be able to understand whattype of AC you'd like to have and why. So let's just start with – How does an AC work?
Though it may some times seem like all it really does is throw out air at a defined temperature, that's hardly the case. ACs take in the warm and humid air inside aroom. A compressor condenses the air and passes it through an outdoor unitchanging its state from gas to a pressurized liquid. As the liquid goes through theindoor unit's cooling compartment it is relieved of some the pressure which turns it back into gas and cools it down. The cool air is then forced through the blower ofthe indoor unit. An AC unit will continue to repeat this process until the temperatureset has been reached.
This quick summary brings us to our next question.
What is an Inverter AC?
Knowing what an Inverter AC is, will also help you to arrive at the same conclusion.That this is, in fact, the best type of AC to battle the heat of summers Pakistan.The most simple way to define an inverter AC would be based on its core ability –control over compressor motor speed. Think of it this way: in a car, what do you doif you need more speed? You pump the accelerator. Apply the same concept here.Instead of a compressor working at the same speed until your desired temperature is reached, an inverter will help the compressor draw more or less power asrequired.
Inverter AC VS. Non-Inverter AC
Rather than having a compressor that runs at a fixed speed, an inverter AC has the advantage of a compressor that can run on a variable speed. A normal AC unit will run continuously at its maximum power requirement levelthe entire time its compressor is on. However, any AC unit with an inverter will only take the amount of power required to stabilize your desired temperature.
As we have now learned, an inverter AC has no reason to run as long as anon-invertor AC so basically it saves a lot of otherwise wasted precious energy.
Changing speeds to best suit the requirements of its room will not only be light on the environment but also your pocket. Minimizing electrical consumption definitely costs an Inverter AC user relatively less in the long-run.
There is nothing worse than unwanted noise interrupting your time for a little peace and quiet. An Inverter AC will control its sound as it doesn't have the need to switch its compressor on and off repetitively. The low mechanical hum of the AC will be hardly noticeable while your rest.
Inverter technology has been around for some time now and is taking over. As companies have fully embraced the technology they bring out newer models with enhanced features. It has been observed that Inverter ACs are durable with a longer life as compared to non-Inverter ACs.
Going back to how the Inverter AC operates, you would notice one prominent advantage. You could change the temperature of your room faster as opposed to if you were using a non-Inverter AC.
Compressors in non-Inverter ACs run at the same speed no matter what. The speed of an Inverter ACs compressor will be higher and take more power in the beginning. As it reaches the target temperature the speed and amount of power required will reduce to the point that the unit needs to maintain the defined temperature.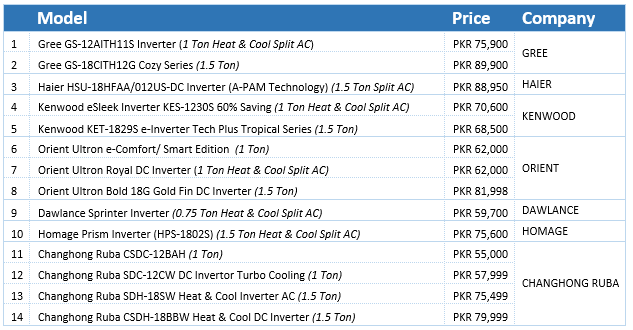 GREE
Gree is a renowned company that has worked hard over the years to be recognized as the world's largest air-conditioning manufacturers. They work continuously to improve their products with innovative technologies. Gree has established a production base in Pakistan. Not only do they provide sound quality but also remarkable customer service.

This one ton, heat and cool, split unit is equipped with a powerful G-10 inverter. G-10, is the latest in inverter technology and allows faster heating and cooling with reduced electrical consumption. You can save up to 60% while using the Gree GS-12AITH11S Inverter AC.
Other Unique Features:
Double Layer Condenser
Advanced High Speed DSP Chip
3 Sleep Curves
4-Way Air Flow
Low Voltage Startup (150V)
Ultra-Low Frequency Torque Control
Automatic Voltage Adaption (150-260 V)
Automatic Restart
Wide Frequency Precision Control
Wi-Fi Control
Exact Temperature Control
Fireproof Electrical Box
Ultra-Quiet
HAIER
Haier Pakistan is a top preferred home appliance brands by consumers in Pakistan with a market share of 32%. Although it doesn't manufacture AC units within the country, they ensure great after sales and truly devote themselves to providing their customer a seamless experience.
PAM control is a technology that manipulates the current waveform to mimic the supply voltage wave. This helps to reduce loss and use electricity more efficiently. A Smart device comes with the AC to allow easy access to your AC unit from anywhere.
Other Unique Features:
1.5 Ton
Turbo Colling & Heating
46°C Full BTU
One Touch Cleaning (99.9% Sterilization Rate)
Innovative design
Reduced Installation Time (by 50%)
Reduced Maintenance Time (by 80%)
UPS Inverter (automatically switches if low voltage detected)
KENWOOD
Kenwood focuses on bringing you AC models that will be easy on your eyes just as much as your pockets. They strive to create units that blend well with your décor and do not stand out as additional piece of equipment drawing unnecessary attention to the unit.

Enjoy extended hours of cooling and heating with this inverter AC by Kenwood. An anti-fungal feature has been incorporated in this affordable unit to provide a clean and controlled temperature. This model has been designed keeping long-lasting affordability in mind.
Other Unique Features:
1 ton
Up to 60% Energy Efficient
DC Inverter Compressor
R410a Gas
I-Feel Function
Auto Clean Function
4D Air Flow
100% Copper Pipe

Kenwood brings the KET-1829S as an economical model with eco-friendly features. It is a 1.5 ton inverter AC unit with heat and cool functionality. Look to control the temperature of your room with this reasonably priced up-to date unit.
Other Unique Features:
R410A Gas
Heat and Cool Function
4D Air Flow
Long Distance Air Throw
Hidden LED Display
Auto Restart
Easy Self-Cleaning
Intelligent Sleep Mode
Anti-fungus Function
150 Volt Compressor Start
I-Feel Function
ORIENT
The past decade has shown us the great potential Orient has to offer. With innovative product lines and the addition of experimenting with AI, they are transforming the average Pakistani home into a Smart Home.

Experience the smartness of an AC unit at an entirely different level. With online control you can view the AC's activities with charts and diagrams summarizing energy consumption. Also, place commands, such as scheduling its run-time. Remember these are innovative add-ons to the already remarkable features present in any of Orient's other standard inverter AC.
Other Unique Features:
1 Ton
Factory installed Wi-Fi Kit
Built-in Energy Meter
Electricity Consumption Management
Online Control
Schedule Management
50 Feet Long Air Throw
60% Energy Savings
Low Voltage Operations
For All Weathers
Japanese PCB
Gold Fin – No Rust

Orient has packed this unit with many smart features as well. From complex AI Display and Voice Command support to basic Wi-Fi Connectivity, the unit was built for the future. The Ultron Royal is complete with rust-free measures to ensure great year-round heating and cooling.
Other Unique Features:
Gold Fin Evaporator & Condenser
4D Air Throw
50-feet Long Air Throw
R410 Eco Friendly Refrigerant
Low Voltage Operation (150V)
For All Weather (Heat & Cool)
Big Indoor Unit (1.1M)
Energy Efficient (Up To 80%)
Autopilot
Smart Clean (Built-In Auto-Clean)
Smart Controls via App

Built-in Energy Meter
Predict Electricity Bill
Analyze Usage Reports
Self-Diagnostic
Maintain Timeline
Control and Command via Facebook Bot

If you are really mindful about how a unit looks in your room, then you will really enjoy the Ultron Bold by Orient. Its sleek design is enhanced with the extra charm of a rust-free blue and gold fin. This unit is a unique 'Smart Edition' model that really does intelligently handle its performance.
Other Unique Features:
1.5 Ton
High Gloss Dual Injection indoor
Biggest Indoor (Available in Market)
Wi-Fi
Built-in Energy Meter
Electricity Consumption Management
Online Control
Schedule Management
Bigger Outdoor
50 Feet Air Throw
Low Voltage Operation (Startup at 140V)
Heat and Cool
R-410A Eco Friendly
Digital High Efficiency Chip (Made In Japan)
Double Layer Condenser
Up to 60% Electricity Saving
Modern AI Interface
For All Weather (Heat & Cool)
Big Indoor Unit (1.1M)
Autopilot
Smart Clean (Built-In Auto-Clean)
Smart Controls via App

Built-in Energy Meter
Predict Electricity Bill
Analyze Usage Reports
Self-Diagnostic
Maintain Timeline
Control and Command via Facebook Bot
DAWLANCE
As Dawlance is amongst the oldest AC manufacturing companies in Pakistan, it has produced many models all competing to be recognized as the best.

This 0.75 ton Inverter AC unit is prepared to give you energy efficient heating and cooling all year. This unit is particularly popular from their Sprinter series.
Other Unique Features:
Quick Cooling Long Air Throw
Refrigerant Leakage Detection
Fireproof Control Box
Corrosion & Rust Free Gold Fin
High-Efficiency Tubing enlarges the heat transfer area
Heat & Cool Function
Multiple Programming Feature (Timer)
Sleep Mode
HOMAGE
Homage has expanded over the years and now provides its Power and Home appliances in 24 official service centers nationwide. With an extensive dealer network and e-commerce presence throughout Pakistan, shopping for Homage appliances has become very easy.
Homage Prism is in the race for Pakistan's best AC unit and you won't have trouble finding it. It is a straight-forward and economically beneficial unit.
Other Unique Features:
Up To 60% Energy Efficient
Heat & Cool
R410a Gas
Hidden LED Display
Auto-Restart
I-Feel Function
Auto Clean Function
4 Direction Airflow
Intelligent Sleep Mode
Anti-Fungus Function
Hydrophilic Aluminum Fins
100% Copper Pipes
Gold Fin
Tropical T-1
CHANGHONG RUBA
Although Changhong Ruba is still a fairly new name versus some of the names on our list, it has shown great potential with a network established across Europe, Middle East and Southeast Asia. Because of the outstanding quality of their products it is rapidly becoming more and more popular.
The CSDC-12BAH is one of four Changhong Ruba models that has made our list for best inverter AC in Pakistan. This one ton model is simple and affordable but this doesn't compromise its quality.
Other Unique Features:
DC Inverter
Cool Only
Golden Fin Evaporator and Condenser
Turbo Cooling
Low Voltage Startup at 150V
Energy Saving Up To 60%
100% Copper Connecting Pipe

The SDC-12CW is a 1 ton is equipped with a branded compressor that provides high quality performance with more stability and less vibration. Heating and cooling is quicker and better with this inexpensive yet fully capable model.
Other Unique Features:
Cool Only
Evaporator & Condenser use Gold Hydrophilic Aluminum Foils
100% Copper Connecting Pipe
Energy Saving up to 65%
Turbo Cooling
5 Layer Anti-Corrosion (Increased Durability)
Hidden Display
High Density Filter
Auto-Clean
Auto-Restart
Wide Voltage Range (150V to 260V)
Long air throw

Changhong Ruba is concerned about the impact on the environment which is why they made sure that this model uses eco-friendly materials wherever possible.
Other Unique Features:
1.5 Ton
BW Inverter
Turbo Cooling and Heating
Auto Restart
Energy Saving Up To 70%
Low voltage Startup (135v)
Double Layer Condenser
Gold Aluminum Fin Foil Evaporator and Condenser
New Control PCB and Low Voltage Start (135V)
Inner-Grooved Copper Tube (Improved Heat Conduction by 30-50%)
Anti-Bacterial Filter
Precise Temperature Control
Happy Shopping!
From basic AC units to AI infused smart ACs, the market is saturated with options. This breakdown intends to make it a little easier to make a decision. So, whether it is to identify a model that will help you get through the winter first or just to make sure you buy the best AC for our hot and humid summers, we hope it was helpful.
By analyzing the trending models mentioned you could even predict the best inverter AC in Pakistan for 2021 and beat the heat in the upcoming summer season.