A mouth-watering and delicious pizza can truly make your day. The melting cheese coupled with the appetizing tomato sauce and topped with olives, mushrooms, and pepperoni is truly a slice of heaven. However, a below-par and flavorless pizza can be a huge disappointment.
To save you the trouble we have found the best pizza in Karachi offering deliciousness at affordable rates. Check out these amazing pizza places for a delectable experience every time.
Best Pizza in Karachi
Find below the places offering the best pizza in Karachi along with the flavors and sizes available.
| | | | | |
| --- | --- | --- | --- | --- |
| # | Pizza Place | Best Flavor | Largest Pizza Size | Price in PKR |
| 1 | 14th Street Pizza | Chicken Mughlai | 20" | 2,549 |
| 2 | Calfornia Pizza | Meat Lovers | Jumbo Pizza | 1,699 |
| 3 | Pompeii Pizza | Chicken, Spinach, and Feta Cheese | Regular | 1,300 |
| 4 | Xander's | Pepperoni | Regular | 1,040 |
| 5 | Dominos | Tex Mex | Large | 1,799 |
| 6 | New York Pizza | New York Special | 21" King Kong | 2,699 |
| 7 | Broadway Pizza | Wicked Blend | 20" | 2,499 |
| 8 | Pizza Hut | Chicken Tikka | XXL | 2,979 |
| 9 | Pizza Point | Chicken Max | Jumbo | 2,199 |
| 10 | Pizza Max | Creamy Super Max | Jumbo | 1,690 |
1. 14th Street Pizza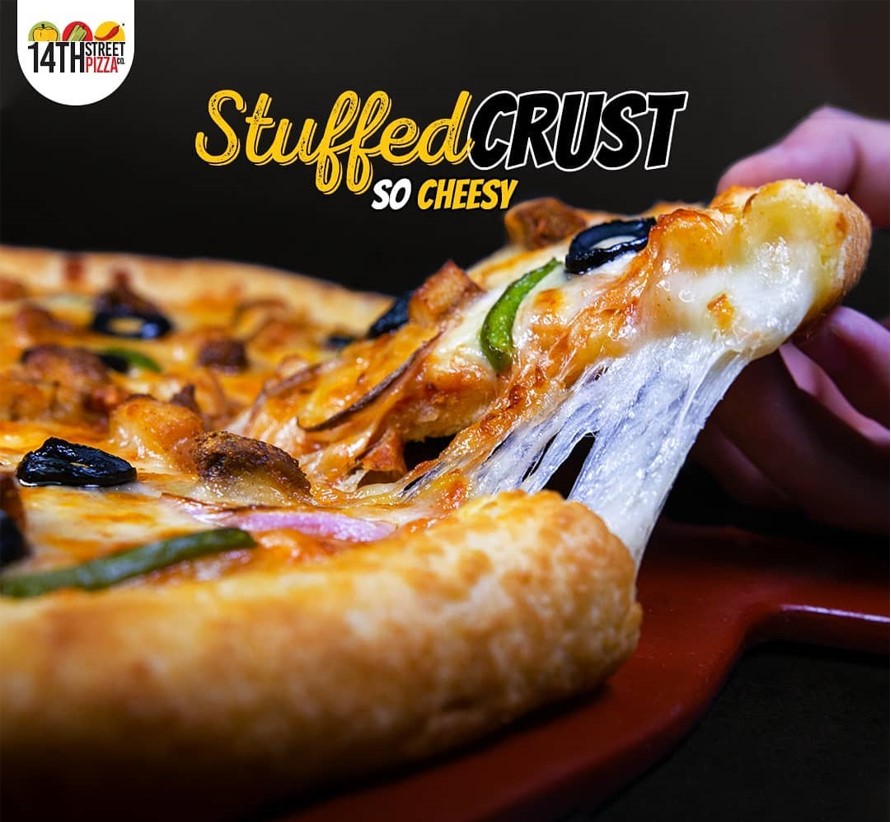 One of the 1st pizza places offering International sizes and flavors, 14th Street Pizza is a class apart. Enjoying a loyal customer base they have managed to maintain their standard over the years. The pizza sizes available at the restaurant include:
Single Slice, 9 inches, 10 inches, 12 inches, 15 inches, 20 inches.
The 'Create your Own Pizza' option helps customers customize orders to their preferences. Their Chicken Tikka, Cheesilicious, and Creamy Chicken Delight pizzas are hot favorites. Their stuffed crust is among the best available in the city.
The 14th Street Pizza has the following branches in Karachi
Khayaban-e-Shahbaz, DHA, Karachi.
Gulshan-e Iqbal, Karachi.
DHA Phase 6 Karachi.
PECHS, Karachi.
2. California Pizza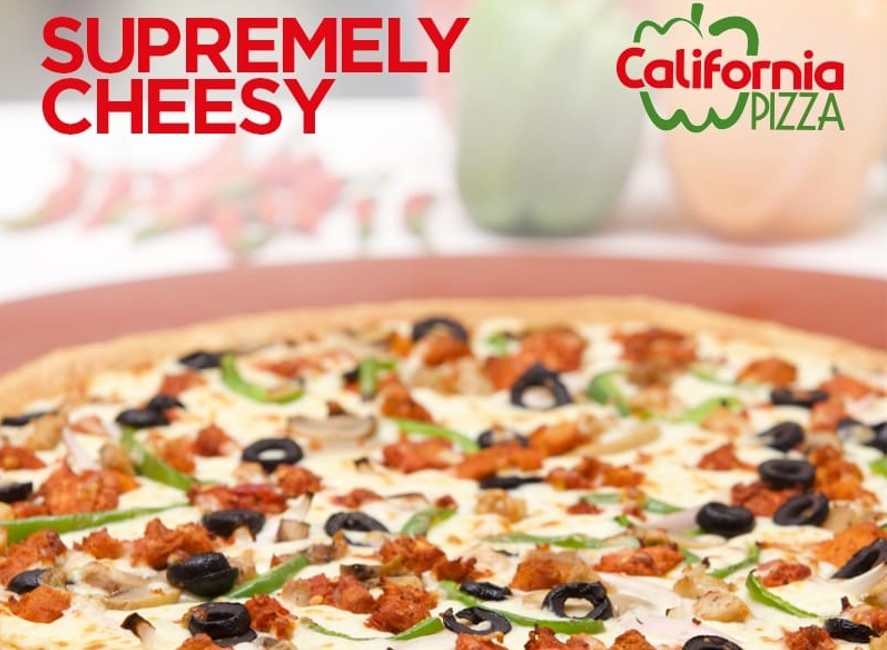 California Pizza has steadily taken over to be one of the most popular pizza places in Karachi. With multiple locations, flavors, and affordable deals they are quickly taking over as the leader in Karachi's Pizza landscape.
The sizes of Pizza on offer are Small, Regular, Large, and Jumbo.
The best flavors offered by California Pizza include Creamy tikka, Super Supreme, Fajita Sicilian, and the recently introduced Meat Lovers.
Their locations in Karachi include:
Main Bahadurabad
Rashid Minhas Road
Model Colony Malir
North Nazimabad
Garden East Karachi
DHA Karachi
Gulshan-e-Iqbal Karachi
3. Pompei Karachi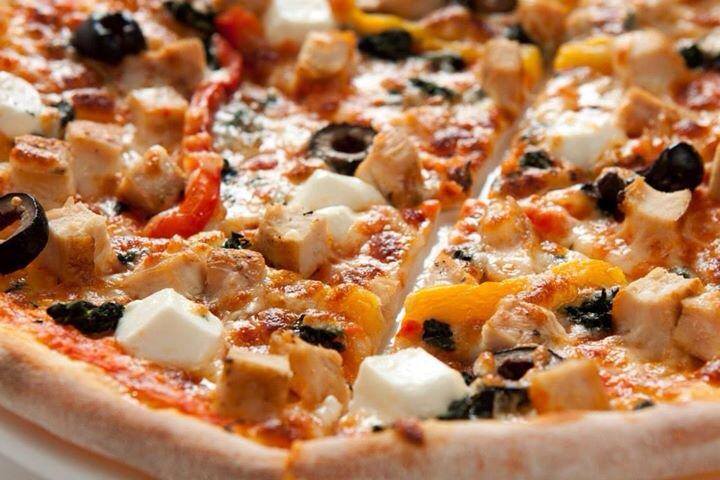 Pompei is a well-loved, fine dining Italian restaurant in Karachi. They are known for their thin crust, brick oven pizzas that are a testament to their expertise in authentic Italian food. Their Margherita Pizza and the Chicken, Spinach, and Feta Cheese Pizza are hot favorites. The Shrimp and pesto pizza comes highly recommended offering international standard flavors at a reasonable price.
Located at: Shapes Health Club, Karachi Cantonment.
4. Xander's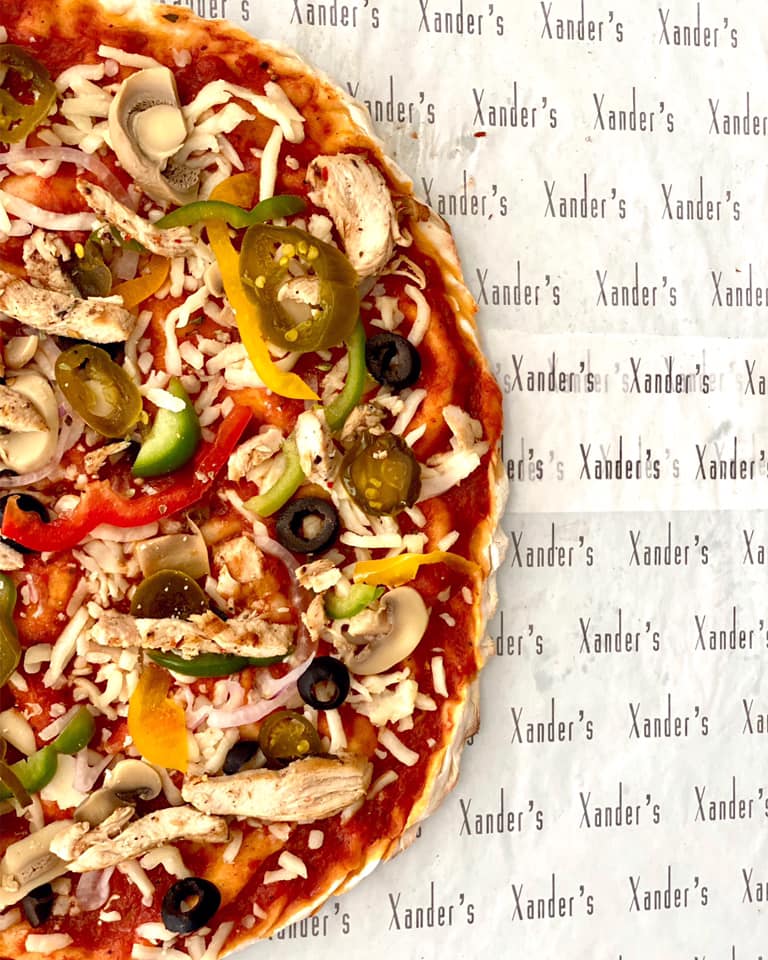 Xander's is a contemporary gourmet cafe. It is rapidly becoming a local favorite because of its vibrant ambiance, delicious food, and prompt service.
They offer brick oven pizzas in many delectable flavors including Margherita, Pesto, and Pepperoni. Be sure to try their exotic Goat's Cheese and Fig's pizza. Pizzas are available in
Regular and mini sizes.
They have 3 locations in Karachi.
Tipu Sultan Road, PECHS, Karachi.
Block 4, Clifton, Karachi
Phase 6, DHA, Karachi.
5. Dominos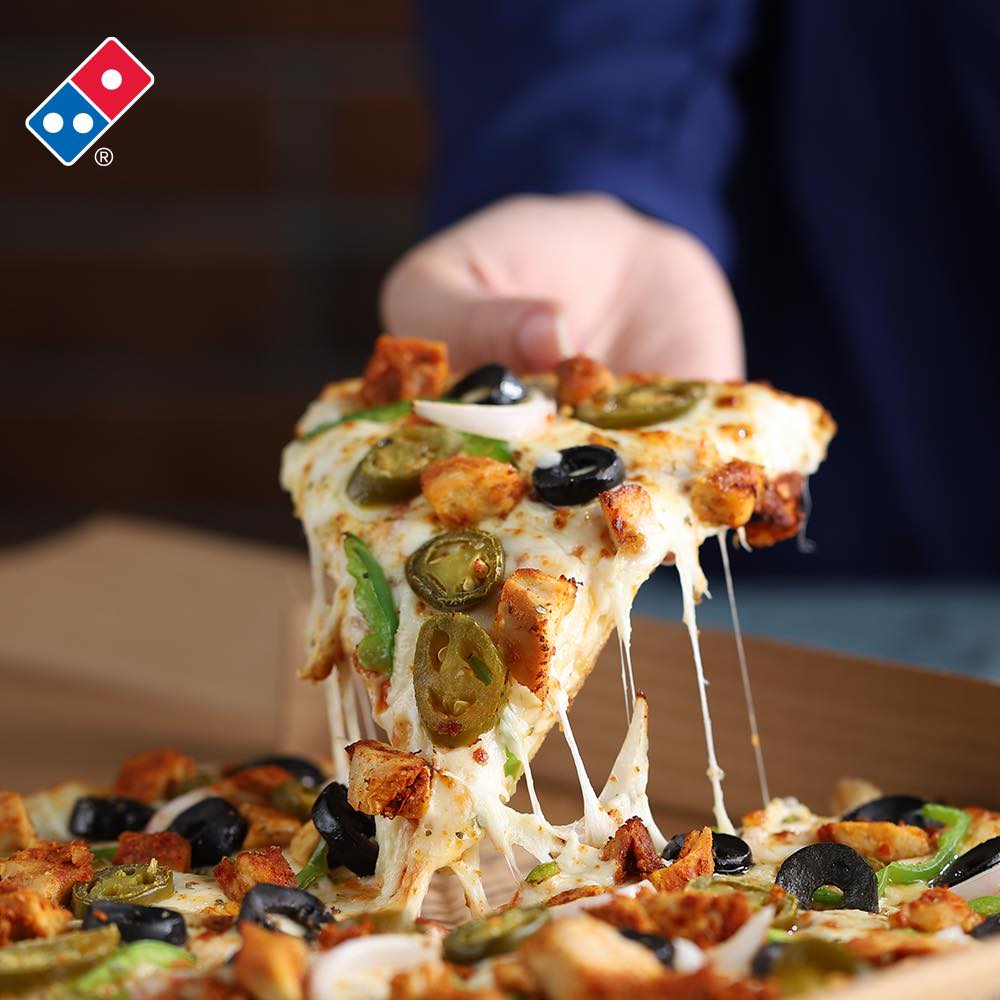 The global pizza brand Dominos now has an established presence in Karachi. Operating across multiple branches Dominos offers the deliciousness of a thin crust pizza. Founded in 1960 they have more than 15000 outlets across the world. Enjoying a steady and loyal following in Karachi, the Dominos pizza is a class apart.
The types of pizza available at Dominos include Pan pizza, Hand-tossed, Italian thin, Crunchy Thin, and the fan-favorite Double Melt pizza containing a layer of cream cheese between two thin crusts. The sizes on offer are small, medium, and large.
The popular flavors include Tex Mex, Euro, Pepperoni, Creamy Tikka, and Smoked Sausage.
They have multiple locations in Karachi including:
Khayaban-e-Ittehad, DHA, Karachi
Block 13/A, University Road, Karachi
Malir Cantt, Karachi.
Shaheed-e-Millat, PECHS, Karachi
North Nazimabad, Karachi.
6. New York Pizza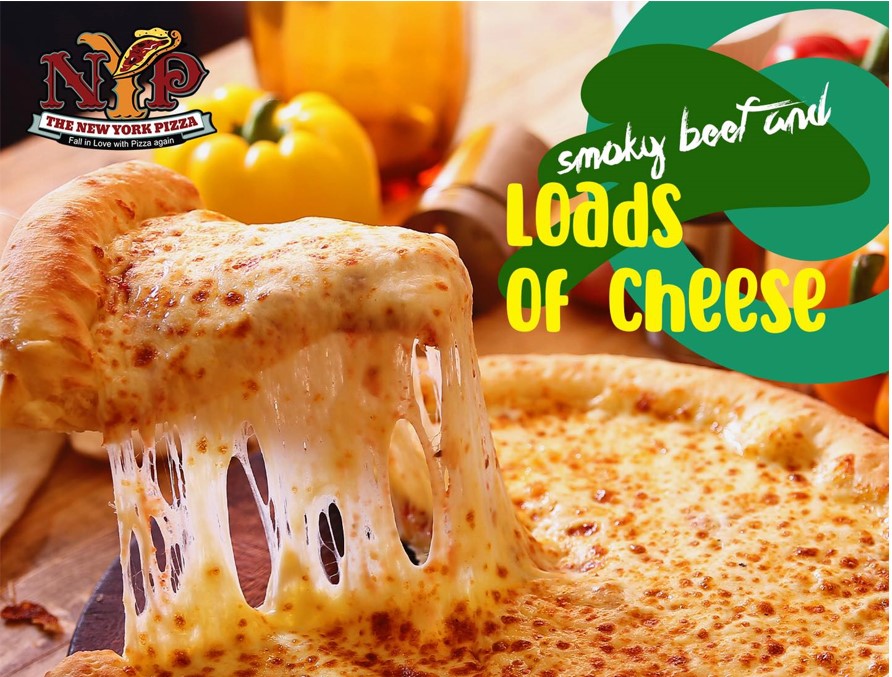 The New York Pizza is famous for its large 21" pizzas providing the authentic New York feel. They specialize in large, thin-crust, foldable pizzas that offer deliciousness like no other. The soft crust, succulent pizza sauce, and crunchy toppings are their calling card that forces customers to keep coming back for more.
The pizza sizes on offer include 7", 9", and 12" deep pan pizzas and the New York Style 16" JUmbo and 21" King Kong Pizza. Their popular flavors include the New York Special, Chicken Tikka, and Chicken and Beef Pepperoni.
They are located in the following 4 areas in Karachi
Johar Mor, Gulshan-e-Iqbal, Karachi
Ocean Mall, Clifton, Karachi,
Block L, North Nazimabad, Karachi
Badar Commercial, DHA, Karachi
7. Broadway Pizza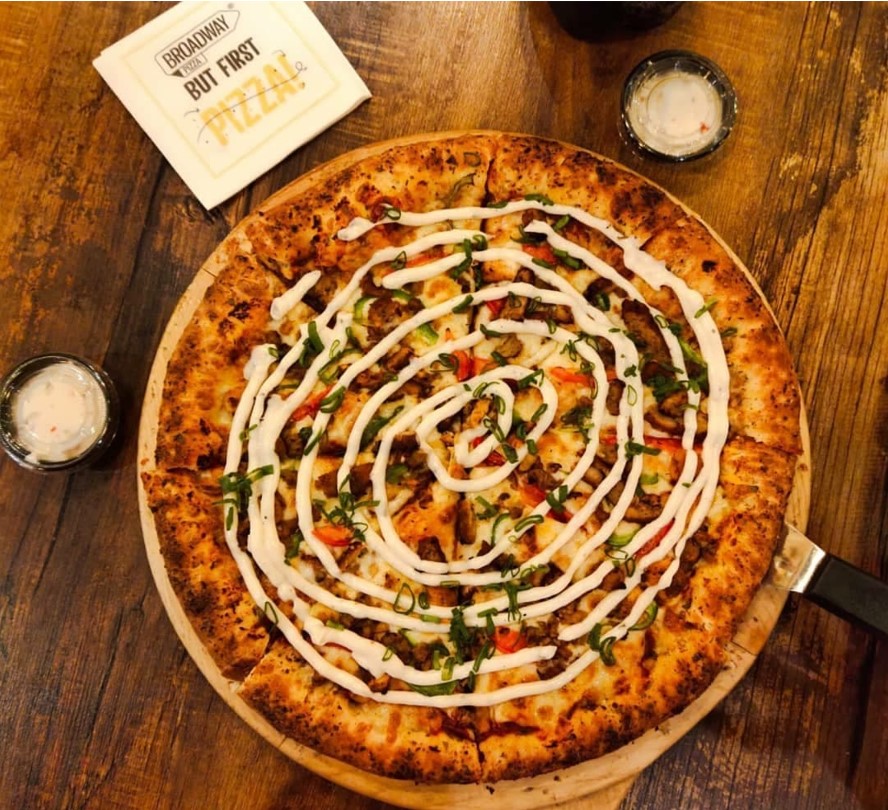 Having the best pizza crust in the business, Broadway PIzza is a heavenly choice. Inspired by the Broadway Musicals their pizza titles depict the whimsical and the fantastic. Awarded the Brand of the Year as the National Pizza Chain of Pakistan they are always innovating and include unique offerings in their menu. Currently offering the World's largest Pizza Slice measuring 5 feet and 12 kg Broadway pizza is surely a class apart.
Their pizza sizes include Star, 6", 10", 13", 20", and 40" slices. Their popular flavors include Dancing Fajita and Wicked Blend.
Broadway Pizza has multiple locations in Karachi, including:
II Chundrigarh Road, Karachi
North Nazimabad, Karachi
DHA, Karachi
SMCHS, Karachi
Johar Chowrangi, Karachi
Bahadurabad, Karachi
8. Pizza Hut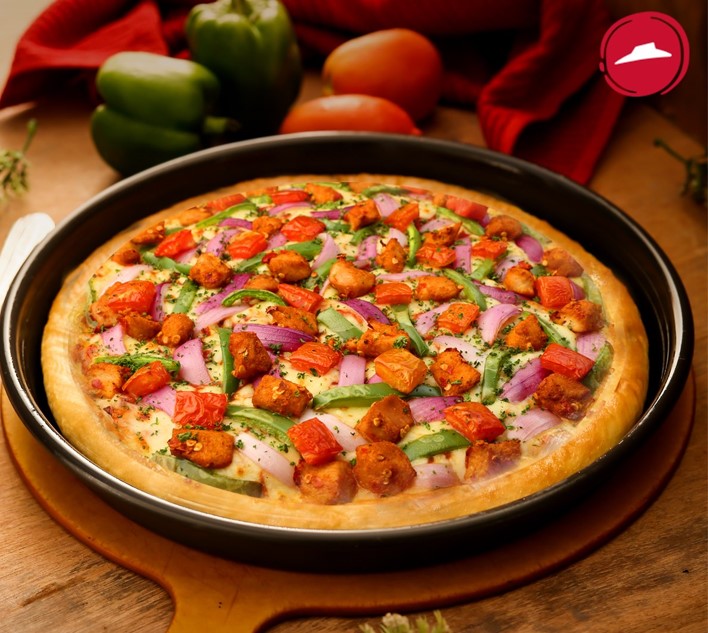 Established in 1993, Pizza Hut is the largest Pizzeria chain in Pakistan. A favorite of generations it has continued to evolve and maintain its presence among the numerous new establishments. They have amassed up to 76 outlets across the nation.
Pizza Hut's Chicken Tikka pizza continues to be a fan favorite, while Chicken Supreme is also hugely popular. Their garlic bread and potato wedges serve as worthy accompaniments to the pizza. The sizes of pizza available at Pizza Hut include Small, Medium, Large, XL, XXL.
Pizza Hut has multiple franchises in Karachi including the following branches:
Shahra-e-Faisal, PECHS, Karachi
Khayaban-e-Shahbaz, DHA, Karachi
Boat Basin, Clifton, Karachi
Gulistan-e-Johar, Karachi
Star Gate, North Nazimabad, Karachi
Garden East, Karachi
9. Pizza Point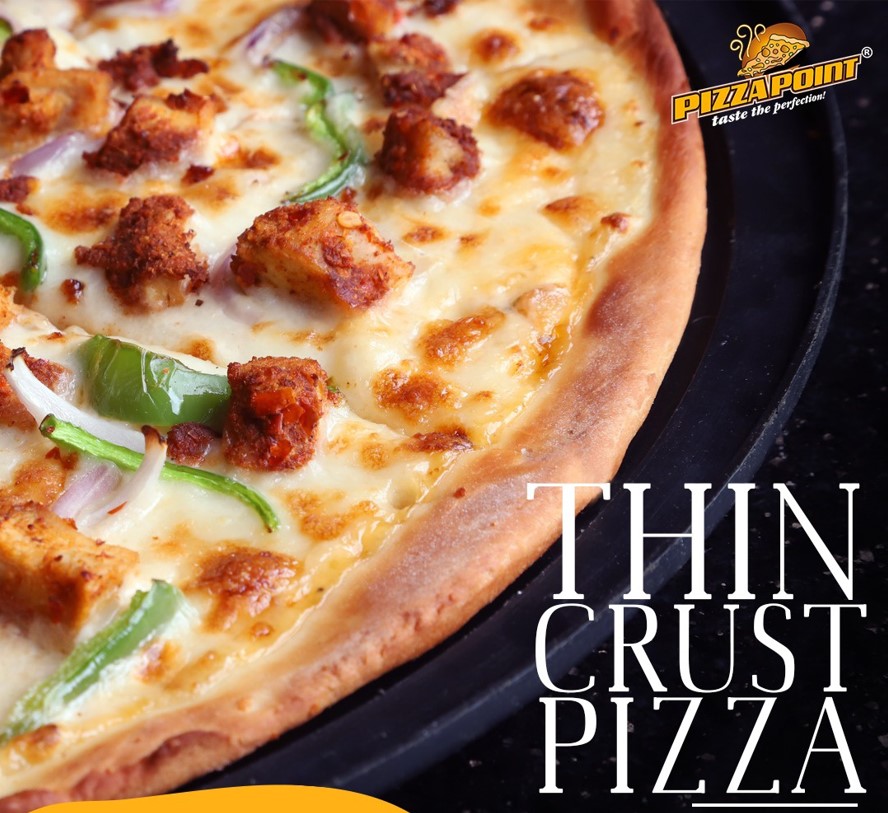 Pizza Point is the place of choice for an affordable yet delicious pizza. Established at multiple locations across Karachi they have amassed a steady clientele due to their amazing and low-cost deals.
Their innovative pizza flavors include Mughlai Pizza, Chapli Kabab, Afghani Feast, Jamaican Pizza, Italian Light, etc. The pizza sizes include Small, Regular, Large, and Jumbo with the option of selecting a thin crust or thick crust.
They also offer a membership card for customers to avail of order discounts. The Pizza Point franchises are established at the following locations in Karachi.
Gulshan-e-Iqbal, Karachi
North Nazimabad, Karachi
PECHS, Karachi
Preedy Street, Saddar, Karachi
Kharadar, Karachi
Shah Faisal Colony, Karachi
10. Pizza Max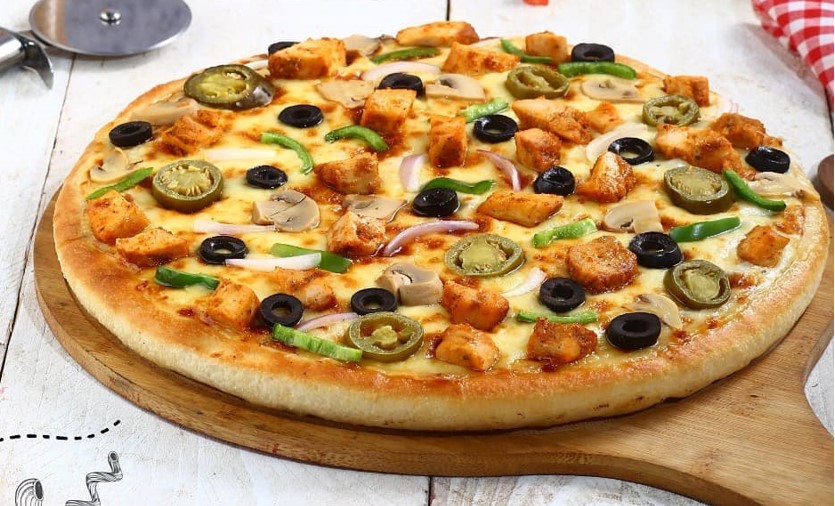 Pizza Max was established in 2009 and has quickly evolved to be one of the most popular pizza chains in the country. Their varied menu coupled with their low rates makes them a hot commodity in the pizza market.
The pizza sizes include pan, regular, large, and Jumbo. They offer four types of pizza crust namely, hand-tossed, butter melt crust, kebab stuffed crust, thin crust, and deep pan crust. The pizzeria offers the option of choosing your own meat and vegetables as per your preferences.
The most popular flavors include creamy supermax, malai boti, and creamy tikka. The franchise locations in Karachi are as follows:
North Nazimabad, Karachi
Garden West, Karachi
DHA, Karachi
Shaheed-e-Millat, Karachi
Gulshan-e-Iqbal, Karachi
I.I. Chundrigar Road, Karachi
Ready, Set, Pizza
Here you have a list of pizzerias to enjoy the best pizza in Karachi, along with their rates and locations. Try the flavors mentioned above and do let us know your favorite one!