The world has seen a stand still like never before. COVID-19 has altered the landscape of many economic sectors and tourism is probably amongst the worst affected. According to the United Nations World Tourism Organization, 53% of destinations worldwide have observed reduced travel restrictions by now. Pakistan officially announced reopening tourism on October 5, 2020 for passengers that have taken necessary steps to make sure they are COVID free.
Before the pandemic, Pakistan was finally breaking through its stereotype image. It was being seen as an affordable vacation destination that is a home to a friendlier and progressively unique culture. Tourism in Pakistan has re-opened with hopes of providing a healthy and safe destination. With an approaching winter season many of the country's tourist spots are preparing for breathtaking snow-covered views and enchanting winter wonderland-like feels.
For those who are considering an international trip or are already here and were wondering exactly where to go this winter, here is a list of our favorite locations.
Places to Visit in Winters
Pakistan is one of those countries that is blessed with the opportunity to enjoy all four seasons. Various natural wonders that the country has to offer, enthrall travelers. Therefore, we bring you a list of 7 most popular places to visit in winters. 
Malam Jabba
Kalam
Gilgit-Baltistan
Qila Rohtas
Mohenjo Daro
Cholistan Desert
Ziarat
Let's sneak into each one of them in detail along with their popular attractions. 
Scenic Sites
1. Malam Jabba, Swat, KPK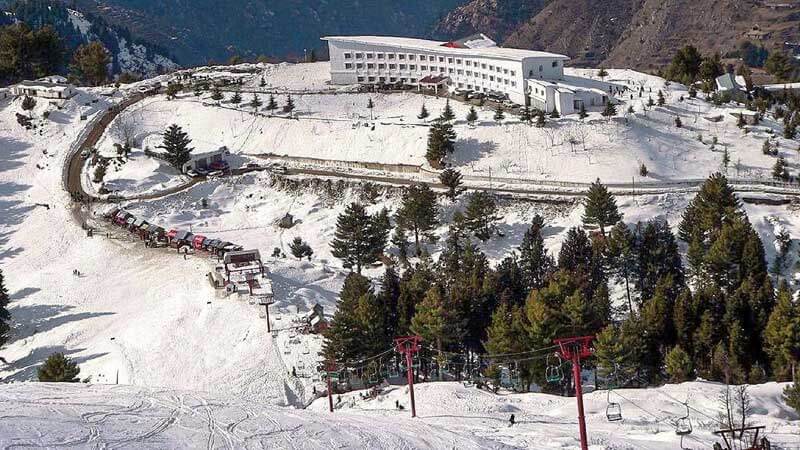 Where am I going?
Malam Jabba, Pakistan's oldest and largest ski resort , is positioned in the Hindu Kush range at a height of 2,804 meters (or 9,199 feet). This stunning resort is located roughly 50 kilometers away from Saidu Sharif, the capital city of Swat. The charming holiday spot attracts a number of tourists, domestic as well as foreign.
What can I do while I am there?
The ski resort has a ski slope of around 800 meters and is popular for its highest slope, at an estimated 9,000 feet (above sea level). A captivating display of the snow-covered valley below makes its chairlift ride most enjoyable. Chairlifts and skiing aside, this pleasant resort features ice-skating rinks, zipline, and free-fall. However, its best to ask about all activities at the entrance as it is difficult to obtain tickets later on.
If you are the one who enjoys a good snow trekking session you should definitely explore two well-known trails located in the area. One around 18 kilometers from the resort towards Shangla Top. The other almost 17 kilometers from the resort and passes through Sabonev Valley.
This beautiful valley also has ancient Buddhist stupas and monasteries aged to at least 2,000 years old providing for some historical fun.
What is the weather like?
The temperature in December varies from its highest temperatures reaching 6°C (43°F) and lowest temperatures down to -6°C (20°F). This is obviously a place to enjoy wintery snow-clad mountainous views while sipping piping hot coffee. IF you would like to visit at a time where you can enjoy a more pleasant temperature in the afternoon and cold evenings then you might want to consider visiting in January. The cold weather would have lifted just enough to allow you to appreciate winter and not have to go through the chilling cold even with the sun out.
Where can I stay?
This particular resort is accessible year round guaranteeing less trouble finding hotels and restaurants nearby. Since there has been an increase in the number of foreign visitors, you can be assured to find modern accommodations suited to make your stay comfortable.
If you are looking for a luxury stay you might be interested in Pearl Continental or Serena. For a more private experience, you can also find fully equipped villas for you and your friends or family with a host to bring an element of ease throughout your visit.
2. Kalam, Swat, KPK
Where am I going?
Kalam is a gorgeous valley packed with the sublime beauty of thick forests, chiseled mountains, and mesmerizing lakes. At 2,000 meters (6,600 feet) above sea level, it is popular with tourists because of the glaciers of Matiltan, Kundol Lake of Utror and medicinal springs of Gabral. All unique sites to see are in a 20 kilometer radius of Kalam.
What can I do while I am there?
The most popular attraction is the three hour trek from Kalam to experience the pristine view of Kundal Lake and its enchanting surroundings. It is highly advised to make the trip with a guide just to make sure you follow the right branch of the Swat River.
You can also take a jeep if you want to skip the walk to reach the Kundal Lake of the Laddu Valley. This would take half the time in case you are running low in time and would like to squeeze in this worthwhile visit.
If you are up for a little travel while in Kalam, you might want to make a small trip to Mahodand Lake in the Usho Valley. It is about 40 kilometers from Kalam, which you might want to have a jeep or any four wheel drive vehicle to cover with. The lake is surrounded by mountains and has a forest like island in its center that you can get to with the help of a bridge. This relaxing destination is a great quiet place to catch up on fishing. Purchase fishing permits for a small amount from Kalam's PTDC prior to your visit for an uninterrupted soothing fishing session. It is also prepared for boating and rafting activities.
Kalam itself is surrounded by the gift of an abundance of natural waterfalls. You will find most of these waterfalls in the forestry that decorates the area.
What is the weather like?
You can expect to experience a relatively warm and temperate climate while in Kalam. The city sees a significant amount of rainfall even in its dry months. The average temperature is 4°C (39°F) in December and around 1.5°C (35°F) by January, which is its coldest month. Temperatures can go as low as -2°C (28°F) and 8.1°C (47°F). If you are visiting in December, you will be able to benefit from the warmer weather during the day.
Where can I Stay?
Most hotels and accommodations would be found 45 to 50km away from Kalam. They are furnished to provide comfort, warmth, and a variety of hot meals after the cold weather fun. If you are up for a little adventure you can camp under the stars with a little help from PTDC (Pakistan Tourism Development Corporation). While touring the lakes keep in mind that you will be able to find packed snacks and bottled water, however, the remote location causes the food to be pricey.
3. Gilgit-Baltistan, KPK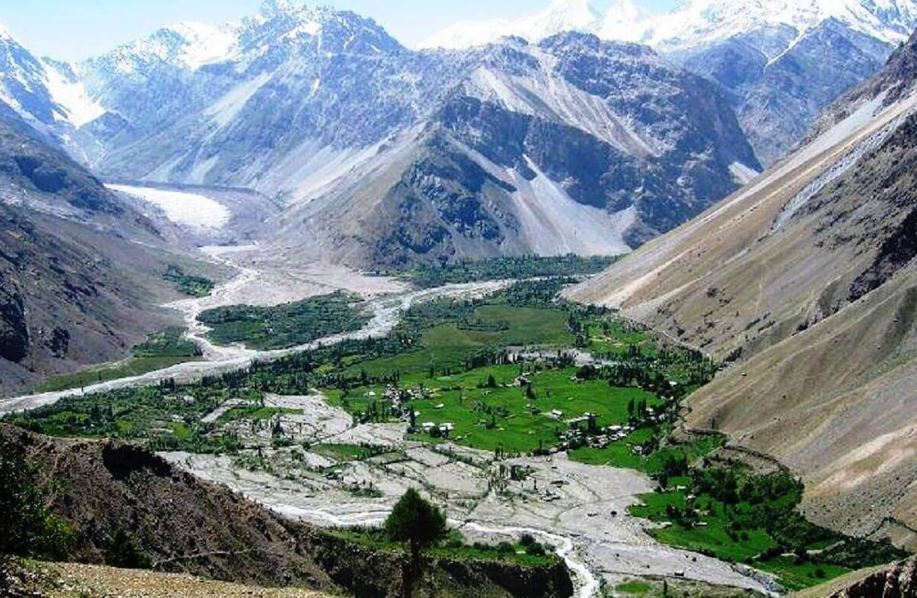 Where am I going?
This is the Pakistan's northern-most territory. Gilgit-Baltistan is an extremely mountainous district with Gilgit as the capital city. Gilgit-Baltistan houses five of the world's eight-thousanders and greater than fifty peaks that are above 7,000 meters (23,000 feet). With reference to glaciers out of the Polar Regions, Gilgit hosts the world's three longest glaciers.
Since the area is packed with mountains and glaciers, it attracts international and national trekkers and mountaineers.
What can I do while I am there?
While in Gilgit you might want to explore the Karakoram Highway with family and friends on a simple cycling tour. It's a sporty activity that you will never forget. Gilgit's tough winter is inviting to hardcore climbers and trekkers worldwide that also complete their excursion with nights at a camping base.
Naltar is a forested region with three lakes; the Blue Lake, Satrangi Lake, and Bodlok Lake. It also has an interesting garden, Halima garden, near the lakes which is something to see. For the difficulty level of this terrain you will find that four wheel drive vehicles are best suited for travel through these delightful destinations. The Naltar Valley has its own Ski competitions held at the Naltar ski resort. Chair lifts are a great way to appreciate the beauty that surrounds it and Naltar Valley has the longest chair lift in all of Gilgit Baltistan. The Naltar Wildlife Sanctuary is close to the ski slope for an additional activity on your to-do list.
What is the weather like?
Gilgit Baltistan sees three months of harsh winter weather starting in December. December holds an average high of -12°C and a low of around -24°C degrees. If you would like the comfort of a warmer winter-like experience you might want to consider visiting in November or March.
Where can I stay?
There are two ways to enjoy a trip to Gilgit. The first would require a one-on-one with nature, meaning right there at the camp base in a tent under the starry winter sky. This should be done with proper planning and arrangement so that you have all the necessary equipment and permissions. The second would be home-like relief with comfortable and cozy amenities. From Gilgit Serena to cosy lodges, you can find hotels and lodges that fit both luxury and budget-friendly trips.
Historical Sites
1.Qila Rohtas, Jhelum, Punjab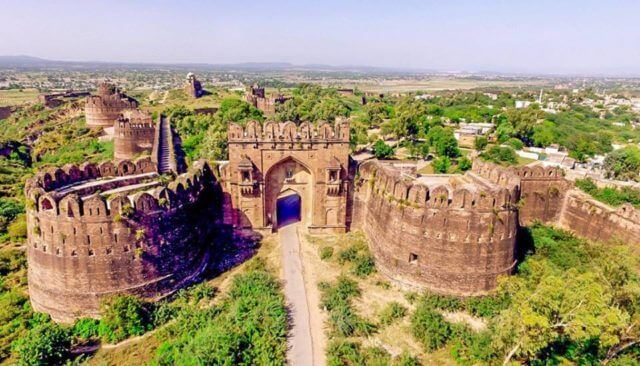 Where am I going?
The Rohtas Fort, built in the 16th century under the ruler Sher Shah Suri, the fort's purpose was to suppress the local tribes (Gakhar) of the Potohar region of that time since they did not recognize the sovereignty of Sher Shah Suri. Rohtas is one of the subcontinent's biggest and most intimidating forts which was never stormed. In 1997, UNESCO inscribed Rohtas as a World Heritage Site. They defined it as an "exceptional example of the Muslim military architecture of Central and South Asia."
What can I do while I am there?
Apart from soaking in the history at the fort itself, you should definitely take the time to visit Mangla Dam. The dam is a mere 50 minute drive from Jhelum. You can find an arrangement of various water activities that can be arranged for last minute fun.
What is the weather like?
The best time to visit this historical marvel is the winter season, you can enjoy it instead of feeling exhausted and overheated. The winter is pleasant and warm under the sun with average high temperatures at 21°C (70°F) and the nights are cooler with temperatures around 8°C (48°F).
Where can I stay?
Tulip Hotel is usually a popular accommodation option, this 3-star hotel has a restaurant as well. According to reviews it is highly recommended. The Grand Regency Hotel and and Lotus Inn Guest House have also received many favorable reviews as a great place to stay while visiting. Traditional Pakistani to western cuisines, you have many options of food that truly satisfies your hunger. If you are a fan of fast food you will easily find a number of international fast food chains within the city.
2. Mohenjo Daro, Larkana, Sindh
Where am I going?
This archeological site was originally built in approximately in 2500 BCE and existed at the same time as with the Mesopotamia, ancient Egypt, Norte Chico, and Minoan Crete.
Mohenjo Daro was first recognized in 1922, In terms of archaeological importance, a year after Harappa was discovered. As excavations gained popularity and remains were uncovered, Mohenjo Daro was revealed as the largest city of the Indus Valley Civilization.
What is the weather like?
Sindh is one of the warmer Provinces of Pakistan and Mohenjo Daro has gone on record to having the highest temperature in all of Pakistan in 2010. As interesting as the destination is, it is not the best idea to visit in summer. For favorable weather, the winter months are pleasant and bearable for extended hours of travelling under the sun. The maximum temperature in the winter season is 24°C and minimum is around 8°C.
Where can I stay?
Since this is a spot with a heavy count of foreign visitors, there are many resorts, hotels, motels, inns, and suites to suit your stay. You can find everything from luxury to cost-effective.
3. Cholistan Desert, Bhawalpur, Punjab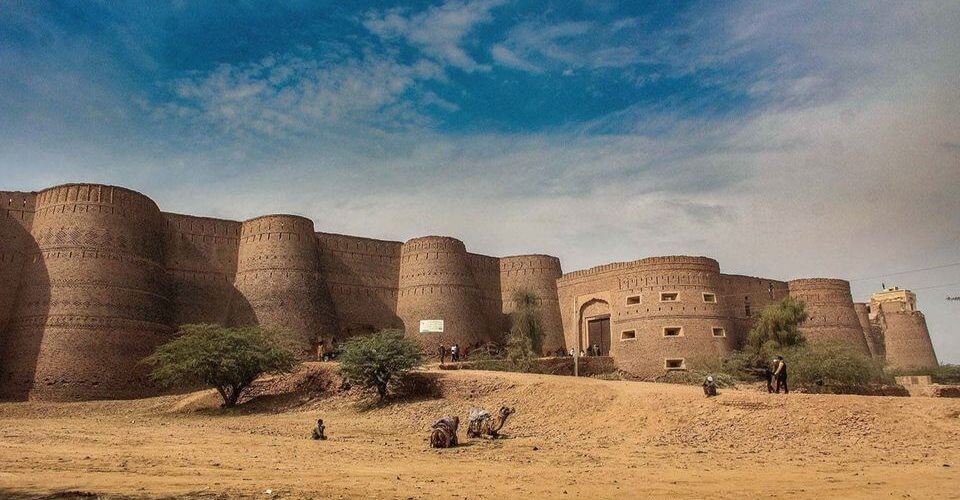 Where am I going?
The Cholistan Desert is located nearly 30 kilometers away from the city of Bahawalpur in Southern Punjab. It is a portion of the great Thar Desert, Pakistan's largest desert, which extends over Sindh and even across the border to Rajasthan, India.
Long ago, Cholistan was a fertile area with a great river fed by water melted from the Himalayas . It still has the roots of the ancient Indus Valley Civilization settlements from as early as 4000 BCE. This region was later recognized as a caravan trade center. Numerous forts have been constructed under the leadership of these early settlers to care for their trade routes. One grandiose example is the Derawar Fort.
The desert is not commonly recognized as a winter vacation spot, however for those who like a little history, culture and a break from the snow, this remarkable desert is a site in Pakistan worth your time.
What can I do while I am there?
While in the Desert, the most favorite tourist attractions would have to be the 9th century Derawar Fort, Channan Pir shrines, and Dodhla Forest.
The Derawar Fort, the most iconic landmark, was the home to Bahawalpur's Nawab in the past. Forty circular fortifications that are thirty feet tall create a protective exterior boundary. The Abbasi Mosque is only a walking distance from the fort and is an exact replica of the Moti Masjid in the Red Fort of Delhi. The structure was made in 1849, completely of white marble.
Positioned in between the Derawar and Din Garh forts is a tiny village of Chanan Pir that was named after Sufi who is buried there. This monument who holds value for both Muslims and Hindus.
Cholistan is not compromised solely of an arid desert, a lesser known wonder is the Dodhla Forest. This forest is among the few rare and protected Pakistani rainforests, rich flora and fauna.
You can book a Desert Safari with camel rides and everything for an unforgettable experience and visit the traditionally adorned bazaar for intricate handicrafts.
If you plan to visit the desert in February, you should incorporate the annual Jeep rally into your plans. In Pakistan this desert rally is equivalent to the biggest event for motor sport enthusiasts.
What is the weather like?
As it is a desert, temperatures at nights are drastically low going so far as to reach 0°C (32°F), however you can expect to find a warm winter sun during the afternoon.
Where can I stay?
Stargazing and exploring old monuments which were historically important is a fun way to spend a week off from your usual winter routine. You can arrange a bonfire and camping night through various tourism agencies for fitting outdoor adventure. However, you can find many major hotels and restaurants in Bahawalpur.
4. Ziarat, Quetta, Balochistan
Where am I going?
Quetta, the provincial capital of Balochistan, is Pakistan's only major city at a high-altitude with an elevation of almost 1,680 meters (5,510 feet). It is rich in fruit orchards and that is why it is also known as the "Fruit Garden of Pakistan". Ziarat is located at least 133 kilometers away from main Quetta in the second oldest Juniper forests worldwide. Some of the trees have been calculated to range approximately 5000 to 7000 years in age.
What can I do while I am there?
Ziarat Residency is also known as Quaid-e- Azam Residency as he spent the final days of his life here during his illness with Fatima Jinnah. This perfectly preserved homage to our nation's founder is the city's most celebrated and well-known landmark. The house reflects his character in itself and holds patriotic value to the inhabitants that dwell nearby.
Another place only 6 kilometers from Ziarat is Prospect Point which shows the Koshki valley lying below. Though there is a proper uphill road, it is recommended to walk where you will reach a leveled Prospect Point. You can view the highest peak here, Khilafat , from a nearby cliff standing at 3,487 meters (11,440 feet). According to the locals, the beauty of a snow-covered Ziarat is incomparable to any view in the summer making it a must-visit for the winter.
What is the weather like?
Expect to see snow in the winter months, with temperatures at 10°C by December. January is the coldest with its average lowest temperature being -3.4°C (25.9°F).
Where can I stay?
PTDC has constructed huts, lodges, and motels that can be booked in advance so that you can have a quiet visit away from the bustle of the city. Besides that, a few local hotels are also available in the heart of the city that can be found to be complete with modern-day amenities.
In case you would like to have a proper day of fun planned down to the minute, explore options given by PTDC for organized activities. You can also inquire for camping facilitation.
Wrapping it Up
There is no shortage of beautiful places to visit in winters. The best of them are listed in the article. We hope you enjoyed the read.
Do share your experiences of these places in the comments below.