Bowling is one of those activities that can be enjoyed with both friends and family. It can help you feel relaxed and enjoy with like-minded people who cherish the sport just like you.
If you live in Islamabad and Rawalpindi or you are planning to visit these cities, here are 4 popular Bowling alleys in Islamabad and Rawalpindi you shouldn't miss.
Bowling Alleys in Islamabad and Rawalpindi
Below are 4 bowling alleys in Islamabad and Rawalpindi you should visit once:
MegaZone
JFC Bowling Club
Round 2
Leisure City Bowling Club
Now let's go through each Bowling Alley in Islamabad and Rawalpindi and what it has to offer.
1. MegaZone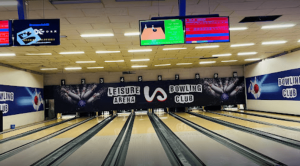 Located in F9 park, Mega Zone hosts shops, arcade games, a swimming pool, and a bowling alley. Whenever outsiders visit Islamabad, MegaZone is one of the places they don't miss.
The bowling area is clean, well equipped, and is large enough to host a large crowd.
Apart from gaming in MegaZone, the park also offers scenic natural views. One can arrange a small picnic and take memorable photos in the lush green park.
Timings: 9am – 11pm
Number: 0308-6512751
Address: F-9, Fatima Jinnah Park, Islamabad
2. JFC Bowling Club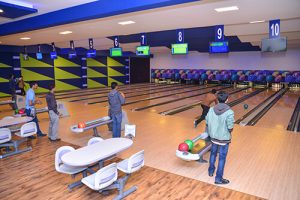 Located in DHA Phase 2, JFC (Jacaranda Family Club) has a lot more than bowling in store for you. There are multiple membership options with free membership available for 1 month if you join on your birthday.
Last year the club served 150,000 people who got the opportunity to relax and unwind with friends and family.
Membership:
Free Membership: Enjoy bowling for 1 month (If you join on your Birthday)
1 Membership: 30 people can enjoy bowling
3 Membership: 50+ people can enjoy bowling for 2 months
Timings: Open 24 hours (closed on Monday for maintenance)
Number: 051-2311001
Address: DHA Phase II, Club Avenue, Sector E, Islamabad
Email: [email protected]
3. Round 2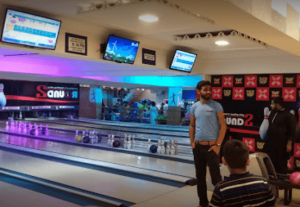 Round 2 is a fun-packed venue with food, drinks, games, and lots of entertainment. Their bowling alley is very popular, clean, and well maintained.
After an exciting round of bowling, you can eat and drink from their eating area which has great deals, or you can choose another game to play.
You can choose from games like:
Basketball
Fight Monster Shooter
Cute Duck
Hit Frog
Mini Bowling
Ultimate Big Punch
Toy Story
Superbike
Parkour (Candy type) etc
Timings:
Mon-Sun: 11am -10:30pm
Friday: 3pm-10:30pm
Number: 051-5421147
Address: PWD Society, Main PWD Rd, Sector-A, Islamabad
Email: [email protected]
4. Leisure City Bowling Club
A form of leisure sport, bowling is played and loved by many. The Leisure City Bowling Club follows international standards.
They have the finest bowling lanes manufactured by the German company Brunswick. On top of that, they have the latest oiling machine necessary for competitions and training.
The club has hosted multiple large-scale events like Azadi Cup 2016, Pakistan Tenpin Bowling Championship 2018, Azadi Cup 2021, etc.
Membership:
Student Membership: PKR 6000 per person per year
Professional / Corporate: PKR 12000 per person per year (the member and his 6 family members can use the membership)
Booking:
PKR 500 per game
PKR 4000/hour per lane
Number: 0315-50000, 0323-5000081
Address: Chaklala Cantt, Jinnah Park. Mushtaq Baig Shaheed Road, Rawalpindi
Email: [email protected]
Let's Go, Bowling!
In this article, we explored 4 bowling alleys in Islamabad and Rawalpindi. The mentioned venues are popular, well established, and well maintained.
They offer a clean, well-equipped, and fun atmosphere to release stress and unwind. We recommend you check all the above-mentioned places before picking a favorite.