Fashion never goes out of style. There is always an upgrade to the new style statements presented by the fashion gurus. You can find some kind of healthy competition among brands that bring forward new collections every season. And it is a tough task to choose one between such amazing choices.
We bring to you a list of 10 brands with the most trendy styles and collections this year, that you can choose to buy from.
List of 10 Clothing Brands in Pakistan
We try to look for the best kind of clothing collection that compliments our personality with its unique style statements. Let us have a look at the 10 big names that bring forward the most trendy style collection this year.
Limelight
Nishat Linen
Maria B.
Almirah
BATIK
Sapphire
Bonanza Satrangi
Ethnic by Outfitters
Zeen by Cambridge
Ideas by Gul Ahmed
Limelight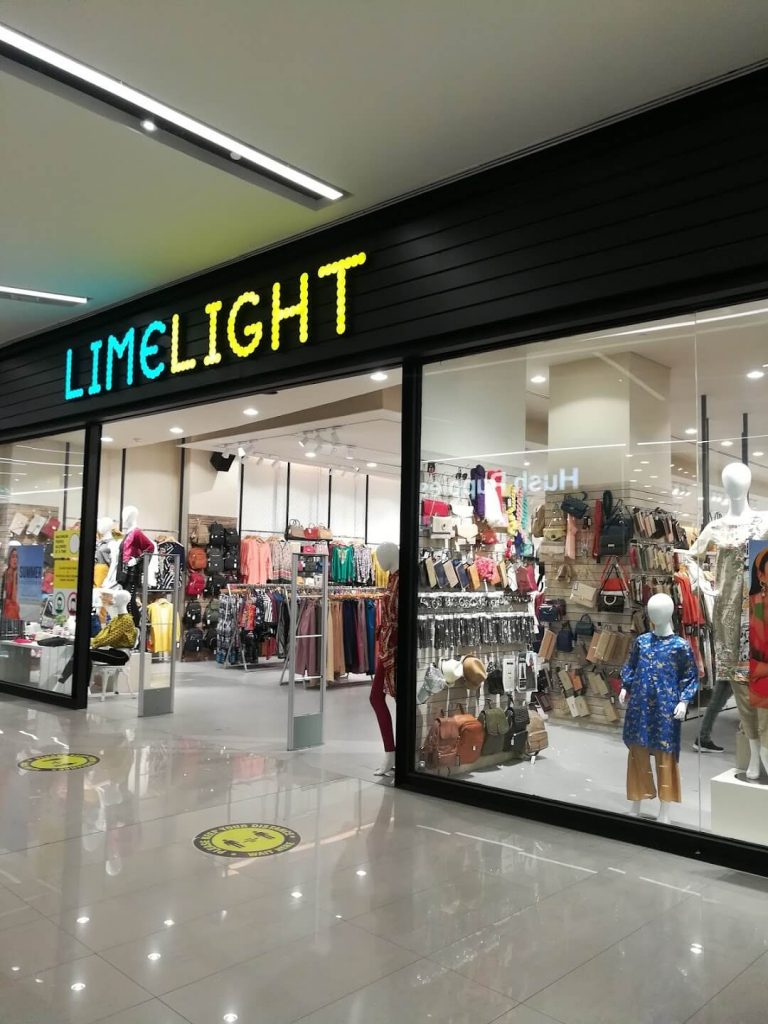 As the name suggests, Limelight is the center of attraction when it comes to bold designs and bright colors. Limelight offers you the most intriguing and trendy clothing choices. It is one of the leading brands in Pakistan with over 70 outlets across the country and offers you to shop online as well.
Limelight collection includes eastern, western, and unstitched pieces that are equally beautiful and comfortable to wear. The colors and designs are desirable, and their rates are pretty affordable too.
The lowest prices at Limelight start at PKR 900 to 1000, and you can always look for their great sales for more discounts.
Nishat Linen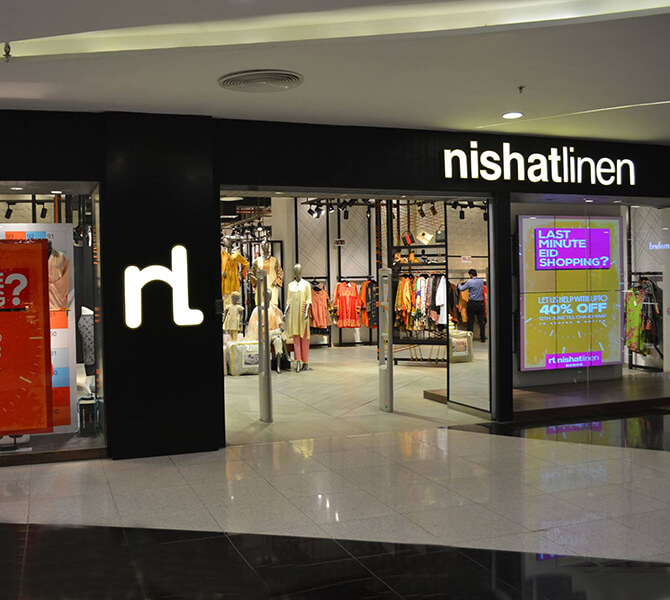 Nishat Linen is Pakistan's largest retailer brand based in Lahore, which has the most chic and trendy collections to offer. The blend of the latest trends with eastern and western styles makes Nishat the most sought-after brand.
Their collection ranges from different clothing items for men, women, and kids to home and bed linens – all in one place. You can find different accessories and bags to match your outfit. Their ready-to-wear and unstitched collections are most known among people of all age groups.
Nishat Linen has set the bar high and continues to meet its standard in providing the best quality to its consumers. The designs and styles are as per the latest trends that never tend to fade away. Their newest unstitched collection starts from PKR 2690.
They currently have an online store along with 72 operating outlets in 26 cities including Pakistan, Dubai, Abu Dhabi, Canada, and Saudi Arabia. Being true to their commitments and delivering the best, Nishat Linen is the first choice of people around the globe.
Maria B.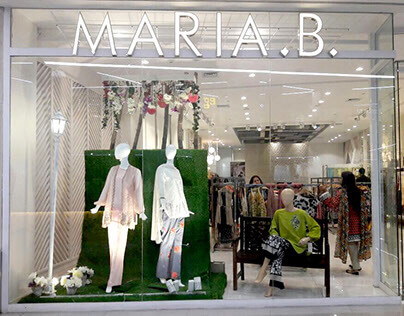 Maria B. is a Pakistani clothing brand available in 12 cities around the country. The brand is based in Lahore, and you can find ready-to-wear, unstitched, and haute couture in their collection.
Maria B. is popular for having led national and international campaigns for the brand. Everyone loves Maria B. for their trendy choice of colors and styles.
You can find their latest collection online and in-store at different outlets found throughout the country. Their collection includes pret wear, unstitched, kids wear, casual and formal wear, weddings and bridal, jewelry, and perfumes. Their lowest price range differs depending on the category to category of the collection.
Almirah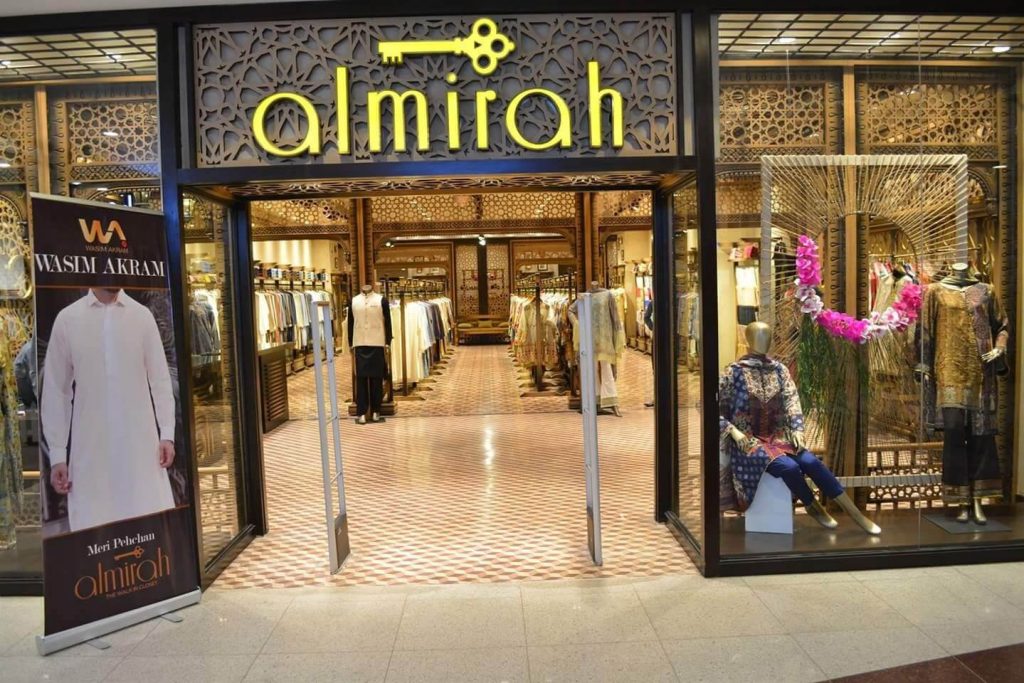 The classic, elegant, and very intriguing quality of Almirah is the reason why it always stands out. With 25 stores around the country, Almirah is one of the top favorite brands among people.
Their trendy collections include apparel for men, women, and kids along with shoes and accessories. Their latest fragrance collection includes sporty and cool scents that you would want to try.
Almirah is among the top fashion choices of people. The beautiful and vibrant colors with a hint of elegance added to each style make Almirah unique. The latest unstitched collection at Almirah starts at PKR 2450.
BATIK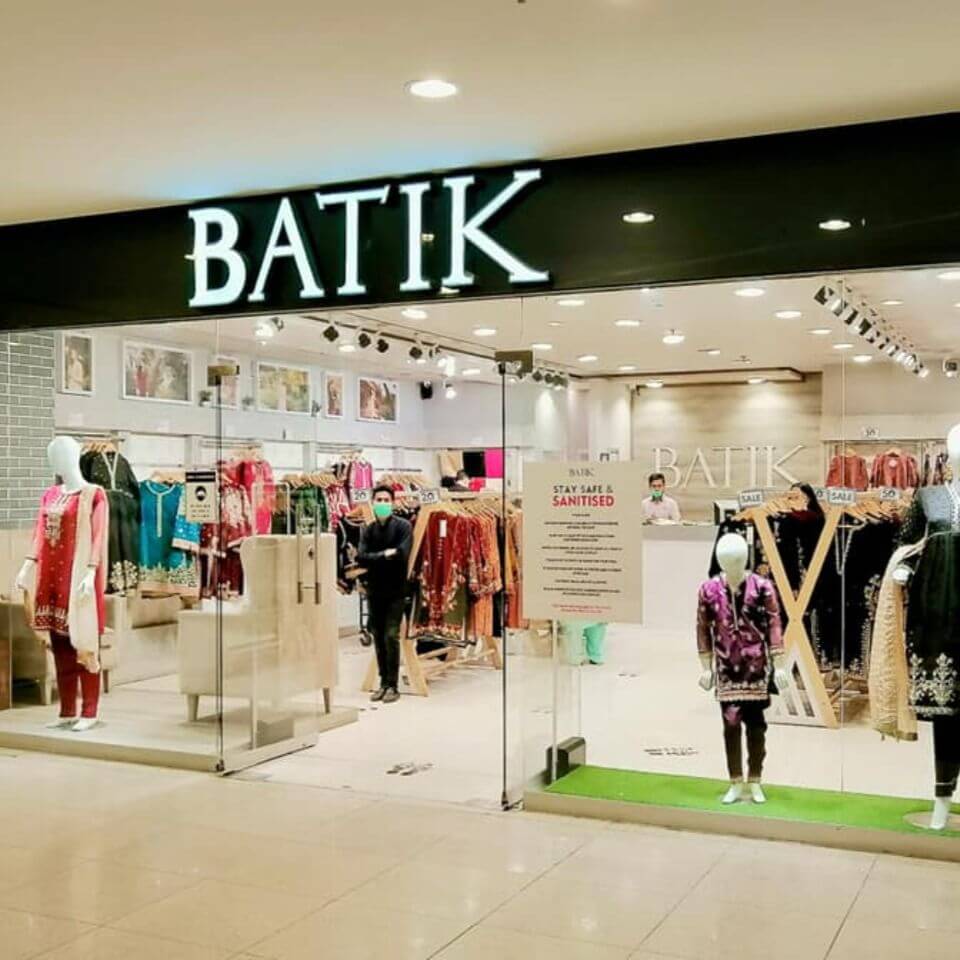 BATIK believes in creating grace. Thus, all their designs and styles speak louder than words for their gracefully crafted apparel. BATIK has the perfect fit for each occasion that adds on and compliments your personality perfectly.
Their collection includes ready-to-wear eastern apparel to fit women and girls of all ages. They have a variety of dresses that fall under casual and formal pret wear. You can also find wedding wear of all sorts at BATIK studio.
Sapphire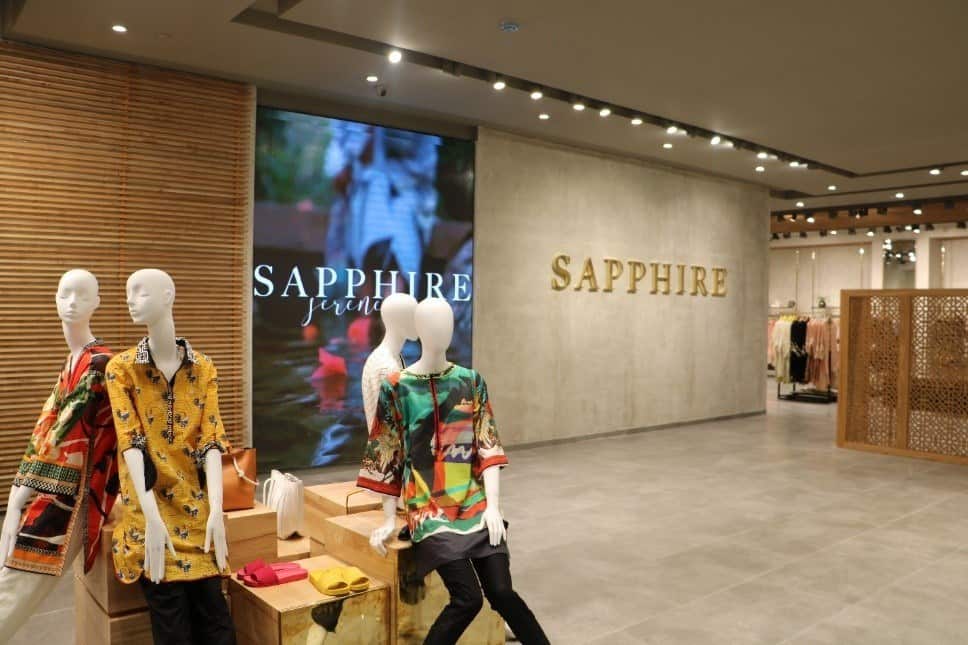 Now, who doesn't love Sapphire?
Sapphire is a big brand that has been in the Pakistani textile industry since 2014. They have the best stitched and unstitched collection every season for all age groups of men and women. Be it eastern or western, Sapphire has you covered totally.
Sapphire is known for its best quality fabrics and trendsetter apparel. They have a vast variety of things covered at their stores. You can find here ready-to-wear items, unstitched dresses, kid's wear, men's wear, sleepwear, accessories, homeware accessories, shoes, cosmetics, and fragrances.
You can shop from Sapphire through their online store and in-store outlets around the country.
Bonanza Satrangi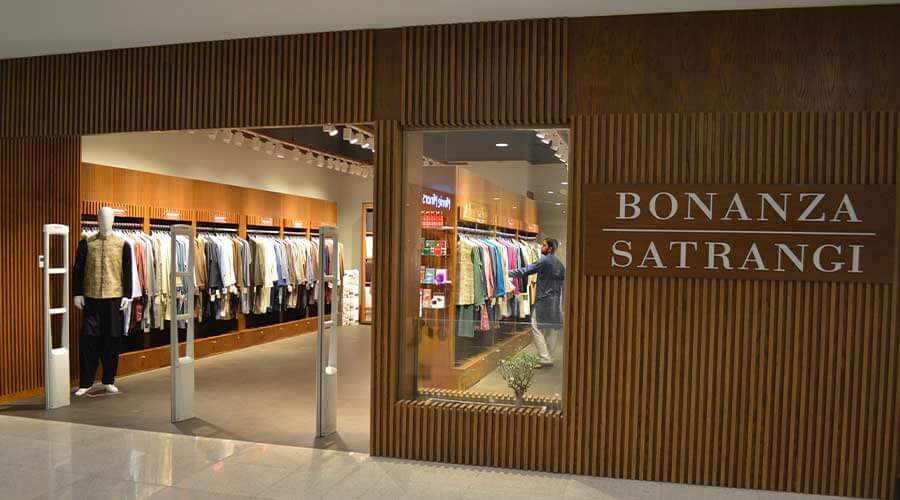 Bonanza Satrangi is known for its contemporary and sophisticated designs. They are the best choice for everyday wear dresses.
Bonanza Satrangi has a great range of collections covering from ready-to-wear casual and formal pret to cosmetics, fragrances, and accessories. Their trendy and vibrant colors with delicate designs and details together make up the most elegant collections. You can find the Men collection here as well.
You can shop Bonanza Satrangi through their online stores or you can visit their outlet for in-store shopping. Bonanza Satrangi has over 70 stores in Pakistan. You can shop their latest unstitched collection at as low as PKR 2,380.
Ethnic by Outfitters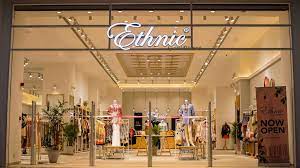 Outfitters is our go-to stop for all the coolest western wear collections. They bring forward their eastern collections under the name Ethnic by Outfitters, where you can find all the delicate designs embroidered with beautiful patterns for you.
Ethnic brings you the best blend of the eastern and western worlds in the most stylish and trendy way. Their color choices are bold yet subtle, and they have all kinds of outfits to match your personality and vibe. The timeless and chic outfits are your go-to wardrobe collection everywhere.
You can always benefit from their sales, especially their Mid season sale where you can get your desired apparel at up to 30% to 50% off.
Zeen by Cambridge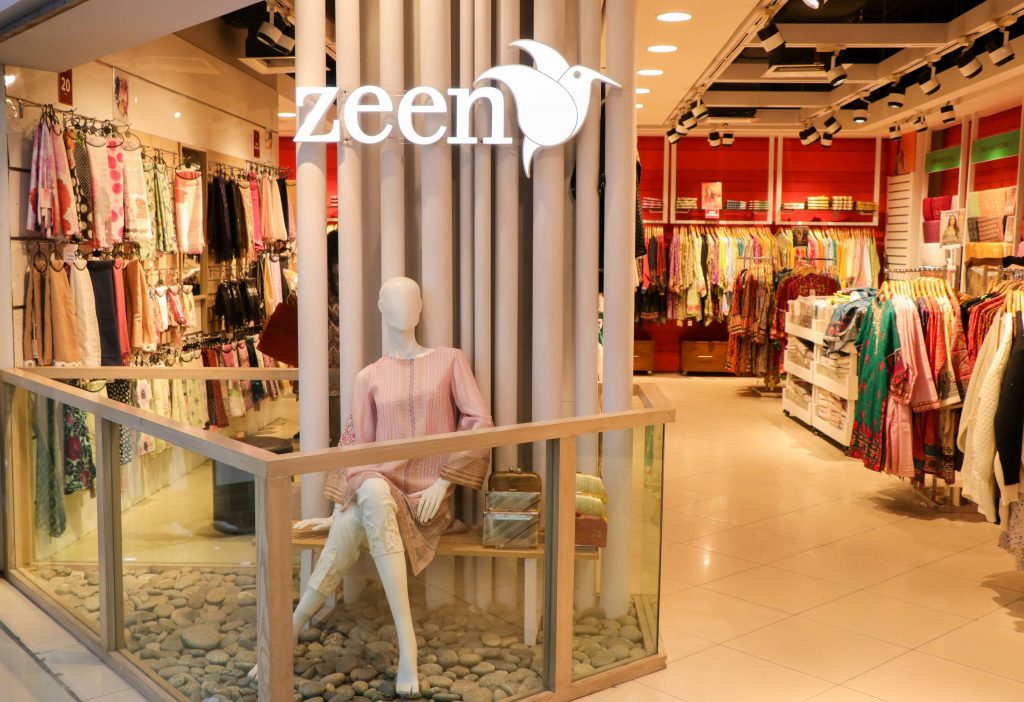 Zeen by Cambridge is yet another very intriguing brand in Pakistan that is known for its fantastic color palettes, fantastic fabric quality, and unparalleled prints.
Their fabric is breathable that is premiumly crafted into perfection with added attention to the details. Zeen includes a great collection of apparel and accessories that you can find on their online stores as well as at their outlets.
You can find Zeen by Cambridge shopping stores in 17 cities all over Pakistan.
Ideas by Gul Ahmed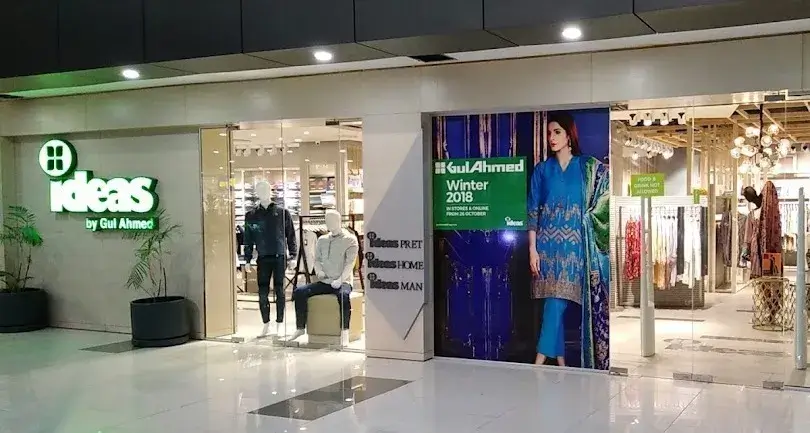 Lastly, on our list of top 10 trendy brands in Pakistan, we have Ideas by Gul Ahmed.
Gul Ahmed Textiles is one of the oldest known brands in Pakistan. The company came into existence in 1953, and since then it has embarked on a very successful journey. To date, Gul Ahmed has 119 outlets all over Pakistan under the name Ideas by Gul Ahmed.
Ideas bring forward a complete range of lifestyles. Be it trendy and contemporary outfits, a collection of shawls and trousers, bags or shoes, fashion accessories or homeware accessories, bedsheets, bath and bed linens, or bedding basics; Ideas by Gul Ahmed is your one-stop source for all your essentials.
The brand includes outfits for men, women, and kids. They have a great collection of dresses for each one of them and that too at very reasonable and affordable prices.
You can shop Ideas by Gul Ahmed through their website or visit an in-store outlet to bag your favorite items.
Find Your Best Outfit Today That Matches Your Vibe
There are a lot of brands where you can find the best outfit to fit your vibe. The above-mentioned list included some of those brands that we guarantee can provide you with your best match. Don't forget to watch out for sales at the outlets to grab an extra dress that fits your vibe.