After the plastic bag ban was implemented in Islamabad in 2019, we still see no development towards a plastic-free future.
Taking this issue to Twitter, the Chief Commissioner ICT & Chairman CDA, Noor Ul Amin Mengal, asked the general public about going plastic-free.
At the time of publishing, the post got 50k+ views and multiple replies, with people suggesting ways to tackle the rising plastic crisis while some complained about a lack of a waste management system.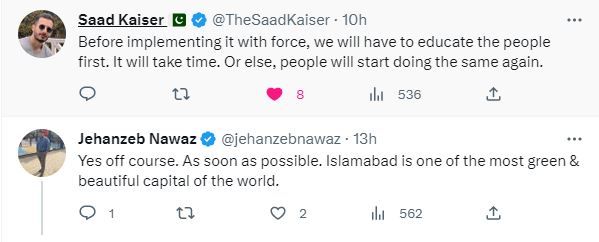 Certain Twitter users added very insightful suggestions that could help Islamabad go plastic free.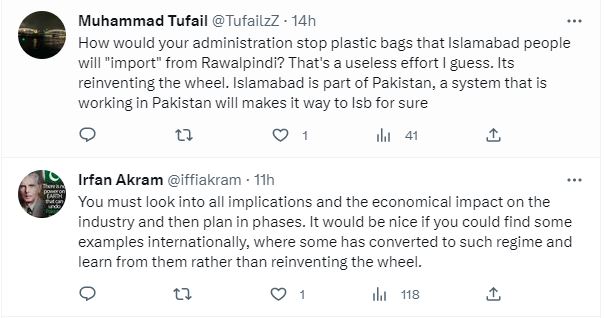 The Initial Plastic Ban – 2019
The plastic bag ban first took place in 2019 as part of Prime Minister Imran Khan's "Clean, Green Pakistan" campaign.
The ban prohibited the manufacture, sale, and distribution of plastic carrier bags. The initial response to the campaign was harsh as the lack of awareness and lack of alternatives made it hard for small business owners and the general public.
Yet, the government made continuous progress and cracked down against the illegal distribution of plastic bags. Pakistan's Ministry of Climate Change even seized nearly 2.5 million plastic bags in 2019 and imposed heavy fines.
Sadly, the campaign came to a halt after COVID-19 hit as all efforts moved toward healthcare and tackling the unforeseen crises.
EPA Regulations – 2021
In 2021, the Pakistan Environmental Protection Agency (Pak-EPA) issued new rules for polythene plastic bag distributors and importers. According to the rules, permission was required to import, distribute and sell polythene plastic bags in Islamabad for the hospital as well as municipal waste.
According to the new rules, an "extended producer responsibility" was also introduced through which all manufacturers/importers/distributors of polythene plastic bags had to submit detailed recycling plans.
The Future of Plastic
With all these policies in place and heavy fines to discourage plastic use, the issue persists, and people continue to sell and buy daily items in plastic bags.
It is now a test of time for the government to impose strict penalties against violators and to work on public awareness to make a "plastic-free Islamabad" a reality.