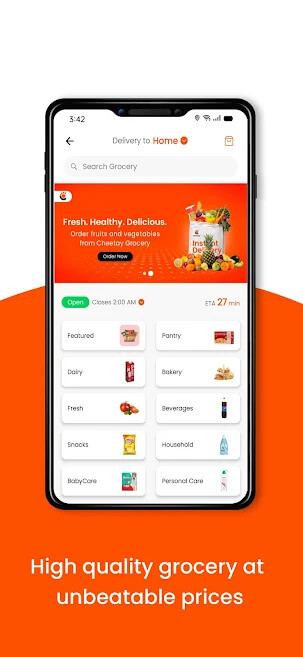 Cheetay is the Pakistan's favorite delivery app as it deals in:
Food
Groceries
Fresh milk
Medicines
And many more
How to Become a Rider on Cheetay
Planning on becoming a Cheetay's rider and earning some money? The process is simple.
Send your name, contact number, and city to the email ID: supply@cheetay.pk. Their team will get back to you as soon as possible for further details on opportunities as a rider and will guide you accordingly. They will ask for certain requirements before you finally start the job.
Requirements to Become a Cheetay Rider
The requirements are basic, just like other delivery apps working across Pakistan. Take a look at the requirements to become a Cheetay rider below:
CNIC
CNIC of a blood relative
Passport size picture
Electricity bill of the house
Learner or License
After the selection of a particular candidate by the Cheetay company, proper training is provided to the rider to familiarize them with the procedure and a proper way to interact with the customers.
Benefits of a Cheetay Rider
Cheetay provides its riders with a range of equipment to identify them with the company. These equipments include:
Shirt
Jacket
Raincoat
Cap
Helmet
Delivery bag
Note that these equipment are not free of cost. Rather, there is a monthly cutting from the riders' payment. Another beneficial thing covered by the company is insurance. The safety and security of riders in case of any accident or mishap are on the company. Another noticeable thing is that any delivery beyond a 3 KM radius is paid to the rider by the Cheetay company. The amount per KM is fixed based on the city of operation. Along with that, for each rider, a certain amount is also fixed per order delivery.
We have tried to explain "how to become a Cheetay rider" in simple steps with the necessary requirements and benefits granted by the company. If you are focused on starting your career as a Cheetay rider, take a step ahead and send your application to the email address provided.