The App was developed by The National Information Technology Board and it was formally launched by PM Imran Khan on March 3, 2020. The main purpose of this app was to provide basic government services to the citizens of Islamabad. The app can be downloaded through the play store and can be used by providing CNIC and proof of residence.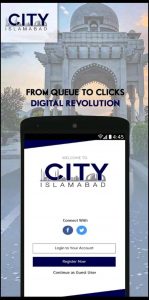 Details & Features of City Islamabad App
Through the city, Islamabad app residents can book appointments with government officials. Moreover, the app also has a city guide through which users can easily navigate the city. The app is providing 43 online services to the citizens. Some of the main functions of the app are:
e-Police
e- Nadra
Excise and taxation
Utility bills
CDA
International driving license permit
Domicile certificate and other crucial services
Vehicle Registration
Arm License
Birth and Death Certificates
Although the app is currently supporting android phones only, the officials are planning to make it available for iPhone users too. The app made the peak time of COVID easier for the citizens, it has saved their time and energy as they don't have to line up in the queue anymore and assisted them in their quarantine time. According to the office of deputy commissioner Islamabad, the app has already generated a revenue of 200 million as the app is making daily life tasks and important public services easier for residents of Islamabad.
The app has already been a success and it is helping the citizens in many tasks. This a step towards revolution in the country as such service took Pakistan into the 21st century. Such an app should be created for other cities as well to make their life easier and hassle-free.