The recent pandemic has affected so many things in our lives and one of the most complicated things is doing everything from our home. Since in our culture it is almost next to impossible to have our personal space where we can peacefully study or work. In such circumstances, it was a challenge for us to complete our work on time. Moreover, since freelancing is trending and people are making a lot of money through it, they do require a proper space to give their best in the work they are doing. Co Working spaces can save you from the disturbance caused by family in such cases and give you a good working space so you can do your best professionally and personally both.
CoWorking Space in Karachi
There are many Co-Working spaces present in various cities of Karachi and we at Blog Pakistan are providing you the complete information of these spaces.
| | | |
| --- | --- | --- |
| Coworking Spaces in Karachi | Address | Contact Number |
| Regus | Dolmen Mall, Karachi. | 051 2099204 |
| Co Space | Shahrah-e-Faisal, Karachi. | 0330 2677223 |
| Daftar CoWorking | Shahrah-e-Faisal, Karachi. | 0322 2462824 |
| SandBox | Shahrah-e-Faisal, Karachi. | 0321 8651457 |
| The Hive | Clifton, Karachi. | 021 37131410 |
| The WorkPlace | Shahrah-e-Faisal, Karachi. | 021 32800214 |
| The BullPen | DHA Phase 7, Karachi. | 0336 1112855 |
| The WorkSpace | Gulshan-e-Iqbal, Karachi. | 0336 6688332 |
| Joyco | Clifton, Karachi. | 0321 8752805 |
| Sowaan Workspace | Shahrah-e-Faisal, Karachi. | 0301 1832653 |
| Fusion 4 | Phase 6 DHA | 021 35247218 |
| Seeds Coworking | Commercial Area Defense | 02135373337 |
| DotZero | Delhi CHS PECHS, Karachi | 021 34556352 |
| ShareDesk | Block 1 Gulshan-e-Iqbal, Karachi | 0344 3023069 |
| Agile Space | D.H.A. Phase 7, Karachi | 0333 2052279 |
Regus
Karachi is a city that is continually attracting new businesses and therefore Regus is an elegantly designed coworking facility where you can work with industry experts in finance, banking, media, and technology. Work in the exciting coworking spaces in Karachi with break out rooms and networking events to stimulate cooperation and growth with like-minded individuals. You can drop in and hot-desk in an open-plan workspace, or you can rent a dedicated desk in a shared office.
The facilities Regus is offering you are:
Work in an open-plan environment or a shared workplace.
Book a desk for an hour, a day, or a month.
Desk for coworking
Take a dedicated desk that is solely yours.
Access to the Regus global business lounge network from anywhere in the world
DragonPass provides free entrance to airport lounges.
A well-trained front-desk and support staff
Cleaning, utilities, and security are all things that need to be taken care of.
Mail handling and a business address
WiFi and secure business-grade technologies
Access to printers and administrative support
The Regus app allows you to manage your account and reservations.
Address: Dolmen Mall, Karachi.
Contact Number: 051 2099204
Co Space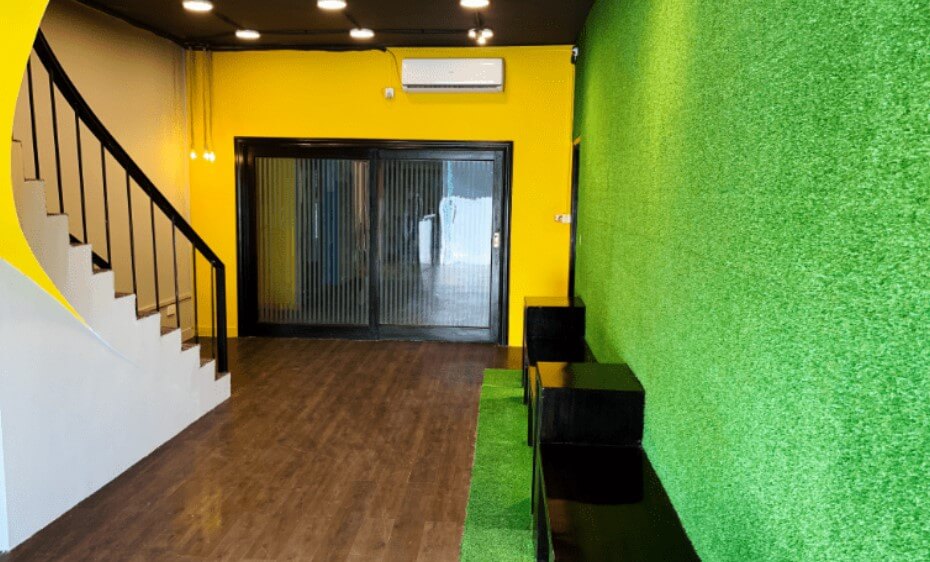 Co space wants to give freelancers, startups, and corporations a affordable, state-of-the-art, and new-age office spaces. They intend to establish an ecosystem that allows startups, freelancers, and enterprises to collaborate and thrive in the facilities they are providing. You can learn about a new method of working and collaborating at CoSpace.
They make sure that their highly talented and skilled members have ready-to-move, plug-and-play offices and work spaces so that they don't have to worry about practical obstacles in achieving their goals. Co Space believes in fostering a sense of community among the employees so that they can work in a stimulating atmosphere and enjoy their time at work.
Some of the facilities they are providing includes:
WiFi
Generator
CCTV cameras
Prayer Area
Tea
Front Desk Service
Parking
Mail and Package Handling
Locker
Printer & scanning
Maintenance
Cafeteria
AC
Gaming zone
Address: Shahra-e-Faisal, Karachi.
Contact Number: 0330 2677223
Daftar CoWorking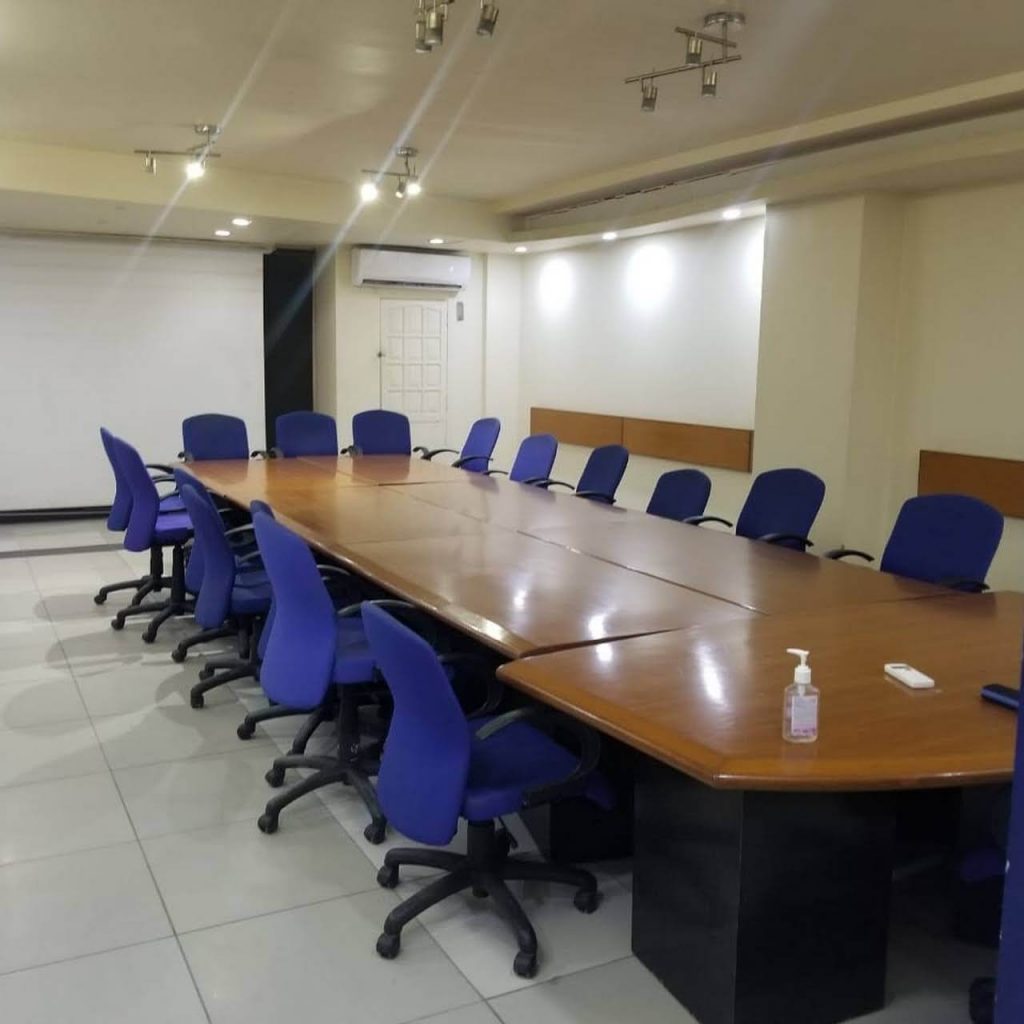 Daftar Coworking, intends to serve individuals and teams of all sizes. Daftar Coworking offers a variety of packages from which you can pick according to your comfort and convenience. They believe in providing simple yet comfortable workstations, and they are here to help you by providing all the necessary facilities:
Power backups
Air Conditioning
Cafeteria
Office Boy
Separate Washrooms
Address: Gulistan-e- Jauhar, Karachi.
Contact Number: 0322 2462824
SandBox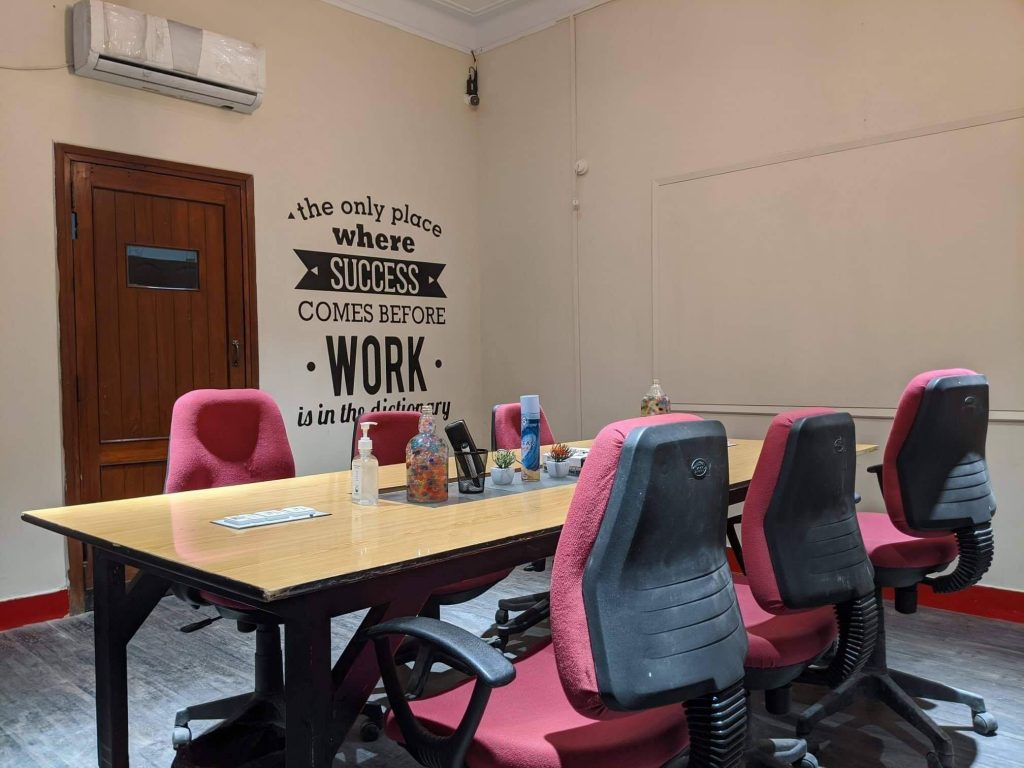 SandBox is a coworking space for freelancers, entrepreneurs, small business owners, telecommuters, and other self-employed individuals. We all recognize that working for oneself can be liberating and fulfilling because no one is there to boss you around; However, it can also be unproductive and lonely if you don't have the necessary facilities around you.
We know how difficult it is to maintain a professional image when working from your couch. Building an empire on the couch is not a good idea; therefore, join SandBox today and work for your future in an environment full of modern technologies and facilities.
The amenities SandBox is providing are:
Power backup
Internet
24/7 Access
Board Rooms
Event Spaces
Breakout Spot
Parking Spot
Lush Green Lawn
Gym
Recreational Space
Dining Area
Tuc Shop
Address: Shahrah-e-Faisal, Karachi.
Contact Number: 0321 8651457
The Hive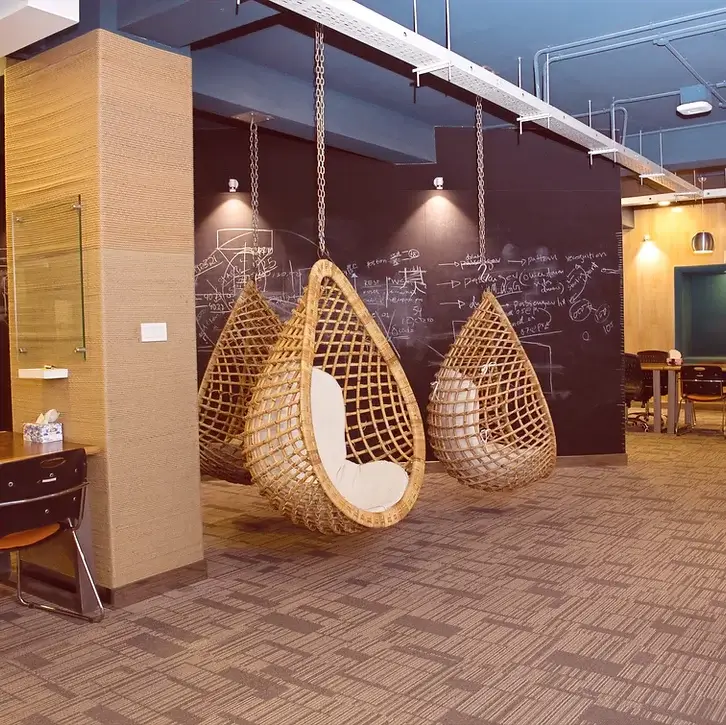 The Hive at Clifton is one of Karachi's top-rated coworking spaces, offering packages to the residents of Clifton, the Defense Housing Authority (DHA), and the surrounding districts. This shared workplace, which is located on the prominent Gizri Road, and it is excellent for startups of all sizes. At The Hive, you can easily find a suitable space whether you're working alone or with a large group.
The contemporary building has two well-designed floors with upmarket meeting rooms, a large event hall, luxurious private offices, and communal workspaces. Members of The Hive at Clifton have access to recreational space, as well as a lunch area and kitchenette. You can also grab a quick bite to eat if you need a break.
The other facilities The Hive is offering to its members are:
High-speed internet access
Power delivery that isn't interrupted
Meeting rooms are available on demand.
On-site assistance
Strong security
Fire prevention is essential.
a never-ending supply of hot beverages
Location for an event
Unlimited Hot Beverages
Address: Clifton, Karachi.
Contact Number: 021 37131410
The Workplace
The most well-known workplace that believes in fostering female entrepreneurs in particular and providing equal opportunity to men and women. From a variety of industrial backgrounds, business owners, freelancers, start-ups, and accelerators come together to work, interact, and exchange ideas.
They are concerned about the current status of the business sector and want to see more women take up the entrepreneurial lifestyle and contribute more innovation to it.The Workplace is a place where people may develop and achieve their goals. They may easily grow their company and become motivated to achieve more.
The facilities they are offering to their members are:
Fully Furnished
24/7 Access
Recreational Activity Space
Security and Safety
AC
Uninterrupted Power
Dining Area
Mineral Water 24/7
LCD TV
Gaming Zone with Xbox
Address: Shahrah-e-Faisal, Karachi.
Contact Number: 021 32800214
The BullPen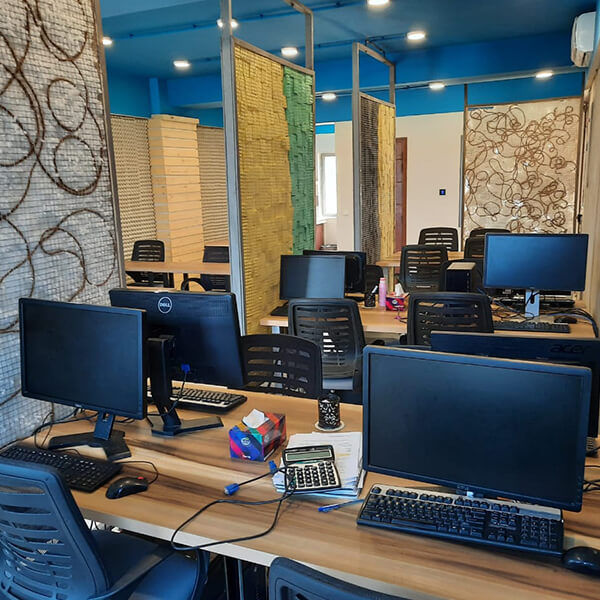 The Bullpen is a highly reviewed shared workplace in Karachi's DHA neighbourhood that offers people and small enterprises all of the top-notch amenities they need to thrive in an increasingly competitive market. It is regarded as one of the best coworking spaces in Karachi, offering both economical and luxury work packages to its clients. It has everything from simple workstations to fully-equipped private offices.
The Bullpen's conference rooms are offered on an hourly basis and include multimedia capabilities as well as whiteboards. So, if you're looking for a conference space to rent in Karachi, the Bullpen is a good option. Members can also reserve Corporate Event Space for their workshops, seminars, and other events.
The amenities they are offering to their customers are:
Networking
CCTV cameras
Meeting Rooms
Open Workspace on Rooftop
Providing hot beverages
Lunch Area
High Speed Internet
Generators
Proper care of cleanliness and hygiene
Address: DHA Phase 7, Karachi.
Contact Number: 0336 1112855
The WorkSpace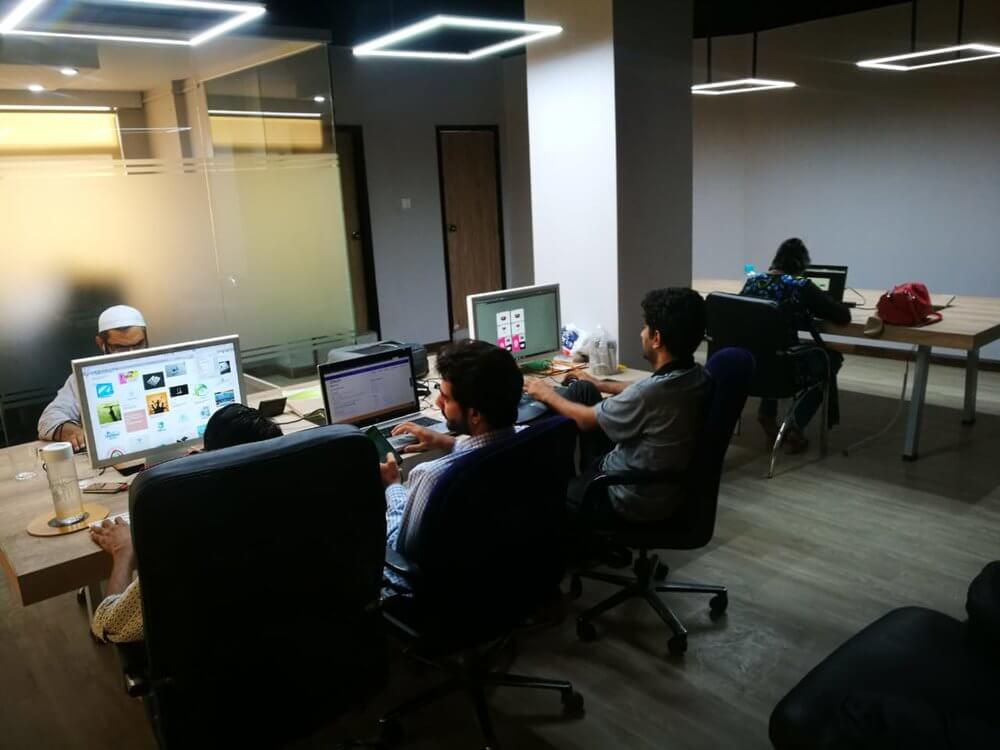 WorkSpace is the outcome of a meeting between Ali Tumbi, a finance and real estate magnate, and Farés Siddiqui, the CEO of a software firm, to develop productive workplace settings and communities for designers, engineers, and artists from one-man shops to major corporations.
The WorkSpace's vision is to create a community of like-minded individuals who will be provided with facilities and resources through a membership platform. They believe in making commercial real estate more accessible to the general public.
The services WorkSpace is providing are:
Free unlimited coffee, tea, and water
Conference room (booking required)
Common areas for relaxing
Professional & social community events
Enterprise grade and high-speed fibre optic internet access
Phone booths
Cleaning
CCTV and Biometric Security
Address: Gulshan-e-Iqbal, Karachi.
Contact Number: 0336 6688332
Joyco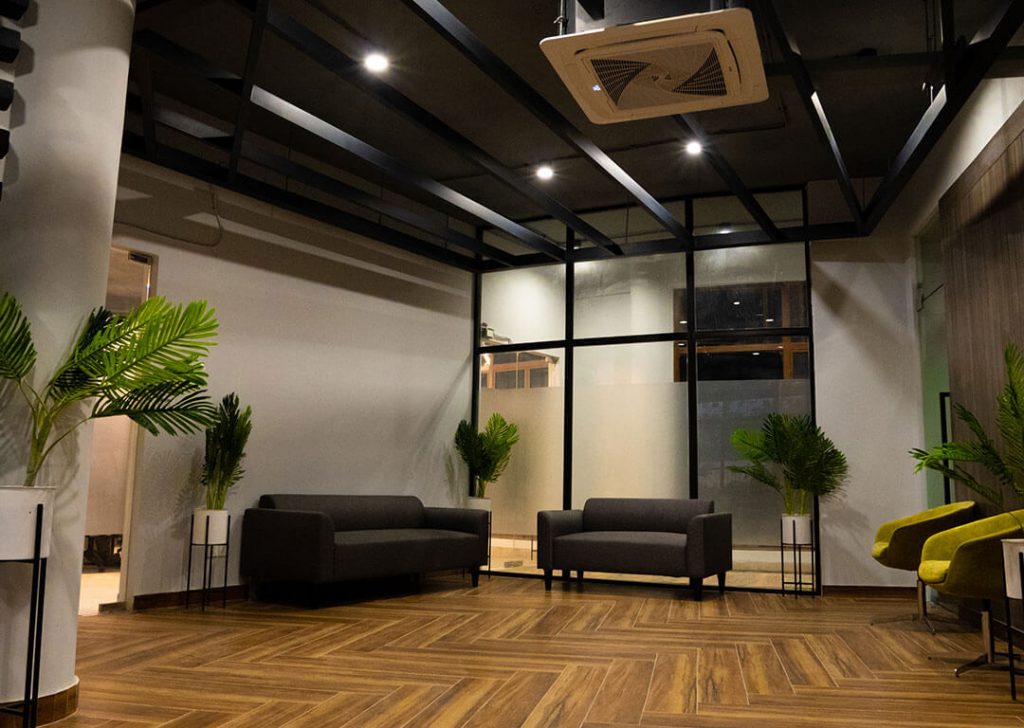 Joyco continues to be one of the best-shared office solutions in Karachi for young professionals and entrepreneurs. It is a well-designed and fully functional coworking space that hosts talks, lectures, meetings, workshops, conferences, and training programs for both members and non-members. 
Joyco's 'Day Pass' option, which allows non-members to reserve a workstation for a reasonable price on a per-day basis, sets it apart from most other shared workspaces in Karachi. It also provides clients with a front desk service, complimentary refreshments, and access to multi-purpose rooms.
The amenities they are providing includes:
24/7 Access
Personal Locker
Meeting Room
Cafeteria
Personal Locker
High Speed Internet
Kitchen
Conference Room
Printing
Scanning
Photocopying
Address: Clifton, Karachi.
Contact Number: 0321 8752805
Sowaan Workspace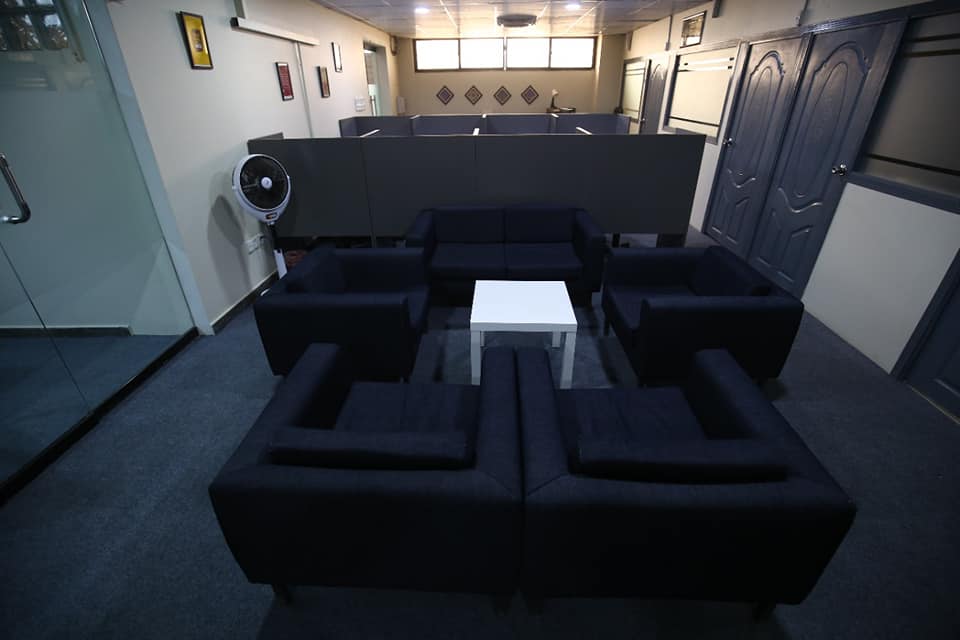 Sowaan Workspaces is a locally owned and operated business center that provides co-working spaces, private offices, virtual offices, serviced offices, conference rooms, and events in Pakistan. Sowaan places high importance on client satisfaction and endeavors to give the best services to your company when it is most needed. 
Sowaan provides serviced offices tailored to your needs. They welcome members from a variety of professions and backgrounds, including remote workers, startup enthusiasts, and corporate employees who want the option of working remotely on occasion while still hosting meetings in their private conference room on-site! Take advantage of this chance to collaborate and you'll be glad you did.
The facilities being offered by Sowaan are:
Refreshment
Full-time office
Working office
Cleaning
Meeting Spaces
High-Speed Internet
24/7 Access
Address: Shahrah-e-Faisal, Karachi.
Contact Number: 0301 1832653
Update: 10 best Coworking Spaces in Karachi: Amenities, Address, & Info
Fusion 4
This trendy and attractively built coworking space is conveniently located in DHA 6 Karachi. From corporate gatherings to seminars to workshops, it has all the facilities you could need. You concentrate on your task and let it handle the rest. In addition to co-working spaces, Fusion4 acknowledges the need for a 'women-centric' environment in today's world and has therefore created a fully equipped level exclusively for women. The first-ever women-centric workspace aims to establish an environment of opulence and serenity, giving extraordinary women more power to reach their aims. Sound-proof collaboration zones, conference rooms, and meeting rooms are also available.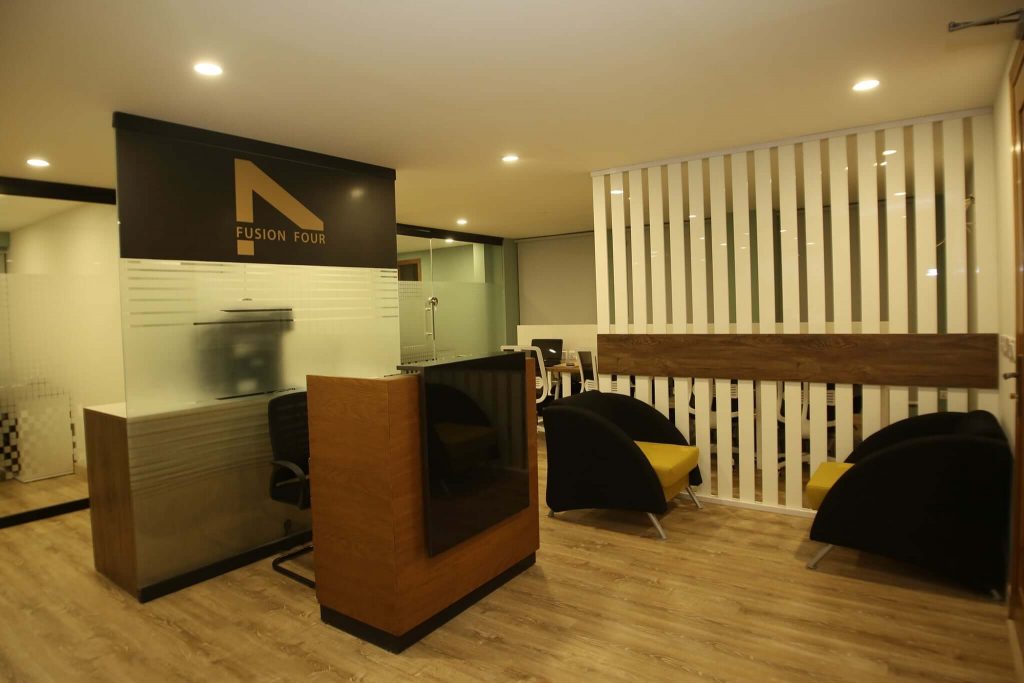 Fusion 4 offers plenty of amenities to help people push their businesses forward. Some of them include:
High-speed Wi-Fi
Accessibility
Free Unlimited Coffee/tea
Daily Cleaning Services
Quirky & Colorful office
Business-class printers
Complimentary refreshment
Address: Phase 6 Defense Housing Authority, Karachi
Contact Number: (021) 35247218
Seeds Coworking
Located in the heart of DHA Phase 5, one of Karachi's most renowned postcodes, this coworking space is excellent for artistic freelancers, startups, and larger organizations. Champions become self-sufficient and bring out the best in themselves here. Its distinct, quirky vibe attracts and motivates like-minded employees, entrepreneurs, and freelancers, much like any successful coworking space. Other than that, it also offers phone booths, event areas, and complimentary cleaning services in addition to basic amenities.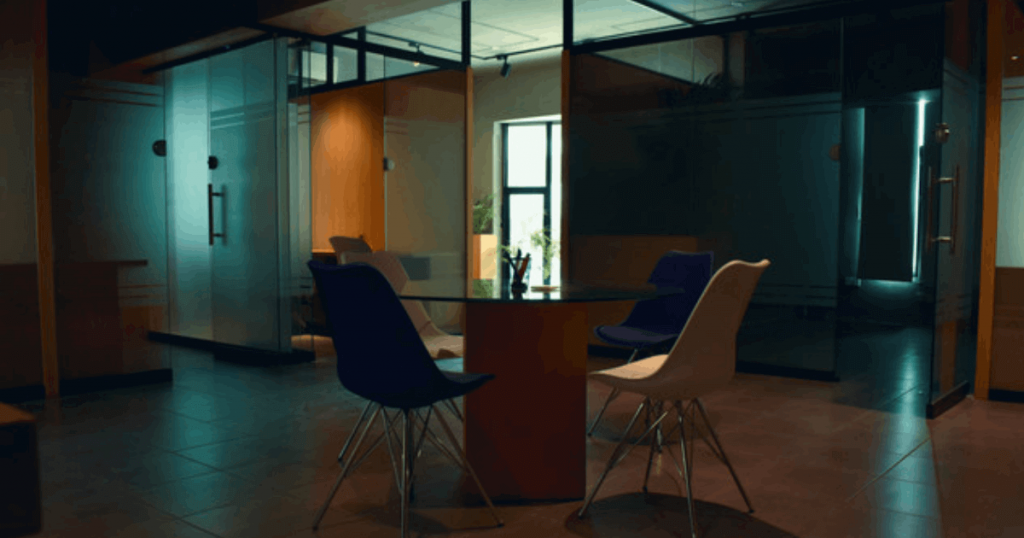 Amenities offered at Seeds Coworking include:
Meeting Room
Relaxing Lounge
High-Speed Internet
Tea and Coffee
Printing and Scanning
Stand by Generator
Address: Zamzama Commercial Area Defense V, Karachi
Contact Number: (021) 35373337
DotZero
Want to infuse your day with some bossy energy? DotZero is a coworking space. It has the infrastructure and aesthetics you'll need to get through a long day at work. There are also training rooms available where workshops can be held. Additionally, getting to this venue is also simple thanks to ample parking and proximity to public transport. Flexible and fixed seats and luxury cabins are some other amenities available. Overall, DotZero promises to create environments that promote creativity, productivity, and remote access so all freelancers and business owners can take their careers to new heights here.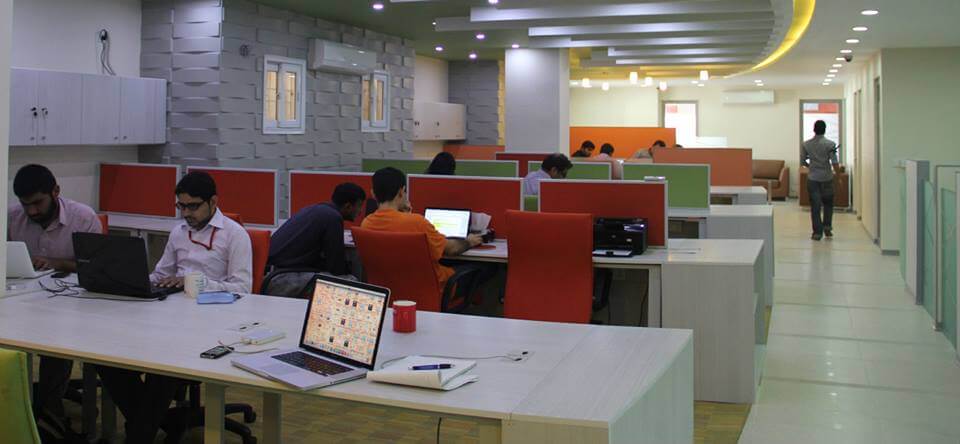 The facilities DotZero is offering people are:
Fast Wife
Meeting Lounge
Power backup
Parking
CCTV coverage
Ergonomic chairs
Huge cafeteria
Mosque within 2 minute's walk
Address: Delhi CHS PECHS, Karachi
Contact Number: (021) 34556352
ShareDesk
ShareDesk, the astounding workspace in Gulshan-e-Iqbal Karachi that caters to people who hate working alone. Their contemporary design, quality amenities, and community-driven attitude make them one of the best coworking spaces in Karachi. They also ensure blazing-fast internet and a fully air-conditioned area for their clients to grow or sow the seed of their startup or business. The pricing and membership plans are also reasonable. So, whether you're a freelancer or the owner of a huge company with a large crew, ShareDesk can give you that perfect work environment.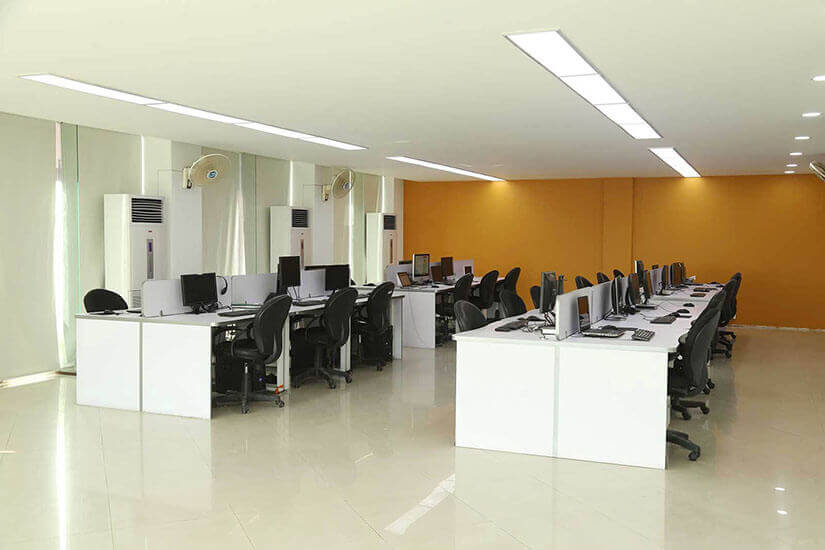 Some of the amenities you get at ShareDesk include:
Water, Tea, and coffee
Parking Area
High-Speed Internet
Stand by Generator
Chilling room
Halls for social gatherings
CCTC
Quirky offices
Printing Facility
Meeting Rooms
Address: Block 1 Gulshan-e-Iqbal, Karachi
Contact Number: 0344 3023069
Agile Space
Join Agile Space, which offers everything from co-working to private offices.. It is an industry's leading platform that provides office space to new businesses, such as start-ups, freelancers, creatives, small enterprises, and huge corporations, in order to help them grow. Simply put, this workspace aims to provide beautiful workplaces to everyone who wants to contribute and innovate in their professional or business field. So, whether you are a freelancer, artist, innovator, professional, or a small business wonder, you may want to choose it. Agile's motivating interior design also represents its goal of empowering youth at all phases of their careers.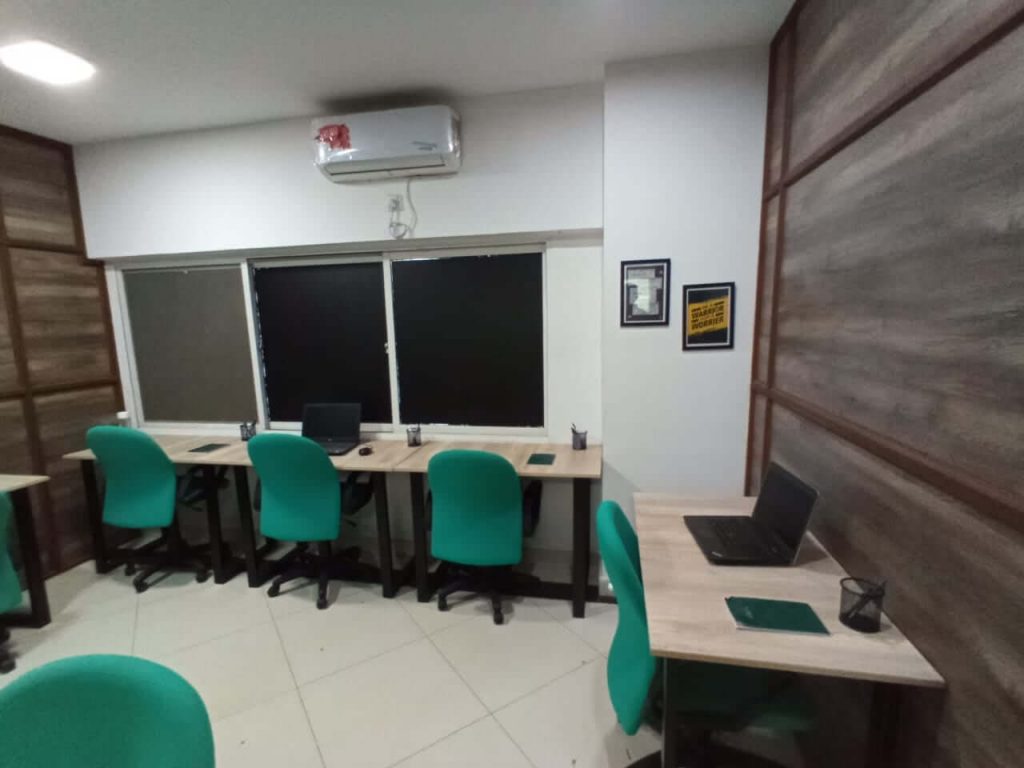 Perks of joining Agile Include:
Fast Wifi with failure backup
Virtual offices
Conference room
Events space
Free tea and coffee
Games
Secure environment
Address: D.H.A. Phase 7, Karachi
Contact Number: 0333 2052279
Pick and Start
Pick the best working space for you and start your work today. Let us know in the comments below about your experience in the mentioned working space.