The most attractive feature of the Central Superior Service (CSS) is the resulting surety of a well-respected occupation.If you are considering taking the CSS exam you might be a little overwhelmed with all the technicalities. This article is a comprehensive article will look into everything you need to know as a first-timer.
Intro To CSS
The Federal Public Service Commission (FPSC) is in charge of conducting this examination. As soon as a federal officer seat is vacant, the commission announces that exams will be held to fill the vacancy.
Criteria
First and foremost, a candidate must be a citizen of Pakistan. The educational criteria holds that you possess a valid graduate degree with a minimum 2nd divisionor equivalent. Equivalency can be received from HEC and must be at least 70%. IF you are currently a student in their master's program, your master's degree divisionwill be considered rather than graduate degree.This exam has a strict age limit. Candidates should be from 21 to 30 years old. If a person has already served in government services for 2 years the commission allows a 2 year relaxation to include individuals up to 32 years. If you are curious and would like to check your eligibility, click on CSS Rules.
Difficulty Level
Let's just get this out – it's hard. It requires diligence and dedication.
To emphasize the difficulty level, about 12,000 people attempted exam in 2018 and569 passed. Meaning the passing rate is only 3%. Shocking right – we know. But wait let's look at last year's ratio – 2.56%. The point is not to intimidate, only to encourage you to give it your best and not to take it lightly. If you give it the focus itdeserves you could very well be amongst that 3%.
Why CSS?
Why should you put yourself through such a tough examination? The answer to thatis pretty simple – the pay and the perks. The highest rank you can achieve as an officer is BSP- 22 grade. The salary scale ranges from 40,000 PKR to more than 1.5 Lac. It makes all the effort worthwhile.
Post-CSS
Once you have cleared the exam you can choose to apply for a job based on the discipline of education you chose. The Federal Government Services where you can apply are:
Commerce and Trade Services
District Management Group
Foreign Service of Pakistan
Custom and Excise Service
Information Group
Income Tax Group
Office Management Group
Military Lands and Cantonments Group
Police Service of Pakistan
Postal Service Group
Pakistan Audit and Accounts Service
Railways (Commercial and Transportation Group)
The Exam Itself – FORMAT
The format is simple. The exam is divided into 4 sections. Each of which play a major role in your selection.
The sections:
1.Written
2.Medical
3.Psychological
4.Viva Voce
Written
WRITTENCSS Exams are centered on 12 subjects. Six of these are compulsory and the remaining optional. To qualify you need to achieve minimum 40% in compulsory subjects and in optional exams, a minimum of 33% is required.
If you would like to go through the Syllabus, click here CSS Syllabus
• Cumpolsory Subject
Total Marks: 600


• Optional Subject
Total Marks: 600
Optional subjects are specified by the Federal Public Service Commission (FPSC) and you can choose your own based on your educational discipline.
These subjects have been categorized into seven groups for an even distribution of marks.
Group 1: Only select one subject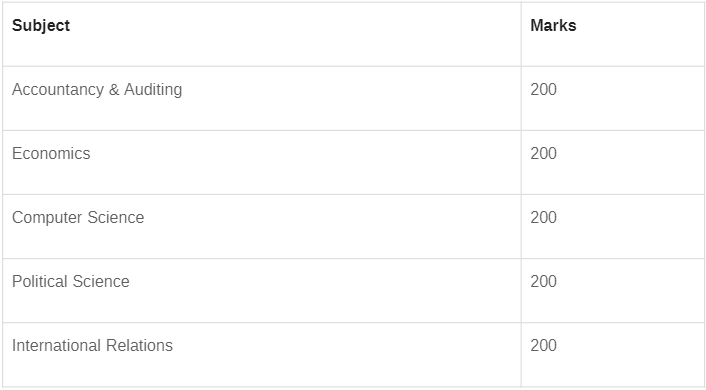 Group 2: Select one or more subject(s) that equal 200 marks
Group 3: Only select one subject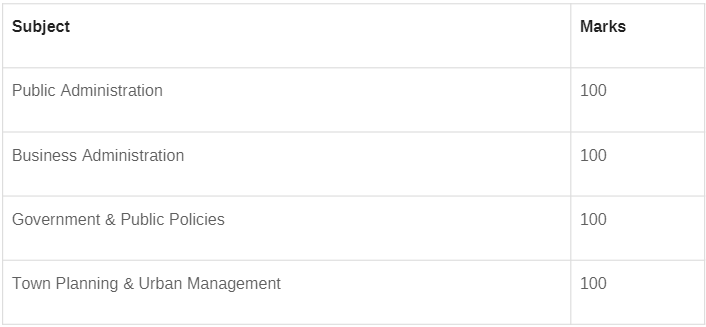 Group 4: Only select one subject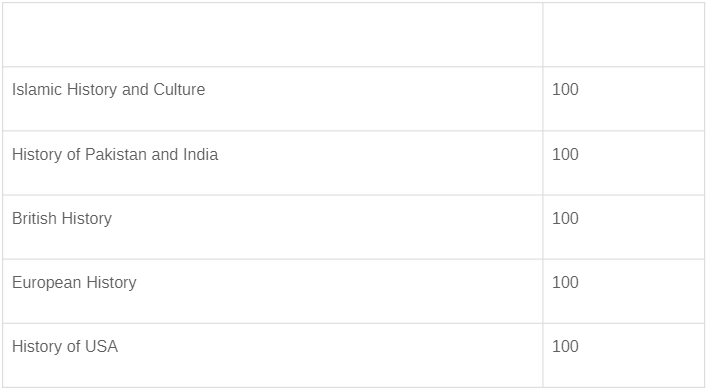 Group 5: Only select one subject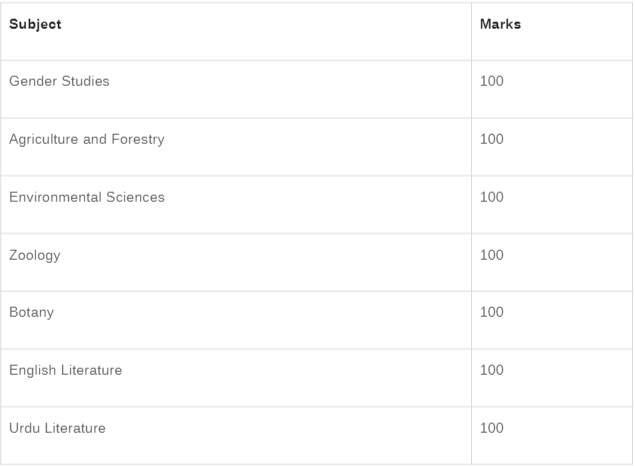 Group 6: Only select one subject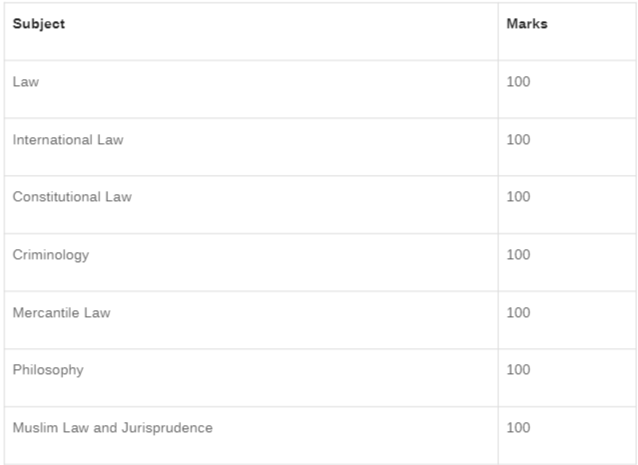 Group 7: Only select one subject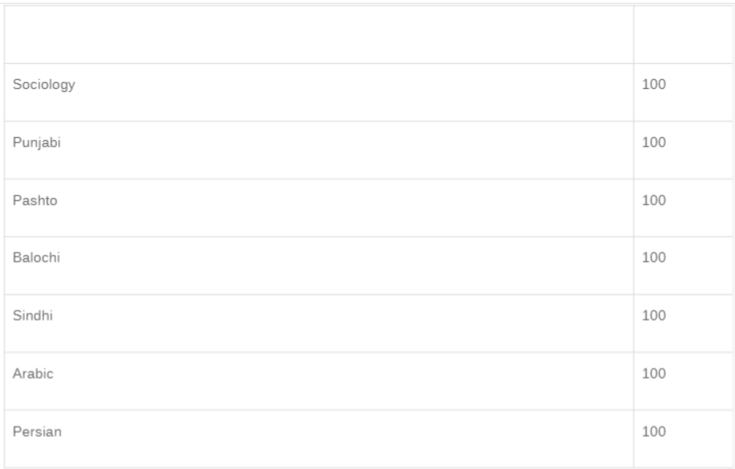 Note: If an exam carries 100 marks it consists of one part. Likewise, exams with 200 marks will consist of two parts.
2.Medical
The next phase for you as a candidate is to go through a medical test. The purpose behind a medical test is to thoroughly inspect your physical health. Candidates who fail medical requirements will obviously not be selected.
In the event of a disabled candidate, any disability certificates issued by a valid recognized authority would be required from the candidate beforehand. There is no rule against allowing physically challenged people to participate in the CSS Examination in four areas: Pakistan Audit and Account, Postal Service, Commerce and Trade, Postal Service and Information Services. If required, physically impaired candidates can place a special request to be paired with a helper for any assistance during exams.
Helpful Tip:Before appearing for your exam, you might want to have a thorough medical examination by a highly reputed medical institution
3.Psychological
The aim of this activity is to identify your mental capability. The test is intended to conclude if the contender has the ability to quickly reason and think analytically in tough situations.
This test comprises of two parts, written tasks and group activities.
Your mentality is judged by the views you hold on certain topics, pictures or scenarios. Be cautious to write carefully as trained psychologists analyze every single part of your point of view.
Group activities are to analyze how well you do with other people and how well you collectively solve a problem.
4.Viva Voce
This section is just as important as the last, because the Psychological Test and Viva Voce carry a joint 300 marks. To pass a Viva Voce, you must enjoy a sound general knowledge and good communication skills.This is basically similar to an interview. It is to assess your acumen and keenness.
Past Papers
In case you are looking to practice or just want to gauge yourself use the links below to find recent Past Papers.
http://www.cssforum.com.pk/css-past-papers/css-2020-
papers/https://sheir.org/edu/css/past-papers/css-2020/
Exam Centers
FPSC conducts the exams yearly in the cities listed here:
Karachi
Lahore
Islamabad
Abbottabad
Peshawar
Bahawalpur
D.I. Khan
Dera Ghazi Khan
Faisalabad
Gilgit
Gujranwala
Hyderabad
Khuzdar
Larkana
Multan
Muzaffarabad
Okara
Quetta
Sargodha
Rawalpindi
Sialkot
Skardu
Sukkur
Interviewsare conducted in these cities mentioned here only:
Karachi
Lahore
Islamabad
Peshawar
Quetta
Applying for CSS
Each year the CSS exam is held during the months of February and March. The announcement is advertised in leading newspapers in September. Below is the schedule of application submission dates and commencement of Central Superior Service Exam.
Important Dates
Submission of Online Application: Starts October 5th, 2020
Last Date for Receipt of Hard Copy of Online Application:November 13th, 2020
Cut-Off Date for Determining Eligibility Criteria: December 31st, 2020
Commencement of CSS Examination:February 18th, 2021
You are required to deposit an examination fee of Rs2,200 by or on November 3, 2020. Visit your nearest Government Treasury State Bank of Pakistan National Bankof Pakistan and mention C02101-Organs of State Exam Fee (FPSC Receipt) as the account head.
The registration process for CSS exams 2021 is open, you can download a form from here.
Documents Required
A hard copy of your online CSS application must be submitted with the following:
Copy of Educational Certificates
Photographs
Bank Receipt of Exam Fee
Experience Certificates, if required
Helpful Tip:Read the CSS advertisement thoroughly before applying as Document requirements might be different for each applicant.
FEE STRUCTURE FOR CSS EXAMINATION DECLARED BY FPSC
Exam Application Fee:PKR 2,200
Paper Rechecking Fee:PKR 500