On November 30, 2021, HEC announced an extension for the Ehsaas Program Batch-III. The deadline is now 31st, December 2021.
The Undergraduate Scholarship Project will be accepting applications online.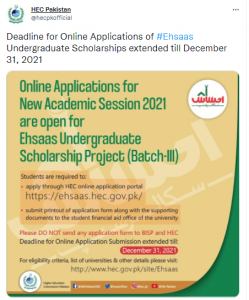 Dr. Sania Nishtar, the Special Assistant to the Prime Minister on Poverty Alleviation and Social Protection commented that delays in admissions at multiple public sector universities, led to the decision for extension.
The deadline was November 30th, 2021 earlier, but has been extended to receive a maximum number of applications.
Since September 2021, when the program was opened, the portal has received 77,210 applications with 23,740 applications under process.
How to apply?
Students can apply for the Ehsaas Scholarship through the HEC online portal. For applications the following steps need to be taken:
Fill the application form on the HEC portal
Submit the application printout and your documents to your university
What is the Ehsaas Program?
The Ehsaas program was launched on March 27, 2019, by Prime Minister Imran Khan under the Division of Poverty Alleviation and Social Safety. It aims to provide undergraduate education to poor families with an income of less than PKR 45000.
It hopes to uplift talented individuals from lagging regions, reduce inequality and invest in the future generation. The Ehsaas program offers financial aid to students from 135 public sector universities that are recognized by HEC.
This year the program will provide 50,000 scholarships to talented and deserving students. In the past two years, the program has awarded 142000 scholarships to deserving students.