It's impossible to overlook one of the most significant dates in history – August 14, 1947. This is the memorable day when Pakistan was officially declared an independent nation. Independence Day is just around the corner and every Pakistani is waiting for this day to express their patriotism. Cougar is very excited to announce its exclusive Freedom Sale to make this occasion more special.
Get ready to discover a wide range of casual wear collections only at FLAT 50% OFF to amaze its customers. To celebrate this special occasion, Cougar is having an Independence Day Sale where you can find your favorite items at lower prices. It's a wonderful chance for you to get some lovely and high-quality clothes for your closet. The designs are diverse, fresh, and one-of-a-kind, and they will amaze you!
This special Freedom Sale is here to make your Independence Day shopping even more enjoyable and exciting with fantastic discounts on a wide range of articles. The great thing about this Cougar Azadi Sale is that they are available to customers from all over Pakistan. So, no matter where you are, you can take advantage of this amazing sale and make your Independence Day shopping extra special.
Women Eastern Collection
Get ready to explore the world of elegance with FLAT 50% OFF on stunning collections of printed and embroidered kurtis in the exclusive Freedom Sale. You'll be captivated by the beauty of intricate designs as you browse through a variety of kurtis featuring enchanting prints and delicate embroidery.
Each kurti from Cougar's Pret Collection is a masterpiece, carefully created to showcase timeless attractiveness and unmatched style. Now is the perfect time to add these gorgeous pieces to your wardrobe, all while enjoying significant savings. Don't let this extraordinary Azadi Sale pass you by – elevate your fashion statement today with our printed and embroidered kurtis. And remember, you can complete your look with shalwars and trousers available at a FLAT 50% OFF as well.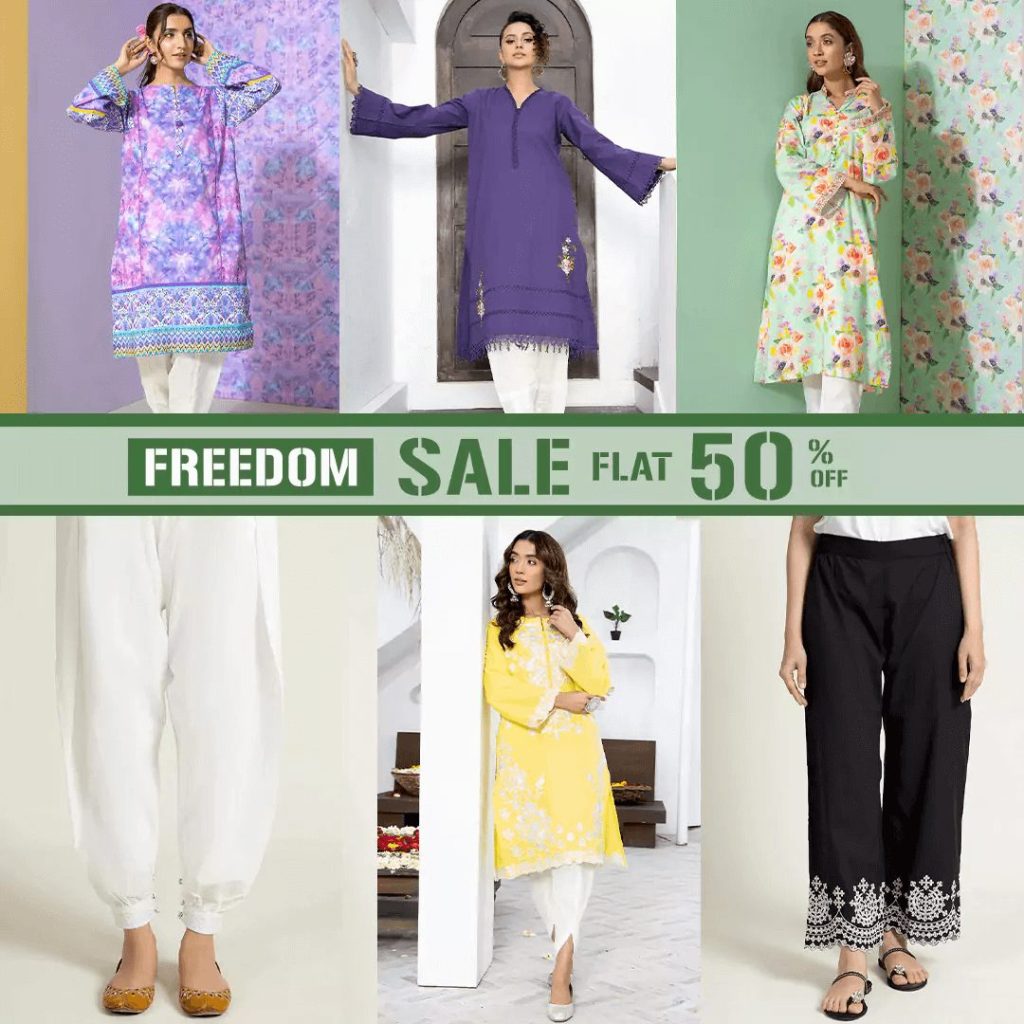 Women Western Collection
Are you ready to revamp your style and make a statement? Don't miss out on the incredible opportunity presented by the spectacular Freedom Sale! This exclusive event brings you amazing discounts on a wide range of trendy t-shirts, jeans, tops, dresses, and trousers. It's time to unleash your unique style and take your fashion game to new heights.
Imagine yourself turning heads as you confidently step out into the latest fashion trends. With Cougar's Azadi Sale as your shopping destination, you can explore the must-have essentials such as t-shirts, tops, dresses, and co-ord sets that will set you apart from the crowd. Embrace this chance to express your individuality and showcase your style like never before.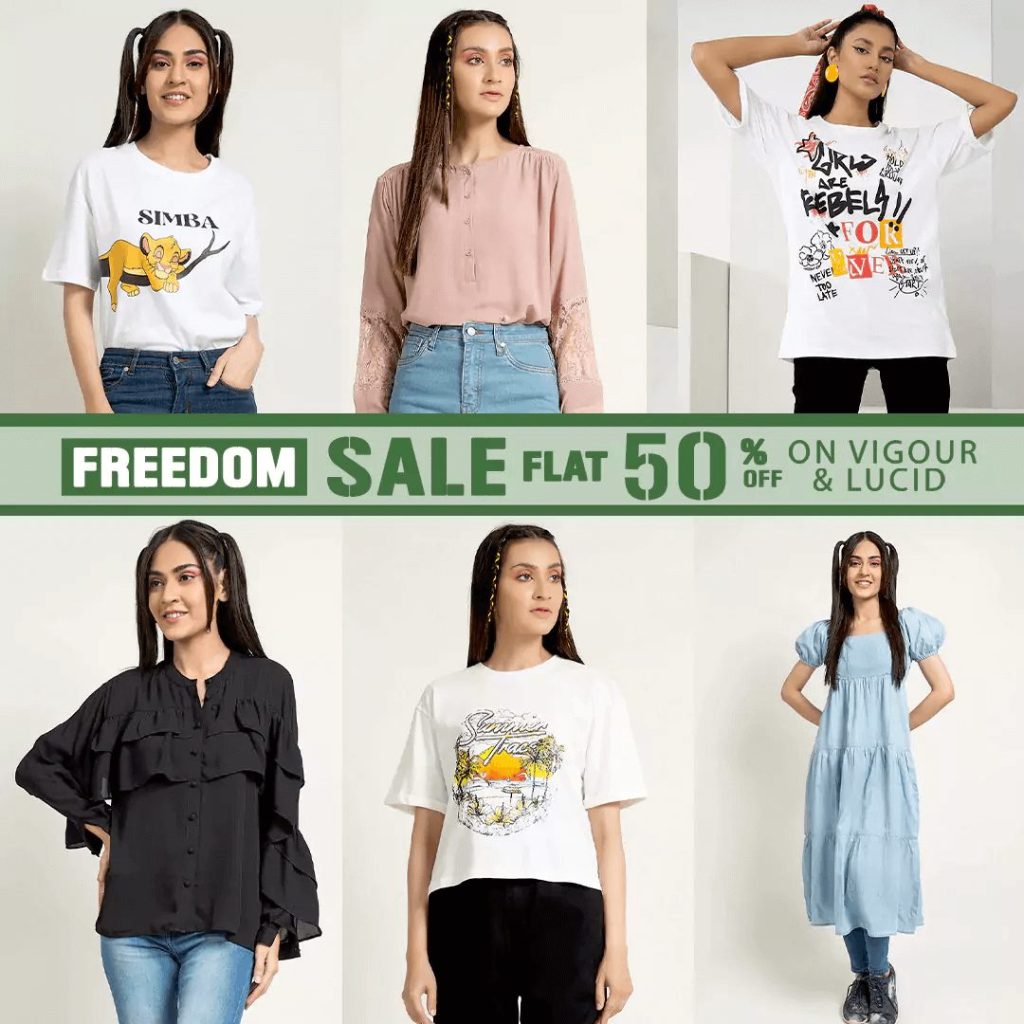 Don't hesitate to make Cougar your go-to shopping adventure during this incredible Freedom Sale. Dive into a world of fashion possibilities and discover the perfect pieces such as jeans, and trousers available in different fits such as mom fit, oversized, slim fit, or regular fit along with different styles such as high rise, tie & dye, wide-legged, etc. that will make heads turn wherever you go. This Independence Day Sale is your opportunity to elevate your style and make a lasting impression.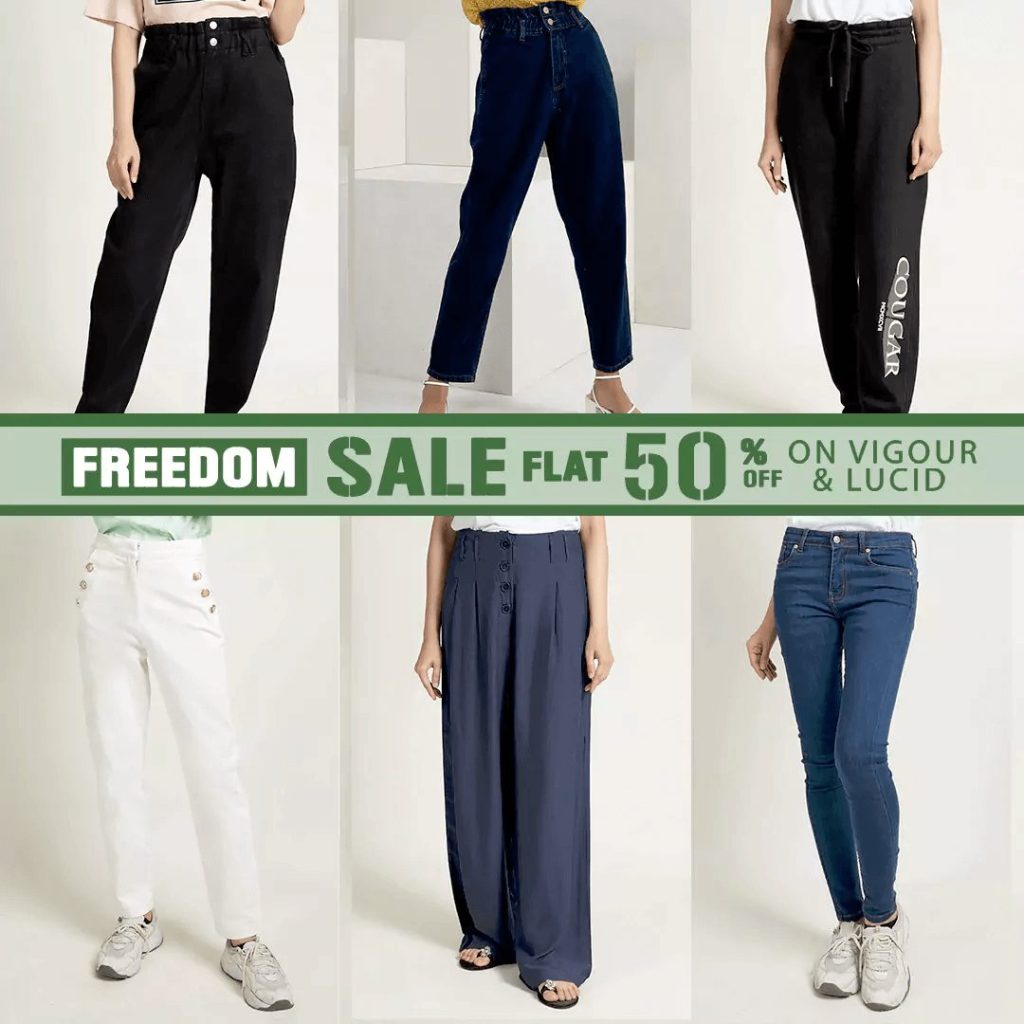 So, seize the moment and indulge in the ultimate fashion experience. Step into the limelight and let your unique style shine through. Make Cougar's Independence Day Sale your fashion partner and make a statement with your revamped look. Don't wait any longer and start your shopping expedition today!
Men Western Collection
Get ready to upgrade your style and put together amazing outfits with the Cougar Azadi Sale. You won't believe the unbeatable prices on a wide range of fashion essentials. Whether you're looking for trendy t-shirts, comfortable denim, casual shirts, versatile pants, stylish polos, or cool shorts, this sale has got you covered. It's the perfect opportunity to revamp your wardrobe. Don't let this incredible Independence Day Sale slip away, so grab your favorite pieces and elevate your style today!
Experience the perfect blend of comfort and style with Cougar's collection of stylish t-shirts for men. These shirts are designed to keep you comfortable while ensuring you look fashionable. Whether you prefer classic crew necks, modern V-necks, or stylish Henleys, you'll find a wide variety of options to match your unique fashion sense.
When it comes to casual shirts, Cougar has you covered with its carefully designed collection. These shirts help you achieve a polished yet relaxed look effortlessly. Choose from a range of stylish button-downs or comfortable checkered shirts that combine comfort and style seamlessly. For a smart and casual vibe, explore Cougar's range of polo shirts. These timeless and versatile shirts are the perfect addition to your wardrobe. With their refined yet relaxed appeal, they add a touch of sophistication to any outfit.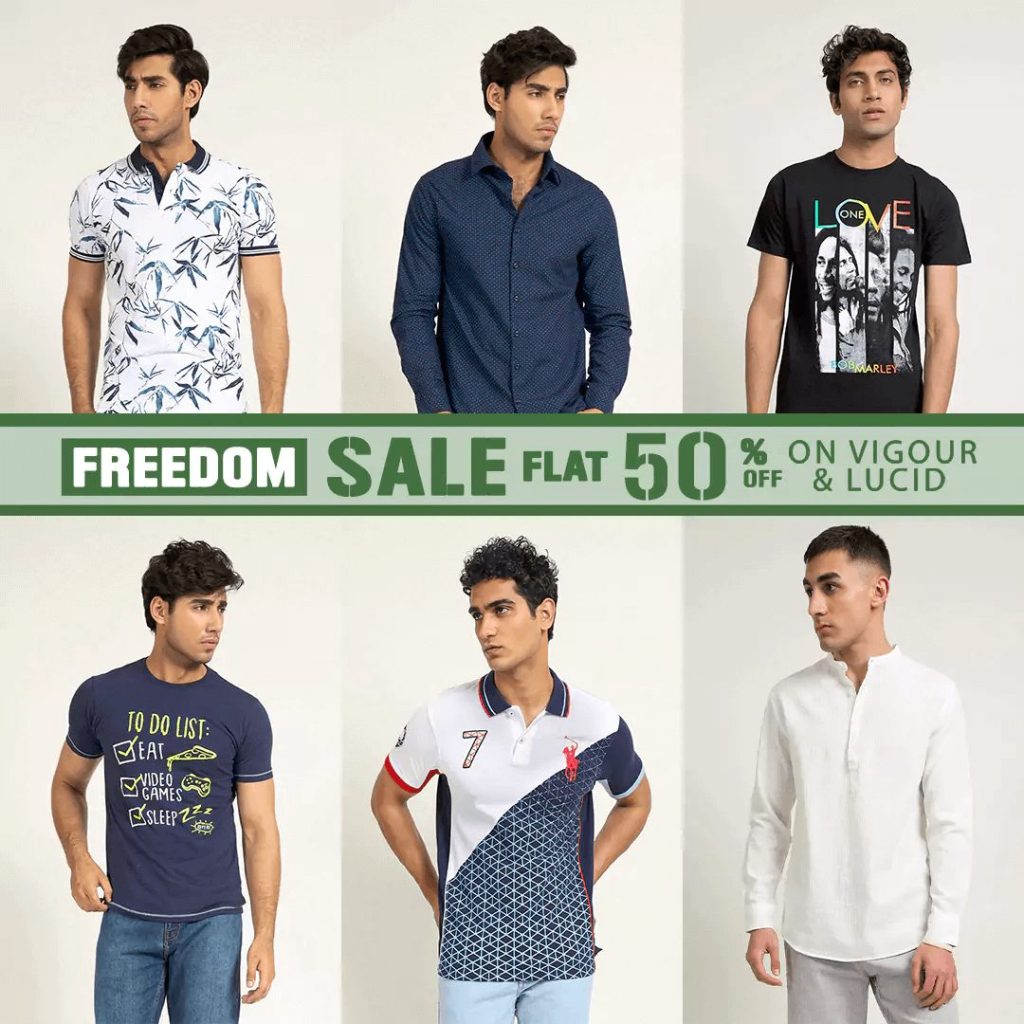 Don't forget, a good pair of jeans is a must-have in any wardrobe, and you can find them at the amazing Freedom Sale. But that's not all! This Azadi Sale also offers a variety of pants, shorts, and trousers that will add sophistication and versatility to your fashion choices. You'll be able to step up your style game with these fashionable options.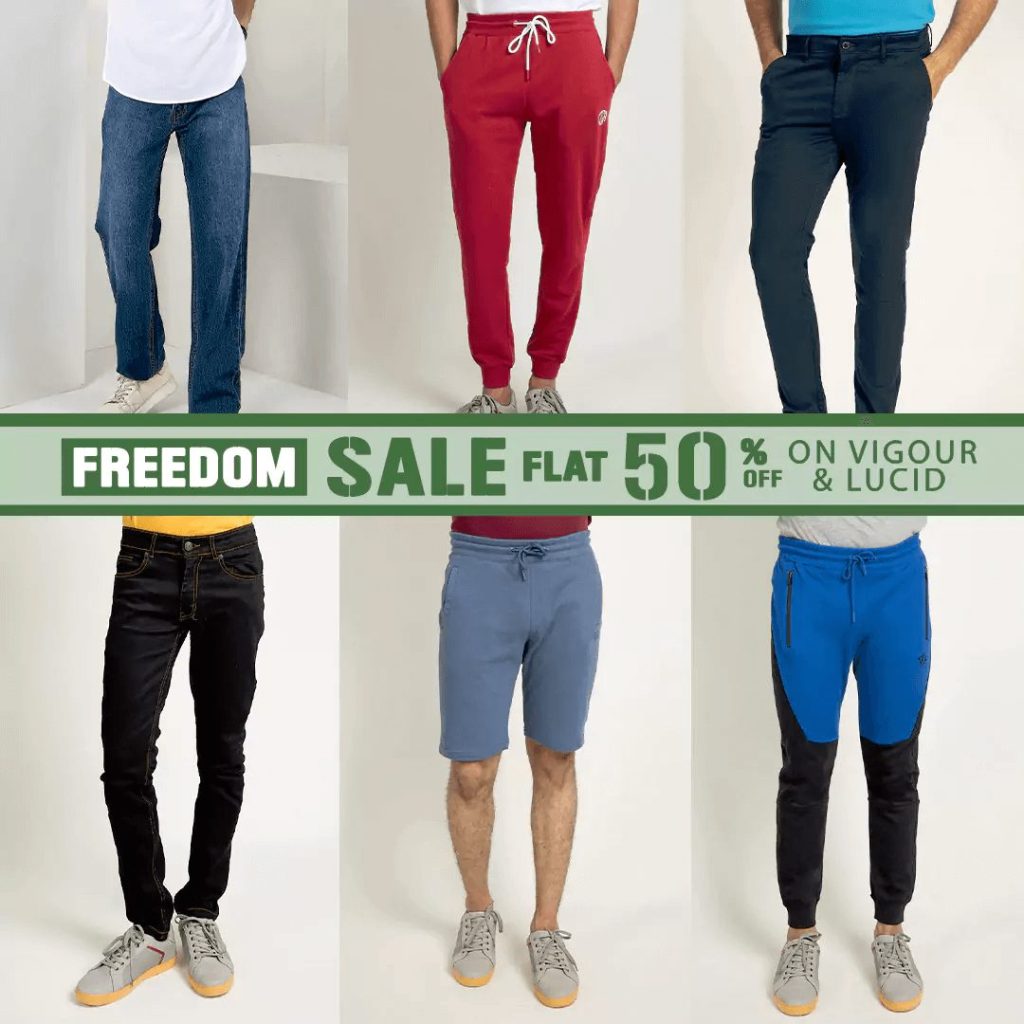 And that's not all – this incredible Independence Day Sale also includes accessories like caps, belts, and wallets, all available at a flat 50% off! It's the perfect opportunity to complete your outfit and add those finishing touches to your look.
So, make sure to take full advantage of the Freedom Sale and grab those tees, polo shirts, casual shirts, essential jeans, stylish pants, shorts, trousers, and accessories while enjoying significant savings. Your wardrobe will thank you!
Celebrate Independence Day in style with Cougar Clothing and make a bold statement! While other Azadi Sales on Brands might be confusing, our exclusive Independence Day Sale offers fashionable casual wear at unbeatable prices. It's the perfect opportunity to show off your patriotism and stay trendy at the same time. Visit your nearest store or shop online to take advantage of the amazing discount of 50%. But don't wait too long, because this Freedom Sale won't be around forever. Wishing you a happy Independence Day and happy shopping!