Drone food delivery to launch in Islamabad as a joint venture between the Islamabad Administration and FoodPanda!
On the 30th of September 2021, the Deputy Commissioner (DC) Islamabad, Hamza Shafqaat, tweeted about the launch of drone food delivery in Islamabad. The drone service will be available in the coming weeks to facilitate citizens who want faster food delivered to their doorstep.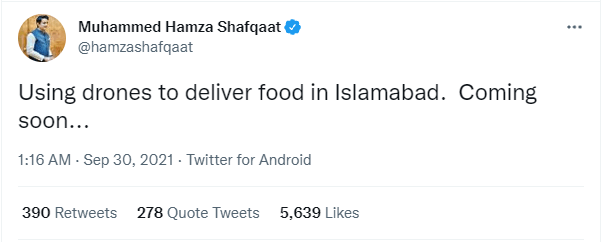 In an interview, Hamza Shafqat stated that the project will be launched officially after (CDA) Civil Drone Authority and (CAA) Civil Aviation Authority are on board.
He also mentioned that orphan children from the Pakistan Sweet Home will be invited to the launch event. These children will be treated with food, delivered to them through drones.
From the day DC Islamabad tweeted about the drone project, the idea has received praises from many citizens of Islamabad and many from other cities. Considering the benefit of food drones, many are waiting for the same service in their cities.