Highlights:
Enablers, introduce Sign Language Support under the Sponsorship program
Differently-abled students will be given free WORC and free dedicated sessions
The initiative will offer direction and motivation to differently-abled students
On June 22, 2022, Saqib Azhar, the CEO and founder of Enablers announced the Sign Language Support under the Sponsorship Program.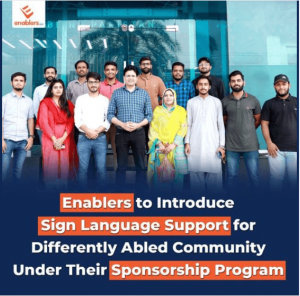 He stated that people with disabilities should be encouraged and trained to use their skills. Even if God has taken something away from them, they have skills that can be polished and used for their benefit.
He further added that through small efforts and support, they can pursue careers, become empowered, and develop a tech-savvy mindset that can help them move forward in life.
While there are a few freelancing skills in sign language, Enablers will be adding more skills along with sign language.
Enablers will sponsor FREE dedicated sessions and free WORC for differently-abled students hoping to bring them forward in the field of IT and tech.
Who are the Enablers?
Enablers, is one of the fastest-growing eCommerce platform, in Pakistan.
They aim to educate the youth, socially, professionally, and intellectually to create a competent community of entrepreneurs.
They have signed countless MOUs over the years and have won awards like the Award of Best eCommerce Company for 2021 and the Fastest Growing Brand of the year award for 2021.