The Federal Board of Revenue (FBR) has announced its intention to launch a centralized, digital, Single Sales Tax Portal for businesses. This initiative will facilitate taxpayers who had to file upto 6 different sales returns on individual portals each month. This mega-national project is set to be launched by Prime Minister Imran Khan later this month.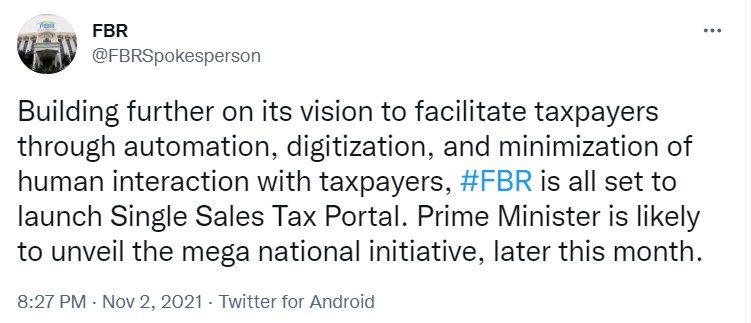 Businesses had to file their monthly Sales Tax returns individually to FBR, Sindh Revenue Board, Punjab Revenue Authority, Khyber Pakhtunkhwa Revenue Authority, and Balochistan Revenue Authority. Those with businesses in Azad Jammu & Kashmir (AJK) and Gilgit-Baltistan had even more sales tax returns to file.
Hence it is justified to say this initiative was long due. The National Tax Council has developed a consensus on this issue after much deliberation with all the provincial authorities on the rules governing General Sales Tax (GST). This consolidated platform will facilitate registered taxpayers, save time, costs, and effort. The automation of the sales tax filing process allows for reduced errors in filing, reduces human interaction, and takes the revenue from a single taxpayer and disburses it to the relevant provincial authorities.
The FBR and the four provinces had previously signed a Memorandum of Understanding (MoU) for establishing a single sales tax return and a single web portal. The development comes as an effort to harmonize GST on goods and services. The GST on goods lies in the jurisdiction of the Centre while that on services falls in the domain of the provinces.
The digital and automated system ushers an era of convenience and efficiency as opposed to the delayed, complex and cumbersome processes of before.