Foodpanda has recently launched its new feature – pandapro – in Pakistan.
In Karachi, Pakistan, foodpanda, the country's top food delivery platform and e-commerce company, debuted its latest feature, pandapro, at a gala unveiling event In this event, pandapro was made available to the general public for the first time. pandapro is a membership club which allows clients an exclusive access to flat discounts, better services and complementary food/drinks throughout foodpanda's use cases.
During the event, foodpanda's interim CEO Muntaqa Peracha said that the company was "extremely happy" to launch pandapro as a service in order to establish long-term, continuous relationships with clients. In order to provide their customers with the best possible service, they will continue to offer special savings on meal delivery, as well as additional discounts on pick-up and groceries through pandapro.
All restaurants and businesses will be free to deliver to pandapro users, in addition to the non-pro savings that foodpanda already offers. In addition, they can obtain discounts of up to 20% and more at a number of restaurants and shops, as well as free delivery on orders of PKR 599 or more. Non-pro discounts on foodpanda can be combined with this advantage.
Attendees included members of foodpanda's leadership, as well as regular customers, prominent vendors, influencers, and media outlets. Hassan Raheem, the newest musical sensation in the country, performed an incredible encore to round out the event.
Features of pandapro
With pandapro, you can take advantage of special monthly bargains and perks, up to the amount specified by the plan you choose to subscribe to. Pandapro comes with the following amazing features:
Unlimited free delivery
25% off: food delivery at selected restaurants
25% off: dine-in offers at selected restaurants
extra 5% off: all Pick-Up orders
2×10% off: pandamart vouchers
Subscriptions
To avail the above perks, you will have to join one of the following subscription-based plans.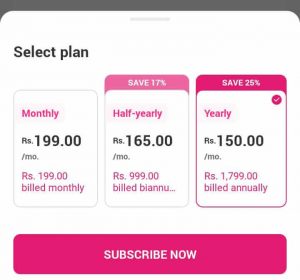 PKR 199 (billed monthly)
PKR 999 billed twice a year (save 17% by paying PKR 165 / month)
PKR 1799, billed once a year (save 25% by paying PKR 150 / month)
How to Subscribe to pandapro?
Follow the steps below to subscribe to this amazing feature by foodpanda.
Only use the foodpanda app to sign up.
It's as simple as navigating to the "Become a pandapro" page on your app's homepage page and filling out all of the necessary information.
Users must be at least 18 years old and have a valid credit card to use the service. Your credit card will be charged for the annual membership fee.
The subscription and all of its perks will renew themselves on a monthly basis.
Your subscription will be terminated if any payment is not received, and you will have to re-subscribe in order to continue receiving the advantages.
A subscription can be canceled at any time. However, it will only take effect on next month's renewal date.
Download the food you love!