It's Time for a Chat in Gmail!
Hangouts, a primary Google messaging app from 2013-2016, will finally shut down in November 2022, with Google starting to move users to Chat in Gmail.
The shutdown of Hangouts has been long anticipated. Existing Google Hangouts users will soon be urged to make the transition to Google Chat, the company's brand-new messaging platform.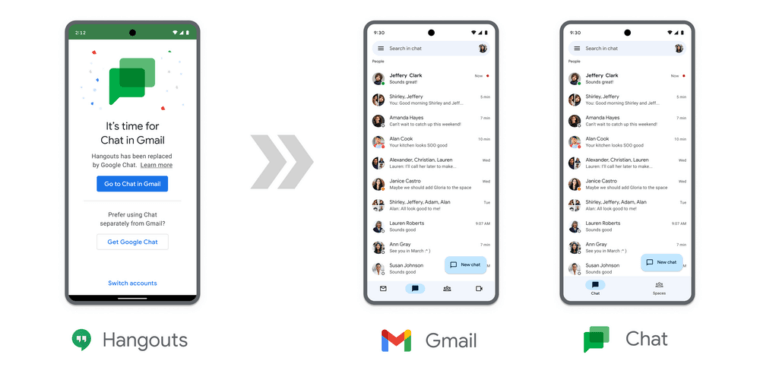 Personal Hangouts are currently being migrated to Chat by Google after the Workspace version of Hangouts was discontinued in February. Those who are still using the Hangouts mobile app will be prompted to switch to Chat in an update on Google's site.
Users of Hangouts in Gmail on the web will not be prompted to switch to Chat until July, according to Google. For the time being, the desktop version of Hangouts will be available until November, and Google says it will notify users "at least one month" before switching to Chat.
Confusingly, GChat (or Google Talk) is not the same as Google Chat, which was shut down by Google earlier this month. Although Hangouts was supposed to replace GChat, we're still using it today. Before making it free for all users in 2020, Google first hinted at the possibility of moving users from Hangouts to Chat in 2018.
Your old Hangouts conversations should be automatically transferred to Chat if you're still using them. Additionally, before Hangouts is officially shut down in November, you can use the Takeout feature to retrieve a copy of your data.
If you're still using Google Hangouts, you'll be able to conduct direct phone calls, create in-line threads in Spaces (the new name for the Rooms app), and share multiple photos.
While the company has decided to sunset the platform, Hangout had its devout fans.