The State Bank of Pakistan in September took a step to revise its prudential policy regarding auto financing in an effort to procure loans for domestically assembled cars having an engine capacity of more than 1000cc. Limiting the car sales will bring moderate growth in domestic demand to restrain rapidly increasing imports to compensate for the current account deficit. The import of Completely Built Units (CBU) and Completely Knocked Down Units (CKD) had surged to $495 million from $160 million in this fiscal year.
Shaukat Tarin, Minister of Finance of Pakistan, revealed in a talk show on Samaa TV that the Government of Pakistan has decided to cease the import of CBU vehicles along with other "frivolous" imports to meet the current deficiencies amounting to $1.6 billion per month.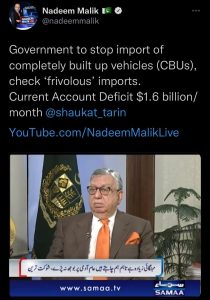 Pakistan has witnessed record-breaking foreign exchange spending on the arrival of new automobiles in the current year. 10,513 units have been imported compared to 1,680 units in the previous year. However, the Finance Minister seems fine with the import of CKD and SKD (Semi-knocked down) kits for automobiles as the record reached $1.6 billion in the current year in comparison to $727 million in the last year. There is some sort of "conversion" which is a benefit to current financial affairs. The Minister considers imposing higher duties on automobiles having bigger displacement engines.
The import of CKD/SKD kits of all vehicles rose by 214% from $117 million to $369 million, in the first two months of the current fiscal year (2M-FY22) as compared to last fiscal year. Similarly, the import of CBU vehicles experienced a growth of 118% from $47 million to $103 million in the same period. The reason behind this is that despite having assembly plants in the country, the new vehicle heavily relies on imports of CBU vehicles which in turn is a burden to the economy. The rise in the import of CKD and SKD will further deepen the problems in the form of trade deficits, higher spendings, zero export of vehicles or their parts, and foreign exchange outflow. The Government of Pakistan has allowed the import of 100 units per variant to test the current situation of the market.