More than 2.5 million pilgrims are expected to perform Hajj this year, the largest in history, according to an official at the Saudi Ministry of Hajj and Umrah.
The holy pilgrimage of Hajj has begun as crowds of Muslims have arrived in Saudi Arabia.
The pilgrimage began on Sunday in Makkah, with the tawaf (the circling of the Kaaba) expected to break attendance records.
According to Samir Al-Zafni, a Saudi businessman, all 67 hotels within his group in Madinah and Makkah are fully booked till July's first week, indicating the overwhelming demand.
Coronavirus Restrictions Lifted
During the pandemic, restrictions on the number of pilgrims were imposed and in 2019, only 10,000 people were permitted to participate.
In 2021, 59,000 and last year, there was a cap of one million pilgrims to perform Hajj.
Many pilgrims save for years to perform the religious practice and one such example is of Abdelazim. According to AFP News, the 65-year-old from Egypt saved for 20 years. He saved $6,000 to be able to afford the trip.
The pilgrim described his time during Hajj as the best and the most beautiful time of his life.
Scorching Saudi Heat
This year is expected to be a test for the Hajj pilgrims. As temperatures are expected to hit 45 degrees Celsius, the government has set up multiple paramedics and over 32,000 healthcare workers to combat dehydration, heatstroke, and exhaustion.
As the majority of the rituals take place outdoors, it will be a test for the pilgrims to withstand the extreme heat while performing all the rites.
Drop During the Pandemic
According to Statistica, the number of Hajj pilgrims dropped severely during the pandemic. As you can see in the graph below, the graph falls during the pandemic years, indicating the lower number of pilgrims allowed for Hajj by the authorities.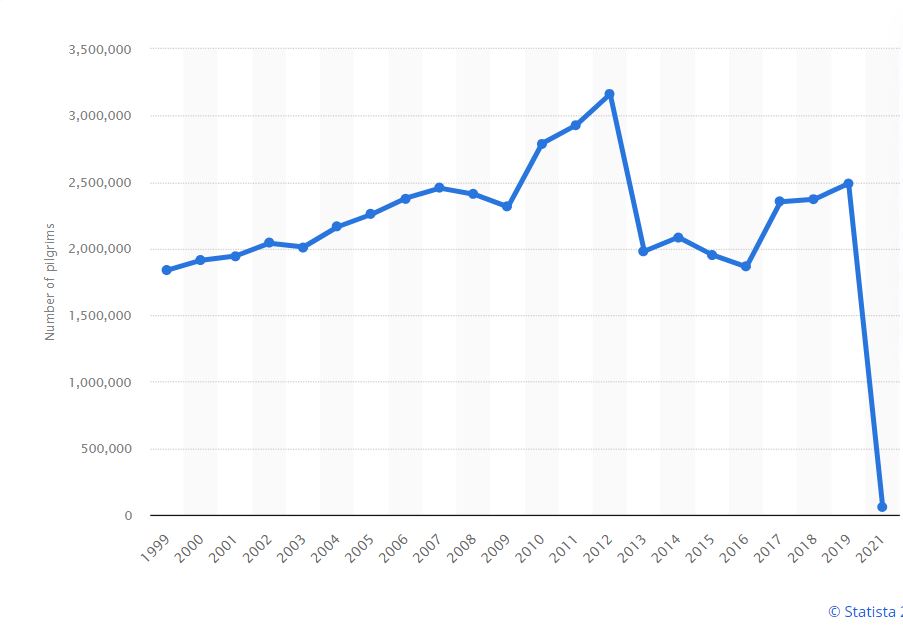 As pilgrims perform Hajj in the extreme heat, the locals have also raised a helping hand to them. with some serving water while some serving bread and tea.
For many, the Hajj pilgrims are Allah's guests and they are more than honored to take care of them.