Are you planning a trip to Canada in the near future? Do you wish to know the complete details regarding your visa? This is a complete guide for you to have complete details regarding:
IRCC
IRCC Services
All About Temporary Resident Visa – Canada

Fee
Processing Time
Duration of Stay

Steps to Apply for a Visitor Visa

Application Processing
Eligibility

After You Apply

Processing of Visitor Visa Application

Before You Travel to Canada – Documents Required
Your Arrival in Canada
How to Check Your Application Status
How to Pay Your Fees
IRCC
Immigration, Refugees, and Citizenship Canada (IRCC) helps immigrants enter Canada, protects refugees and provides services to assist immigrants in settling down. It also:
grants citizenship
issues travel documents
IRCC Services
IRCC deals in providing services in below categories. You can apply to these categories directly or take help from the representative.
Immigration: Apply for a sponsorship for your family.
Work: Apply to extend work permit, hire foreign workers, get your credentials recognized, or learn about being a caregiver or experience Canada.
Citizenship: Prepare for the citizenship test, apply for, resume, or renounce Canadian citizenship, and obtain documentation of citizenship.
Study: Apply for or extend a student work permit or study permit.
New immigrants: Get a permanent resident card, look for local immigration services, submit a citizenship application, and discover your first tax year in Canada.
Canadians: Obtain a passport, sponsor a member of your family or a refugee, demonstrate your citizenship, go overseas and work, adopt a kid, and participate in citizenship celebrations.
Refugees and asylum: Find services for refugees in Canada, apply for refugee protection, sponsor a refugee, and appeal a refugee claim.
Visit: Find out if you require a visa to enter Canada for tourism, business, or transit, as well as how to extend your stay if you are a visitor.
Your passport will be stamped with a visitor visa, often known as a temporary residence visa. It determines that you are eligible to enter Canada. Most visitors to Canada require a visiting visa.
Fee
The fee required for the processing of visitor visas starts from $100.
Processing Time
The processing time for the purpose of your visitor visa varies by country. Your application might also need you to provide biometric data. The time required for you to provide biometric data is not included in this processing time.
How to Check the Processing Time
To check the processing time for your application, visit the link here. Select the type of application against which you need to know the processing time.
Duration of Stay
Most travelers to Canada are permitted to stay for up to six months.
The border services officer at the point of entrance may let you stay for less than or more than six months. If so, they will record the deadline for your departure in your passport. They may also provide you with a visiting record, which will include the time you must depart, along with other information.
If your passport is not stamped, you can remain in Canada for a period of six months beginning on the day you entered, or until your passport expires, whichever occurs first.
Steps to Apply for a Visitor Visa
Get detailed instructions on your situation on how to apply for a visitor visa.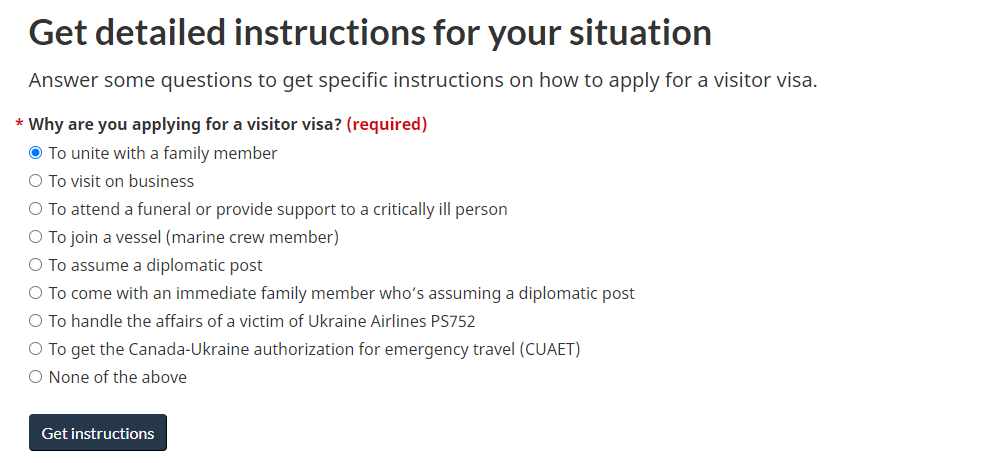 Follow these steps below to get complete details on how you can apply for a visitor visa.
Step 1: Gather the documents that prove you meet the eligibility criteria for a visitor visa.
You can get the complete list of supporting documents here.
Step 2: Apply online.
2. Upload your documents
3. Pay your fees
Step 3: Give your fingerprints and photo (biometrics).
Application Processing
The officials will check your application to see you have all the required documents. If they are incomplete, the application will be returned without being processed. If the application is approved, they will ask you to submit your passport for the visa stamp. Follow the instructions provided by them.
Eligibility
To obtain a visitor visa, you must fulfill a few prerequisites. You have to:
Possess a valid travel ID, such as a passport
Be in excellent health and have no convictions for crimes or immigration-related offenses
Persuade an immigration official that you have ties to your native country, such as a job, residence, financial resources, or family.
Convince the immigration officer that you will leave Canada after your visit is over and that you have the funds to cover your expenses.
The duration and place of stay will determine the amount you will require for your stay in Canada. A medical examination and a letter of invitation from a Canadian citizen may also be required.
After You Apply
To prevent processing lags, make your biometric appointment as soon as you can.
Processing of Visitor Visa Application
Your application will be examined to make sure it contains all the required documentation. Your application will be returned unprocessed if it has insufficient documents. Possibly, they will ask you to:
Give an interview
Send more information
get a medical exam
get a police certificate
If Your Application is Approved:
If You Applied Online
If You Applied On Paper
You'll receive 2 letters in your IRCC account:
Decision letterA letter with instructions to submit your passportAfter this, wait for the stamp in your passport.
Any original paperwork, including your passport with the visa inside, will be returned to you once your application has been approved.
If Your Application is Refused:
| | |
| --- | --- |
| If You Applied Online | If You Applied On Paper |
| The judgment will be delivered to your IRCC account. This will clarify why your application was denied. | Your passport and any other original documents will be provided to you along with an explanation of the reasons your application was denied. |
Before You Travel to Canada – Documents Required
You may occasionally need to bring certain documents with you when visiting Canada. There are some situations in which extra documents are required on arrival. These include:
You have a minor kid (under the age of 18)
A letter authorizing the minor child to enter Canada
Other documentation, such as adoption papers or a custody order, depending on whether the minor child is traveling alone or not.
If you are invited to come to Canada, bring a letter from a person or company that invited you.
Your Arrival in Canada
Even with a valid visa and travel document, entry into Canada is not guaranteed. They'll verify your identity when you get there to make sure you're the same individual whose travel to Canada was authorized.
Entering Canada Through Airports
Your fingerprints will be automatically scanned at a primary inspection kiosk if you enter Canada through one of the four largest Canadian airports. The system will verify your identity by comparing it to the data gathered when you submitted your application.
Entering Canada at a Land Port
In the event that they send you for a secondary inspection, a border services officer may check your fingerprints using biometric verification equipment.
You Enter Canada
The border services officer may stamp your passport or inform you of your stay limit in Canada if you successfully complete the identity verification and health examination steps and meet the entry requirements. Normally, you are permitted to stay in Canada for a maximum of six months.
Depending on why you're visiting, the officer may occasionally shorten or lengthen your stay. If you're unsure of something, ask a question.
If you provide inaccurate or insufficient information, you won't be permitted entry into Canada. The police officer must believe that:
You are permitted to enter Canada.
At the completion of your authorized period of stay, you will depart Canada.
To check the status of your application, make your selection of what you applied for:
To pay your visa application fee:
Select the country where you are paying from.
Choose the type of application for which you wish to pay the fee.
Prepare For Your Travel To, and Arrival In Canada!