Jovi aims to build a sound connection between vendors and customers by offering a unique home shopping experience.
How to Register Your Restaurant on Jovi
Vendors who wish to join the Jovi platform can sign up on the JOVI Vendor app using their email address. Once the sign-up is complete, and the agreement has been made with Jovi, the team will visit your store and collect the necessary data for verification purposes. This data will be updated in Jovi's app system for the record.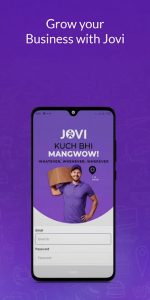 Grow your business with Jovi by downloading the JOVI Vendor app available on the Play Store. The app has an easy-to-use interface and you can easily make an account in no time. The app allows easy inventory management with separate listings for brands or products as you like.
You can list all the products seamlessly and customize settings for each product based on its availability. You can choose to sell all or specific products and set options as Available, Out of Stock, or Discontinued. Order management is just a few taps away, the app allows you to display order number, total price, images, and other attributes on the listing and product detail page. Along with that, you can set your working days and business hours including the opening and closing times of your space. Lastly, the app gives a convenient view of the order details like preparation time, the time when the food or things will be available for pickup, and the end time.
The JOVI Vendor app is best compatible with Android phones having a version of 5.0 or more. Vendors can add money to their wallets by utilizing the following options:
Debit or Credit Card
JazzCash
Easypaisa
This was all about the registration procedure. If you consider this the right platform to expand your earnings online, sign up now by following simple and easy procedures.