NayaPay – Paisa Chalay Phone Se!
One wallet for all of your daily payments. On NayaPay, you can always send money to friends and family for free. For any payments – online, in-store, or international – get an instant Visa debit card.
Who is Eligible for NayaPay?
Anyone in Pakistan over the age of 18 can open a NayaPay wallet and use it to make payments, send and receive money, divide debts, and do a variety of other things.
What does a NayaPay Account Include?
A NayaPay account includes a free Visa Virtual card that may be used to make online payments both locally and abroad.
You can also order a free physical debit card from the app and have it delivered to your home, which you can then use to withdraw cash from ATMs and pay in-store at over 46 million retailers worldwide.
How to Track NayaPay Visa Debit Card Online?
Once you have placed your order from the app, you can track NayaPay card online by following these simple steps below:
Go to the official website of TCS Express.
Enter the tracking number against your NayaPay Visa Debit Card order.
Select Track to continue.
The tracking details will appear.
Schedule of Charges
Transferring money between NayaPay users will always be free. There is no yearly fee or SMS cost on your Visa debit card.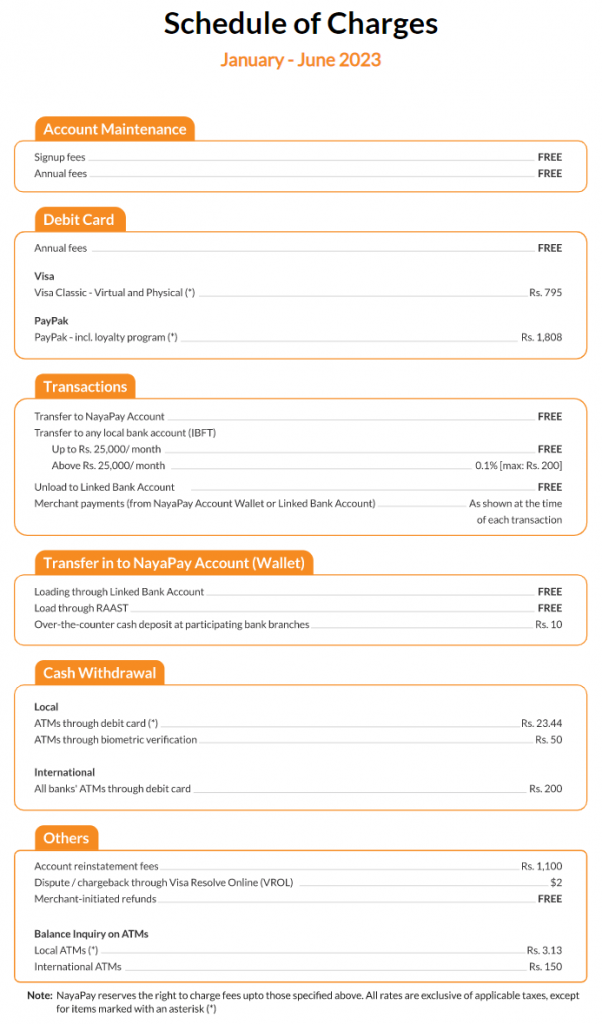 Account Limits for NayaPay
The accounts limits for NayaPay are:
| | |
| --- | --- |
| Initial Load Limit | PKR 50,000 |
| Upgrade load limit | PKR 200,000 |
Procedure to Upgrade the Wallet Using Meezan Bank ATM
You can provide biometric verification at any Meezan Bank ATM nationwide to upgrade your wallet. The steps include:
Select Biometric Services at the ATM (Note: you don't need to insert a card in the ATM).
Next, select NayaPay.
Choose Biometric Verification on the Meezan Bank ATM.
Enter your CNIC and a mobile number that is registered with NayaPay. complete the biometric verification.
Follow the instructions and provide the biometric impression.
A success message will appear on the screen along with the notification on the NayaPay app indicating the upgrade.
Procedure to Upgrade the Wallet Using NayaPay App
You can upgrade your NayaPay wallet through the app as well. Follow the simple steps below:
Open the app on your phone and tap on the Upgrade icon.
Choose Upgrade through App to proceed. Please allow location access if disabled, as required by NADRA. Fingerprint scanning requires a mobile with a 5 MP or higher back camera and a flashlight.
Click on Continue.
Place your fingers close together within the frame, following the instructions on the screen. The software will scan your fingers and photograph them.
Click Next to have your fingerprints confirmed against NADRA records.
By selecting Check Upgraded Limitations, you can view your upgraded limits.
FAQs
Q. How long does NayaPay take?
Ans. When a payment is made against an invoice or otherwise, it is recorded in the Sales and Transactions tabs. The network has notified NayaPay that a payment has been received; however, cash will be transferred to NayaPay within 2 – 7 business days.
Q. How do I get a NayaPay card?
Ans. Download the NayaPay App from the App Store or Google Play Store.
Sign up for your wallet digitally in just a few steps. All you need is your CNIC or NICOP.
Your information will be verified by the team. Within a few minutes, your wallet will be ready to use. Biometric verifications allow you to increase your spending limitations.
Q. Which bank is linked with NayaPay?
Ans. Askari Bank Limited and NayaPay have agreed to collaborate in order to boost digital payments in Pakistan recently. Meezan Bank is also linked with NayaPay.
Q. Is NayaPay trusted?
Ans. The State Bank of Pakistan has licensed NayaPay as an Electronic Money Institution under the EMI Regulations.
Q. Can I use NayaPay on Amazon?
Ans. You will receive a free Visa Virtual card with the NayaPay Wallet, which can be used to make local and international online payments such as Amazon, AliExpress, Facebook, and Netflix.
Q. Can I receive money from abroad on NayaPay?
Ans. Yes, NayaPay Arc IPG allows you to accept both foreign and domestic debit and credit cards.
How do I withdraw money from NayaPay?
Ans. You can transfer to the designated bank account.
Click on Accounts.
Choose Select Money.
Select the Designated Bank Account.
Q. How do I contact NayaPay?
Ans. For lost and stolen cards, you can freeze the card instantly in the app or directly call the customer service at (021) 111-222-729.
Q. Is the NayaPay app on Iphone?
Ans. The app requires iOS 13.0 or later or macOS 11.0 or later and a Mac with Apple M1 chip or later.
Q. What is an MPIN?
Ans. An MPIN is a six-digit passcode used on the NayaPay app to authenticate transactions and access sensitive information. Although remembering this number may seem difficult at first, it adds a vital and necessary degree of security to safeguard your account from unwanted usage.
Go Cashless, Not Helpless!