TikTok, a Chinese video-sharing app, has been rolling out in the market for many years. The app has millions of active users who share videos on a regular basis. Previously, TikTok allowed sixty seconds videos for its users. With a recent update announced by the app creators, the length of the videos has been increased threefold.
Yes, you have heard it right! TikTok triples the length of videos from 60 seconds to 3 minutes at max. This update has left the users of TikTok both excited and surprised. This feature will be available after the account updates which will appear like the one below: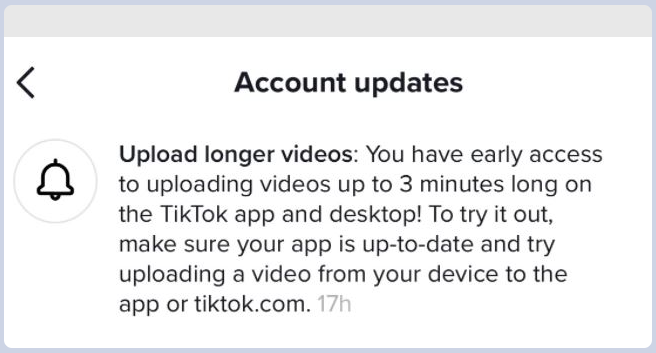 In a recent announcement by the company, it states:
"There's so much that can happen in a TikTok minute, from crowdsourced musicals and sea shanty singalongs to feta pasta recipes, roller skating revivals, and more. Now we're introducing the option for our global community to create longer videos – paving the way for even richer storytelling and entertainment on TikTok."

Source: Newsroom, TikTok
Users will get a chance to directly record, edit, and upload the videos within the app. This update will give users a bigger space and bracket to showcase their talent worldwide. Going from sixty seconds to 3 minutes might seem like a minor change but considering the trend of all major social apps where 60 seconds is the average, this is still a great change to be enjoyed. The major social apps like Facebook and Instagram allow 60 seconds videos, YouTube and Snapchat are also limited to 60 seconds. This gives TikTok an edge above others with its new maximum length of 3 minutes.
This will open gateways to unique content that can only be observed on TikTok. Users can create new and extended types of content on TikTok like cooking demos, elaborate beauty tutorials, educational lesson plans, and comedic sketches.
One downside that comes with this update is that the new 3 minutes length videos can not be shared directly across all apps because of their limited time frame. These videos can only be enjoyed by the TikTok audience. This will create an opportunity for viewers to view the app directly rather than watching it on other social apps.
It will be interesting to see what innovation creators add to their videos to hold viewers' attention for longer than a minute. TikTok echoes this statement in its announcement:
"With all the ways our community has redefined expression in under 60 seconds, we're excited to see how people continue to entertain and inspire with a few more seconds – and a world of creative possibilities."

Source: Newsroom, TikTok
The update has been in the testing phase with limited account holders of TikTok, so you might have encountered one already. Over the coming weeks, this update will be accessible to all its users to make the most use out of it. It will pave way for even richer content and entertainment with the flexibility of a bit more space.