In this brief read, we will take you through the steps needed to withdraw money from Ethereum in Pakistan. For this, you will need to create an account on Trust Wallet.
Create an Account on Trust Wallet
Trust Wallet is the official crypto wallet of Binance. Users can send, receive and store Bitcoins and many other cryptocurrencies with the Trust Wallet. Trust Wallet is considered the best Ethereum wallet. If you are looking for an Ethereum wallet or Bitcoin wallet, Trust provides a secure system that makes it simple to buy and store multiple cryptocurrencies. Making an account on Trust Wallet is simple and easy. Here is how you can create an account:
1. Download the Trust Wallet Mobile App from App Store for iOS users and Play Store for Android Users.
2. Open the Trust Wallet App, log in by creating a new account, or if you are already a user, log in with your existing credentials.
Note: While creating a new account, a recovery key will be provided which will be used every time while you log in to your account. Do not lose this key at any point.
The best thing of using Trust Wallet is:
Free to use mobile app.
1,60,000 different coins are available in this app, unlike other apps.
You can directly buy any coin from this app.
Easy to use.
This is a decentralized app.
Full support of Binance Wallet.
How to Transfer Ethereum Coins from Trust Wallet to Binance?
This section is a step-by-step guide to help you transfer your Ethereum Coins from Trust Wallet to Binance in order to cash it out. Follow the steps below:
1. On the Dashboard of your Trust Wallet, you will see different coins along with the current balance you have for each. In the screenshot below, you can see 0.065378 ETH available.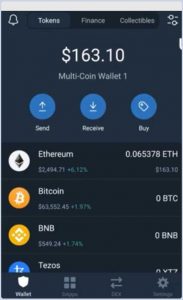 2. Open Binance Account on your screen and log in with your account.
3. On the Dashboard, select the three lines on the top right corner. Select "Wallet" and choose "Fiat and Spot".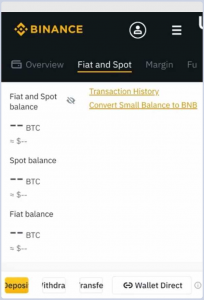 4. A new interface of Fiat and Spot will appear. Select "Deposit" to transfer the amount from your Trust Wallet to your Binance Account. All the currencies will appear below. As shown in the image, there is no current Ethereum balance available.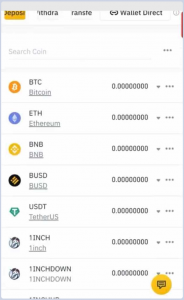 5. Tap on "Ethereum" and select "Deposit".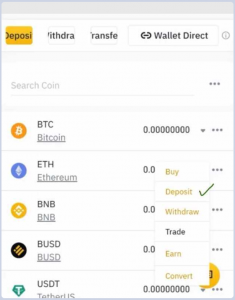 6. On the next interface, a deposit method will appear. Copy the link address of Ethereum and go to your Trust Wallet.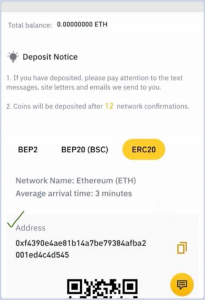 7. Select "Ethereum" on the Dashboard of Trust Wallet and then select "Send".
8. Paste the link address in the relevant field and enter the amount of Ethereum you wish to send to your Binance Account. Select "Continue".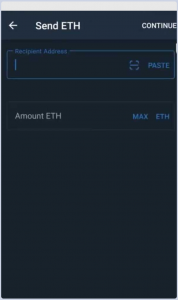 9. Confirm your transaction on this phase and select "Send". You will also receive a confirmation when the transaction is complete.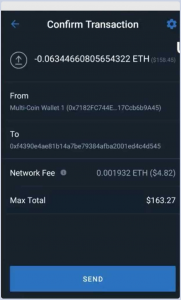 10. Open your Binance Account to confirm the transaction. In the image below, Fiat and Spot Balance have been received here.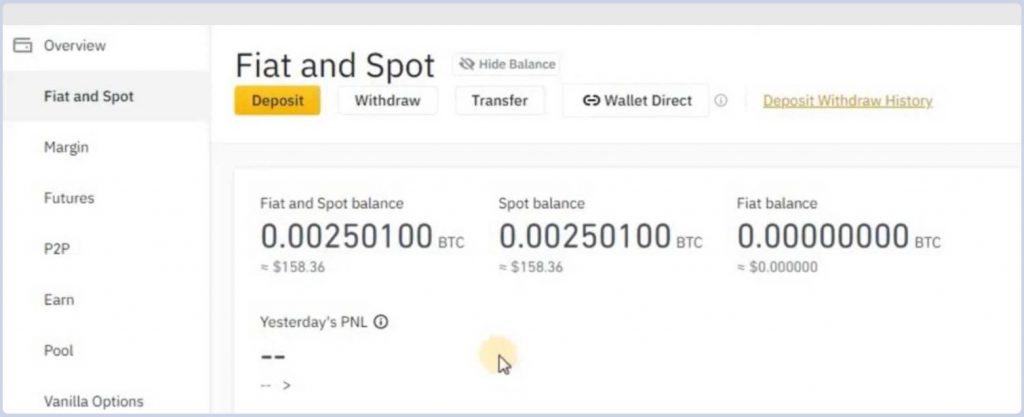 How to Withdraw Ethereum Coins From Binance?
Till this section, you have transferred the Ethereum balance from Trust Wallet to your Binance Account. To learn how to withdraw Ethereum money from your Binance Account follow this step-by-step guide below.
1. On the Dashboard, Select "Fiat and Spot" and then select "Transfer".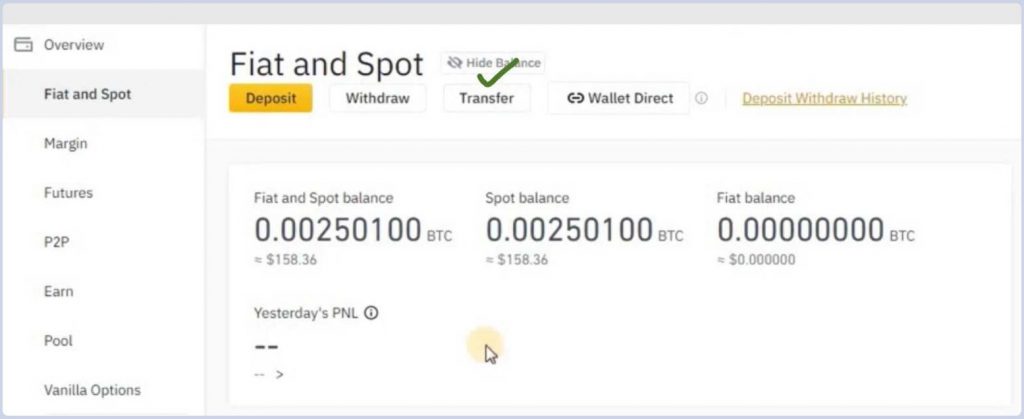 2. Transfer from "Fiat and Spot" to "P2P". Choose the currency "Ethereum" from the drop-down menu of Coin, enter the amount, and select "Confirm".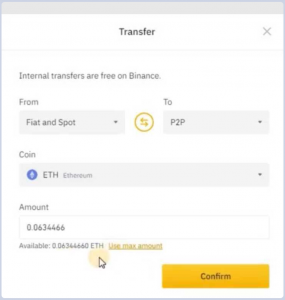 3. On the Dashboard, select "Trade". A drop-down menu will appear, select "P2P".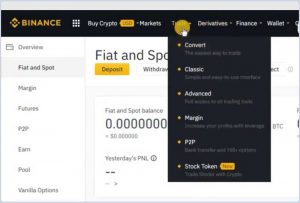 4. Tap on "Sell" and then "ETH". Choose "PKR" under Fiat and "All payments" under the Payment option. All the buyers on the platform will appear here.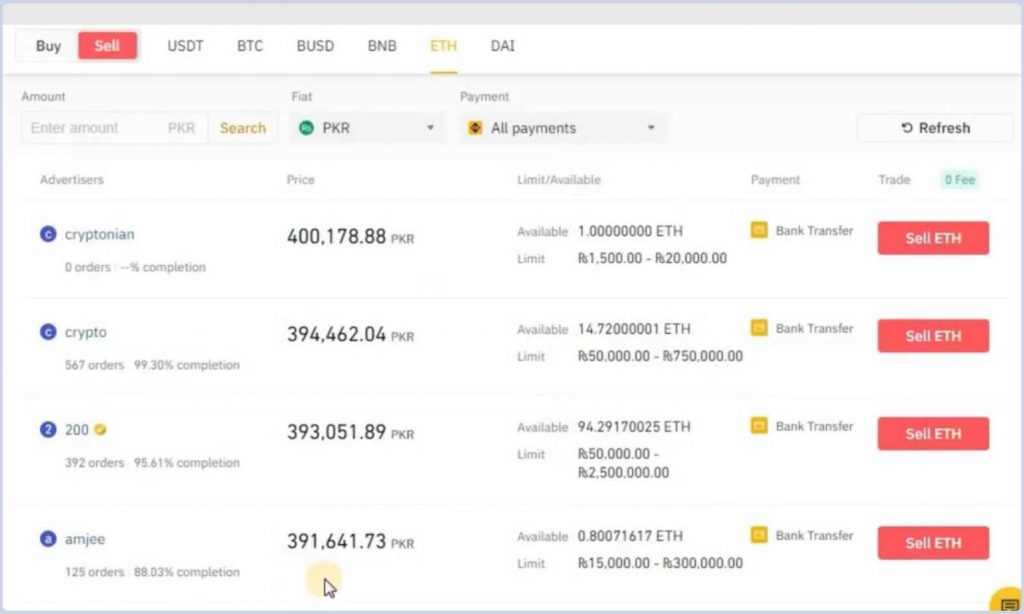 Choose the trusted buyer by keeping in mind to observe their order history, percentage of completion, available Ethereum balance, and the limit. Make sure the lower limit of the buyer matches your balance. After choosing the most appropriate buyer, tap on "Sell ETH".
5. On the next interface, payment limit time will appear along with the buyer's payment method. Fill out the relevant fields here with the correct information. Enter your payment details and tap on "Sell ETH". Your order will be placed successfully.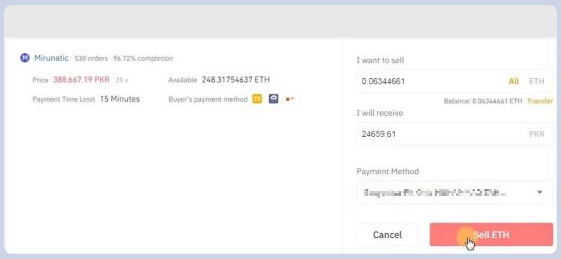 6. You can receive the payment in either JazzCash, EasyPaisa, or Bank Account. As the payment limit time was 15 minutes, you will receive it in the given time frame. When you receive the payment, select "Confirm Release". If you haven't received it, select "Appeal".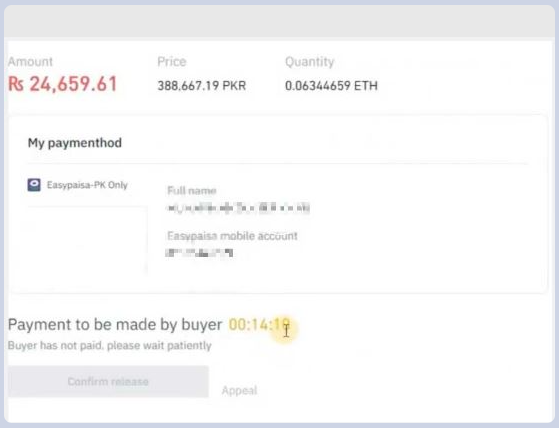 We have tried out best to explain each and every step so that you don't feel overwhelmed with the procedure. If you still have any confusion, please leave a comment below.