Former Pakistani Prime Minister Imran Khan recently joined TikTok, and within just 24 hours, his account gained an impressive 3 million followers, signaling the beginning of a social media sensation.
As days passed, his follower count soared even higher with more engaging content.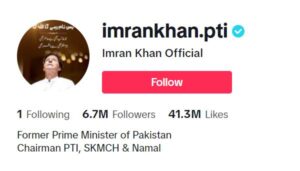 Currently, Imran Khan holds the title of the most followed political leader on TikTok, with a whopping 6.7 million followers.
He has amassed an incredible 41.3 million likes through 13 uploads and has garnered over 450 million views on the platform.
Ahead of All Politicians
Surpassing other global political figures, Imran Khan has secured the top spot on TikTok.
He outshines El Salvador's President Nayib Bukele, who has 6.4 million followers, and Brazil's President Luiz Inácio Lula da Silva, with 4.4 million followers.
French President Emmanuel Macron boasts 3.9 million followers, while Colombia's President Gustavo Petro has 1.7 million.
American politician Bernie Sanders stands at 1.4 million followers, and Italy's Prime Minister Giorgia Meloni has 1.2 million followers.
The US representative Alexandria Ocasio-Cortez is the only woman politician on the list with over 822,000 followers.
Imran Khan's active presence and regular uploads have contributed to his rapid growth on the platform.
His engaging content consistently garners over 5 million views per post, with his most followed upload nearing 200 million views.
Growing Popularity
Despite facing corruption trials, Imran Khan's popularity on social media remains undiminished. His immense fan base, earned from his cricketing days to his political career, has translated seamlessly to TikTok.
His initial TikTok videos feature a montage of his public addresses and a gratitude-filled video thanking his followers for the overwhelming response.
If this upward trend continues, Imran Khan's TikTok following will likely continue to grow and impress audiences worldwide.