Want to play cricket with your pals but worried that the rainy season might ruin your plans? Worry not, as today we have got you covered with a list of top indoor cricket places in Karachi, Pakistan. Whether you're a seasoned player or new to the scene, these locations are perfect to seek fun time with your friends and to hone your cricket skills. From the decent atmosphere to quality services, expect an all-around ideal experience at these locations.
Places for Indoor Cricket in Karachi
Following are the seven best indoor cricket venues in Karachi:
Elite Indoor
Arena
Cric Indoor
Indoor Cricket Hub
Sports Time Out
Maidaan – Multi-Sports Field
MDK Cricket Place
1. Elite Indoor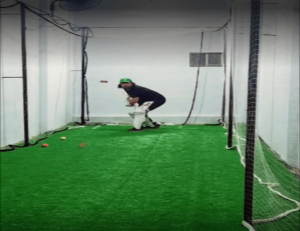 Situated in Gulberg town karachi, Elite Indoor is undoubtedly a heaven for sports lovers. Come to this place with your pals if you want to have some quality time while playing box cricket. Ease of booking, cooperative staff, and advanced technology are other notable features of Elite Indoor. Elite indoor can still be your option if playing rooftop cricket in karachi is in your mind.
Where: W38G+QW2, Federal B Area, Block 8, Gulberg Town
Timings:
11 am to 11 pm (monday to friday)
8 am to 11 pm (saturday & sunday)
Contact Number: 0335 2361184
2. Arena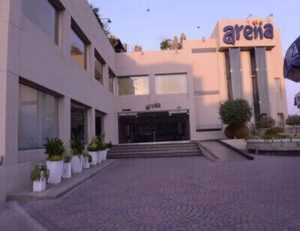 If you're searching for the ultimate recreational and sports complex in Karachi, look no further than Arena – the biggest of its kind in the city. Among its many attractions, the indoor box cricket facility stands out, boasting an artificial turf so smooth that it represents the experience of an international cricket match. So, whether you're looking to hone your skills or simply have fun, this is the place to pick.
Where: Habib Ibrahim Rehmatullah Road, Main Karsaz
Timings:
1 pm to 11 pm (monday to thursday)
12 pm to 11 pm (sunday)
Contact Number: +92 (21) 9924 5251 – 54
3. Cric Indoor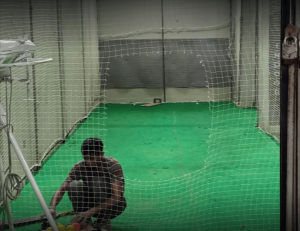 A small yet very good cricket space for the people of karachi. Choose cric indoor and polish your cricketing skills in the best environment and at a very reasonable price. One of the standout features of Cric Indoor is its highly responsive staff, who are always on hand to address any difficulties you may encounter promptly. Don't hesitate to check out Cric Indoor for an unforgettable cricketing experience. Well the opening hours are different every day. Found out about them below.
Where: 1st St, Sector 15-A, 1 Buffer Zone
Timings:
2 pm t o 12 am (monday to thursday)
4 pm to 12 am (friday)
12 pm to 2 am (saturday & sunday)
Contact Number: 0312 1051059
4. Indoor Cricket Hub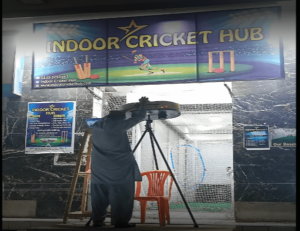 If you reside anywhere in Karachi, Indoor Cricket Hub in North Nazimabad should be on the top of your list. With an amazing location and atmosphere, this sports club provides sports enthusiasts in Karachi with an exceptional facility to play cricket and other games indoors. The fundamental services at Indoor Cricket Hub include clean drinking water, a washroom, floodlights, and artificial turf. Well, to know whether or not they offer rooftop cricket in Karachi, talk to them directly.
Where: Shop No. 2, Block M North Nazimabad Town
Timings: Call for info
Contact Number: 0335 3753543
5. Sports Time Out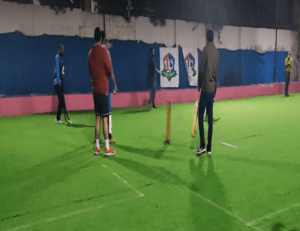 Don't miss out on the opportunity to play indoor sports with your squad at this state-of-the-art multi-sport turf. Its top-of-the-line location, views, and structure make it an unbeatable option. Whether you're looking to play cricket, tapeball cricket, football, futsal, volleyball, or other similar games, this turf has got you covered. However, keep in mind that this popular turf fills up quickly, so it's important to pre-book your slot well in advance.
Where: 14th St, D.H.A. Phase 4 Upper Gizri Defence Housing Authority
Timings: 9 am to 3 am (everyday)
Contact Number: Not Available
6. Maidaan – Multi Sports Field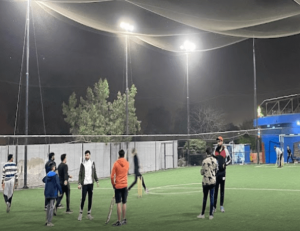 Located in the heart of Chunky Monkey DHA Phase 4, Maidan is a highly sought-after multi-sport venue in Karachi. With its exceptional maintenance, sturdy construction, and affordable pricing, this place offers all the essential amenities one would expect from an exceptional cricket or football facility. Overall, sports enthusiasts who have visited Maidan describe it as an ideal experience. The cooperative staff is a notable feature of this place.
Where: Nisar Shaheed Park Rd, D.H.A. Phase 4
Timings: Open 24 hours (everyday)
Contact Number: 0345 6243229
7. MDK Cricket Place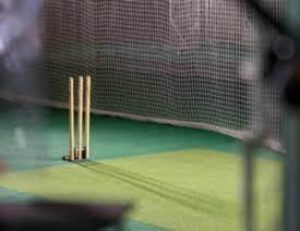 Let your inner cricketer unleash at this amazing indoor cricket venue in karachi. The place has got the best amenities, vibe, and services to make your experience outstanding. Not just this, but the exceptional services provided at this cricket venue will make your experience even more memorable. From helpful staff members to talented coaches, the team here is committed to ensuring your visit is fun, hassle-free, and smooth.
Where: 4 Gizri Rd, Navy Housing Society, Karachi
Timings: Not Available
Contact Number: Not Available
Become a Cricket Pro
So, Karachi surely has some great places where you can play indoor cricket and enjoy this lovely game to the fullest.
The places mentioned here have the best training facilities and atmosphere to make you a cricket pro!
Also Read: Rooftop Cricket in Islamabad