Islamabad, being the federal capital, has some architectural marvels that are to be proud of. These luxurious buildings are an attraction for everyone and a great place to have an exciting and fun-filled shopping experience. The malls in Islamabad house various retailers and top-notch brands offering a variety of choices.
Malls in Islamabad
Islamabad holds some of the most famous malls in the city and their unique designs and architecture fascinate everyone from locals to tourists. Let's check out the malls in Islamabad and what they have to offer.
| | | |
| --- | --- | --- |
| Malls in Islamabad | Contact Info | Location |
| Mall of Islamabad | 0314 4151673 | Jinnah Avenue, Blue Area |
| Giga Mall Islamabad | (051) 8491040 | Main G.T Road, DHA Phase 2 |
| Safa Gold Mall Islamabad | (051) 2656765 | Jinnah Super, F-7 Markaz |
| Centaurus Mall Islamabad | (051) 8483040 | Jinnah Avenue, F-8/4 |
| Amazon Outlet Mall Islamabad | 0343 2555555 | Main G.T Road, DHA Phase 2 |
| Olympus Mall Islamabad | 0332 8573972 | F-11 Markaz |
Mall of Islamabad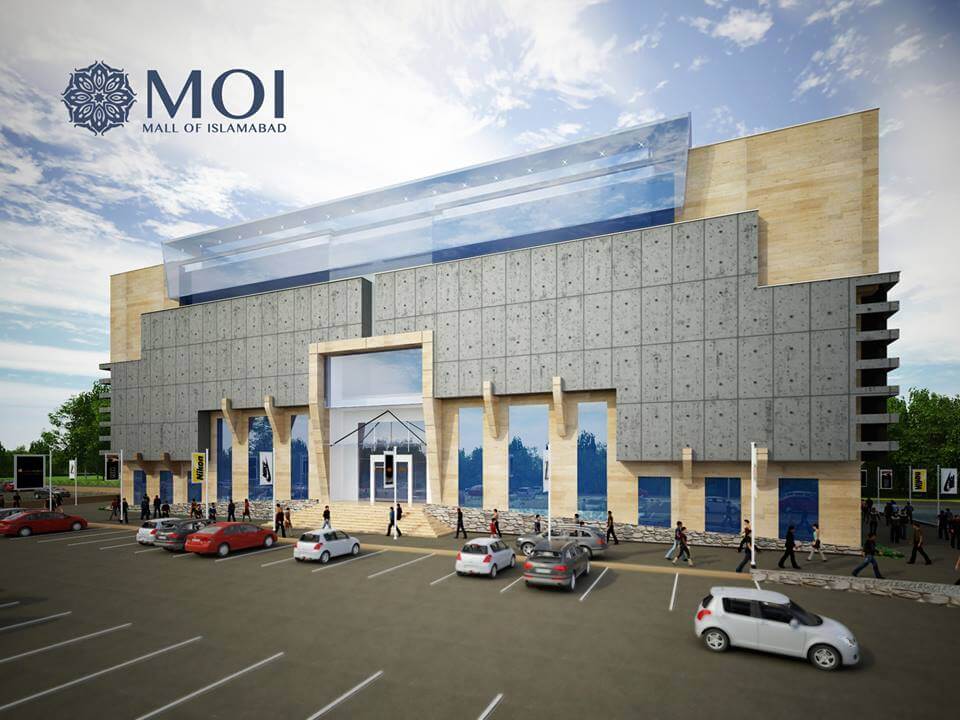 The Mall of Islamabad, also known as Park Lane Tower, is 20 floors luxurious multi-purpose mall that was launched in 2015. This mall features a Shopping complex, Food Courts, Corporate Offices, and luxury Residential Apartments. The project was presented by Bahria Town Pvt. Ltd. and construction was held by DASCON Construction Company. Mall of Islamabad is built at an ideal location on the main Jinnah Avenue in Islamabad. The mall comprises four sections:
Commercial and retail
Food court
Corporate offices
Residential apartments
The residential apartments placed on the top offer a scenic view of the lush green Margalla Hills. Its ideal location at the hub of Islamabad makes it a premium mall providing access to lavish experiences be it commercial, corporate, or residential.
Visitors can have their hands on the best shopping experience as the mall houses national as well as international branded outlets. The food area is a must, so the mall has reserved two floors for the food court and healthy cuisine alone. They have 40 luxury apartments divided into seven floors. These apartments comprise 1, 2, & 3 bedrooms. For the residents as well as the general public, they have a gym and spa. The lower ground floor also houses a hypermarket under the name of Green Valley.
Amenities
Spacious parking with 4 dedicated basement floors
Separate dedicated entrances
Health Club & Luxurious Spa
Infinity Sky Pool
Rooftop Restaurant
Advanced Security Infrastructure
For details regarding opening and closing timings of the Mall of Islamabad, contact: 0314 4151673
Location: Jinnah Avenue, Blue Area, Islamabad.
Giga Mall Islamabad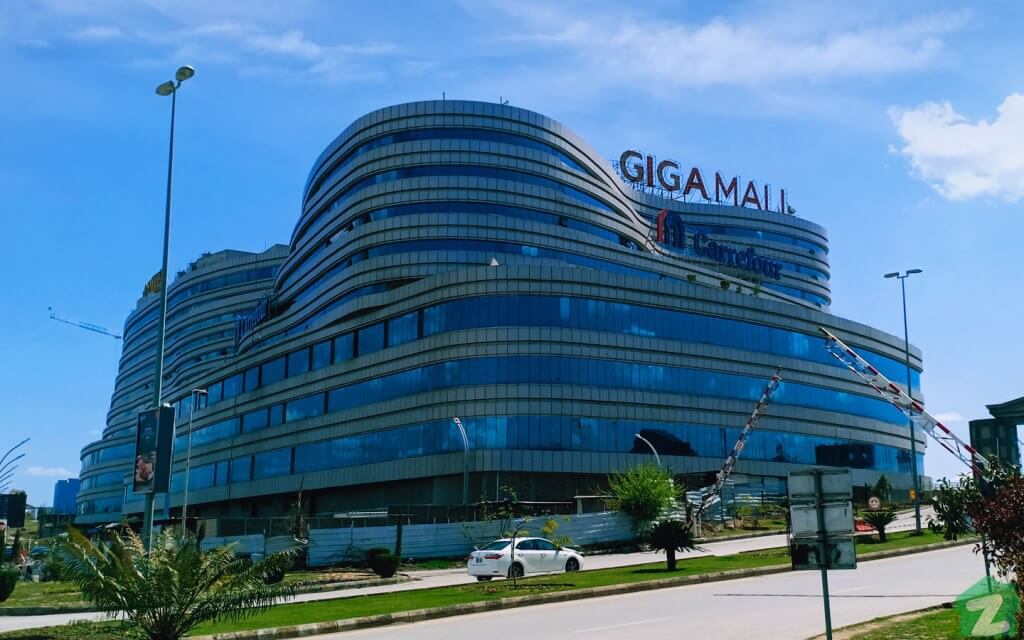 Giga Mall is a World Trade Centre and a one-stop shopping destination in Islamabad. It is the largest mall in Islamabad that was launched in 2016. It is an award-winning project and a premier destination for all explicit luxuries. It has kept the adrenaline level up and running for residents in the twin cities. Giga Mall has five levels and each level has a number of facilities for everyone. It has spacious parking space in the basement as well as outdoors.
Giga Mall gives its visitors an elite experience with world-class entertainment and leisure attractions to engage every age group. Mainly visited for an amazing shopping variety, the mall has more than 200 brands, both national and international. The lower ground level has Carrefour for all your grocery needs in one place.
Not only this, Giga Mall provides world-class entertainment. So reward your kids with exciting rides and games in the Fun City. The cinema displays the latest released movies and you can catch up with your friends and family at the food court located at the top level. The food court houses an array of cafes offering delicious cuisines along with open-air seating for a fresh and lively eating experience. Each year, the mall arranges fun and exciting events and activities for its visitors to make their experience worthwhile.
Amenities
Shopping
Food Court
Retail
Entertainment
Cinema
Events
For the latest updates on Giga Mall timings and upcoming events, contact: (051) 8491040
Location: Main G.T. Road, Defence Housing Authority, Phase 2, Islamabad.
Safa Gold Mall Islamabad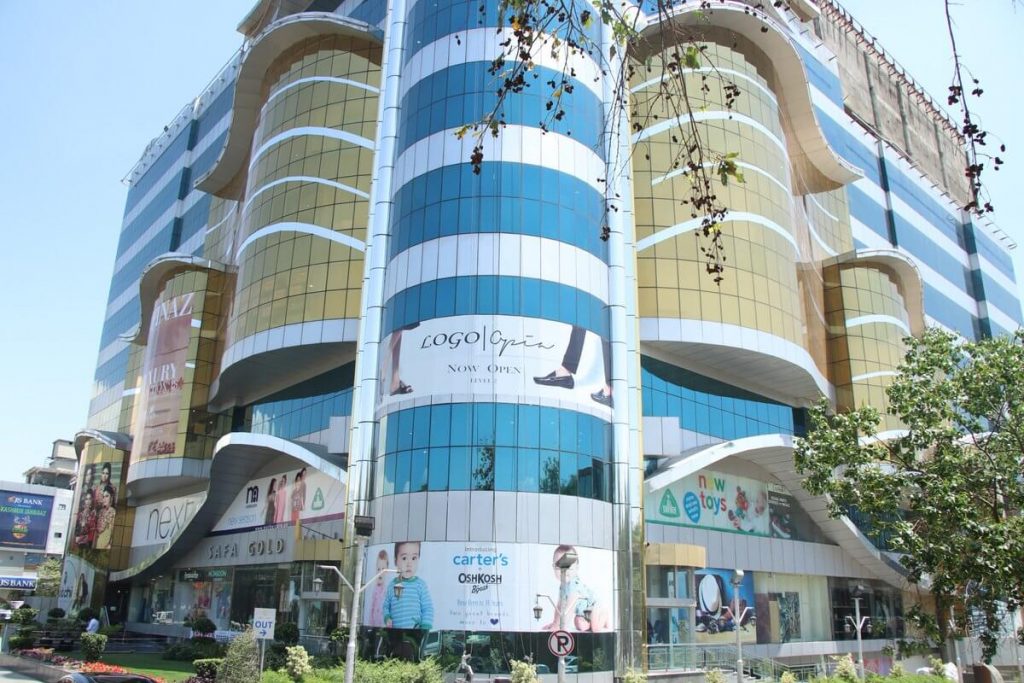 Safa Gold Mall is a place that offers every luxury. This multi-story building has everything for every visitor's need from shopping to health to a fitness club. It is located in the busiest area of the city making it easily accessible for the majority. Along with local visitors, the mall is also visited by esteemed foreign guests.
For the shoppers, Safa Gold Mall has more than 150 local and international brands for kids as well as adults. The collection and variety of apparel are up to the mark. It provides several opportunities for kids to enjoy in a safe environment while parents enjoy shopping. The mall also has furniture brands to shop authentic and quality stuff for your homes.
For fitness enthusiasts, Safa Mall offers a fitness club, a sauna bath, and a swimming pool. If you need a personal trainer, you can avail that facility as well. The multiplex cinema is another great opportunity to enjoy recently released movies in theater mode. Lastly, a mall is incomplete without a food court, therefore, Safa Mall has a variety of cuisines to treat every taste bud.
Amenities
Shopping
Leisure
Cinema
Prayer room
Entertainment
Swimming pool
Sauna
For details regarding opening and closing timings of the Safa Gold Mall, contact: (051) 2656765
Location: Jinnah Super, F-7 Markaz, Islamabad.
Centaurus Mall Islamabad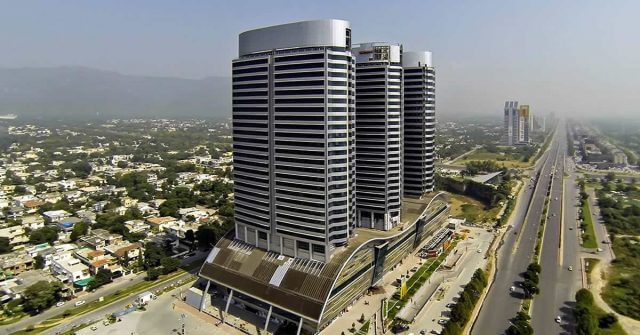 When you are crossing Jinnah Avenue, you must have seen three tall pillars with a wave-like structure just below them. This is The Centaurus Mall which is not only one of the biggest malls in Islamabad, but also home to major tourist attractions in the capital. The building comprises a 5 story shopping mall and 36 floors for a luxurious hotel, residential apartments, and corporate offices.
Located in the heart of the city, this architectural marvel has more than 200 leading national and international brands. This grand shopping mall is preferred by many people for the availability of each and everything from apparel, footwear, and accessories to toys, books, furniture, etc. It also has a grocery store under the name of Al-Fatah which has genuine and quality items.
The Centaurus Mall features open-air eating restaurants with magical views of the Hills along with Funcity for making a perfect time for kids to enjoy. It also has Cineplex which is one of the best cinemas in the country.
Amenities
Shopping
Food Court
Cineplex
Fun City
Wheel-chair assistance
Events
For details regarding opening and closing timings of The Centaurus Mall, contact: (051) 8483040
Location: Jinnah Avenue, F-8/4, Islamabad.
Amazon Outlet Mall Islamabad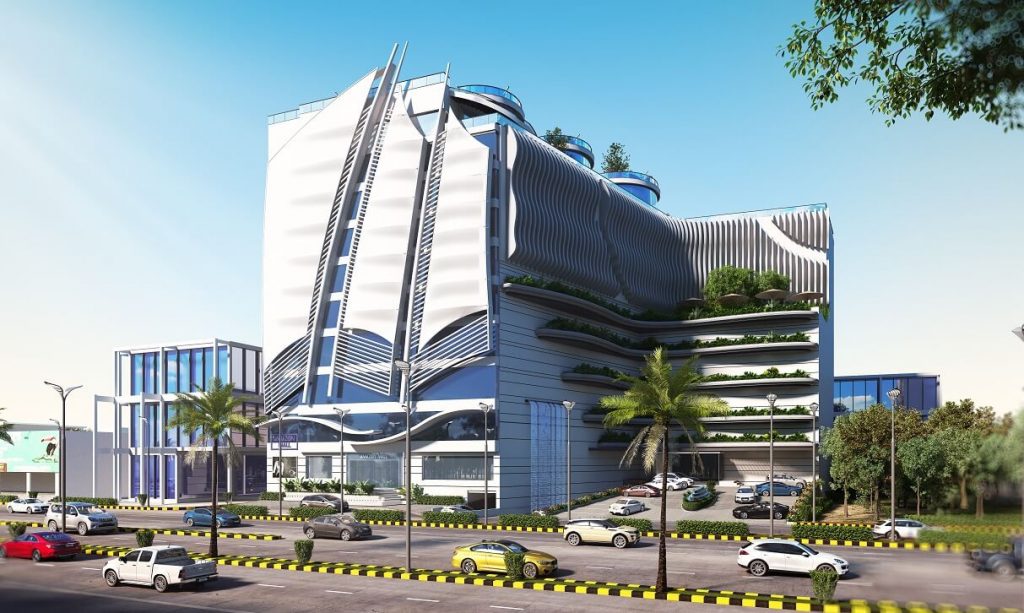 Amazon Outlet Mall is the ultimate shopping destination for shopping lovers. It houses discounted stores for incredible deals and factory outlet rates. It is Pakistan's first rainforest-themed mall inspired by Amazon Rainforest.
The mall is located on the main G.T road making it easily accessible to the passers. For fitness freaks, they have recently opened Amazon Active to reach fitness goals in an amazing environment. The designers of Amazon Mall fully understand the difficulty of carrying kids around while shopping, and therefore, they have allocated a separate floor for the kids' play area. It is a great place to shop stuff at all price points.
Amenities
Shopping
Children's floor
Fitness center
Basement parking
Food court
For details regarding opening and closing timings of Amazon Mall, contact: 0343 2555555
Location: Main G.T. Road, Defence Housing Authority, Phase 2, Islamabad.
Olympus Mall Islamabad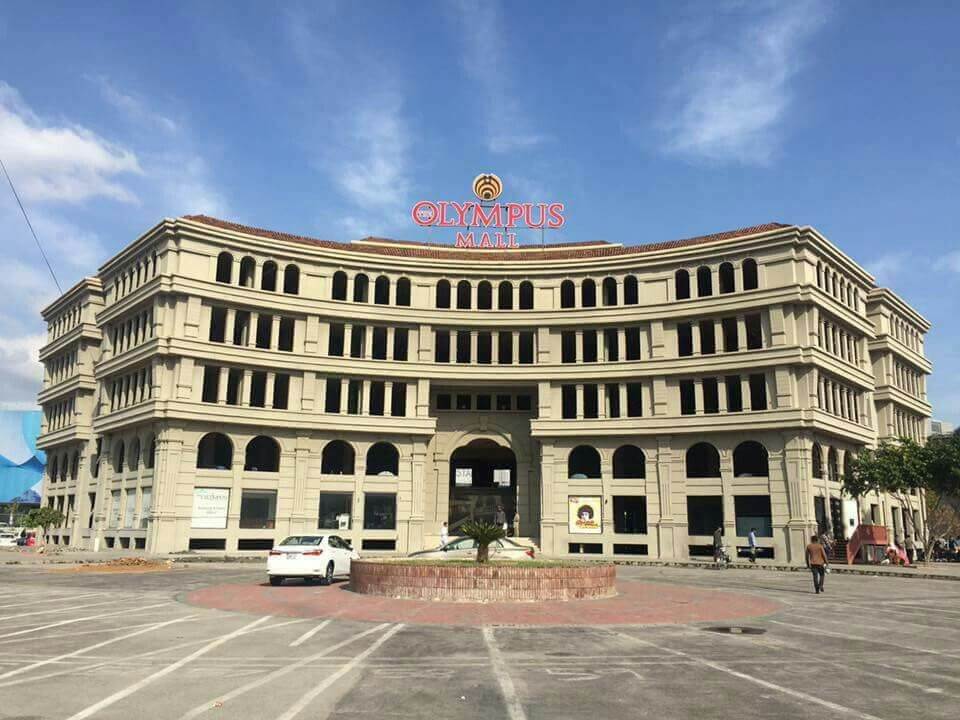 The Olympus Mall, located at F-11 Markaz, is another mall in Islamabad. The architectural structure is inspired by history and forms a curved structure, making it unique from other malls. This mall, though not fully functional, is home to various luxurious facilities.
The Olympus Mall attracts a lot of visitors for a unique shopping experience. It has a lot of branded outlets to shop from. Not just that, the mall has a food court with a number of options available and roof-top dining adds to the scrumptious meals. Like other malls, it also has a play area for children, so parents can enjoy shopping at peace.
Amenities
Designer & Branded Outlets
Food Court
Rooftop Restaurants
Play Area
State-of-the-art Security System
Two Basements Underground Parking
For details regarding opening and closing timings of Amazon Mall, contact: 0332 8573972
Location: F-11 Markaz, Islamabad.
Upcoming Malls in Islamabad
Till now, we have talked about the top 6 malls in Islamabad famous for shopping. The list does not end here. There are other malls that are in the phase of development and will be operational in the next few years. Their business plans have been laid out, funding has been completed, and they are in the phase of construction. So, let's talk about the upcoming malls in Islamabad. Each of them is based on a unique theme, aimed to deliver different purposes.
The Aquatic Mall
The Aquatic Mall is going to be Pakistan's first-ever marine-themed mall. This unique mall has the plan to house retail stores, the tallest aquarium, renowned fashion brands, apartments with in-built organic lawns, and an abundance of food and entertainment facilities. The construction of this mall has been started on the main G.T road outside DHA Phase 2.
Gulberg Mall & Signature Living
The main idea behind Gulberg Mall & Signature Living is to have aesthetically pleasing residential and commercial complexes. The mall will be in a cruise-shaped structure with high-end facilities and a shopping experience. As from its name, this mall will be located in Gulberg Greens.
Skypark One
Skypark One is another project of Gulberg Greens in Islamabad. It is a commercial and residential mixed mall. It is 70% complete and is expected to provide the facilities of a leading brand, food court, fully equipped gym, infinity pool, rooftop park, and 3-levels parking.
The Magnus Mall
The Magnus Mall is another project of the Gulberg Greens. It will be one of the biggest malls in Islamabad with astonishing architectural design. It is considered to be a mega commercial, corporate, and residential complex.
So, this marks the end of the list. We hope you have enjoyed this read.
Let's get to shopping!