On 14 October 2021, Pakistan's Special Technology Zones Authority (STZA) signed an MOU with MasterCard to develop the first cashless zone in the country.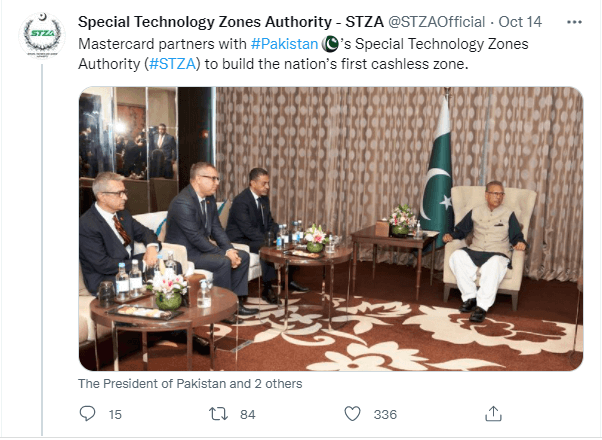 Through the agreement, Master Card aims to deploy smart-city solutions and improve Agritech (technology in agriculture) in the country. It also hopes to promote Artificial Intelligence, Cyber Security and support small and medium enterprises (SMEs).
The MOU was signed in UAE in accordance with the start of the Dubai Expo 2020. At the 2020 Expo, Dr. Arif Alvi, the President of Pakistan, had met with Khalid Elgibali, the Division President at MasterCard (for the Middle East and North Africa).  
According to Khalid Elgibali, the partnership will improve Pakistan's digital economy and will promote inclusivity. 
The strategic digital country partnership will introduce the latest digital payment solutions to improve cross-border payments and accelerate the flow of trade.
According to Arif Alvi, the President of Pakistan, the agreement with MasterCard is a great opportunity for economic growth, especially for our young generation. MasterCard will play a major role in developing the first cashless zone in Pakistan. He also added that the MOU will promote socio-economic growth and will uplift the technology sector of the country.