The Pakistan Meteorological Dept. (PMD) has predicted that the monsoon season will begin in late July and end in September.
While the temperature and rainfall predictions are mostly optimistic, high variations, climate change, and abrupt June weather may cause floods, above-normal temperatures, and heavy snowmelt.
As the 2022 floods covered 1/3rd of the country and caused 1,700 deaths, the 2023 monsoon might not be that different.
The 2023 Monsoon
Based on data from the month of May 2023, Met Office has predicted normal to slightly below-normal rainfall across the country in the coming season.
For Northern regions, a slightly above-normal rainfall has been predicted, while western parts of Balochistan are expected to receive near-normal rainfall.
As for seasonal temperatures, they are expected to remain within normal to higher-than-normal ranges across the country.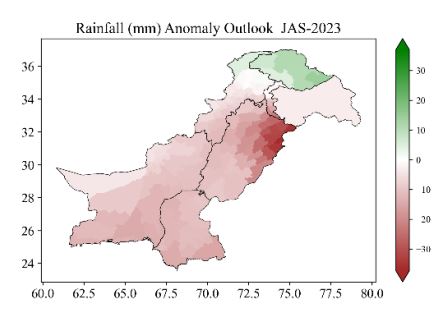 The map above shows expected rainfall across the country, with green regions receiving more while red receiving less rainfall.
Predicted Impact of the Monsoon
While the data suggest nothing out of the ordinary, the possibility of urban flooding, hill torrents, and flash floods due to isolated heavy downpours cannot be ruled out:
As the weather can take a drastic turn, the following events are expected:
Soaring temperatures in Gilgit-Baltistan, Upper KPK, and Kashmir
High snowmelt due to high temperatures
Increased water flow into rivers
USD 1.30 Billion Lost in 2022 Floods
The PMD has warned farmers to stay alert and plan water conservation for the Kharif season that is arriving.
During the devastating 2022 floods in Pakistan, the Sindh province alone lost USD 1.30 billion due to destroyed crops. Therefore, PMD has advised that farmers and government agencies plan accordingly to avoid the same fate this year.