There's no doubt that mountaineers are superhumans. Not only can they survive the extreme high altitudes physically but also mentally. These strenuous treks have made them physically strong to tackle the harsh climate, weather conditions and surpass any peak or trek.
Pakistan, a country with 10 mountain ranges, and the most famous of them Karakoram and Himalayas-Mountain-Range. Home to the world's most difficult mountains to ascend The K-2 and Nanga Parbat.
compared to the mountainous terrain and mountain ranges, unfortunately Pakistan has a very few Mountaineers who have passion for climbing mountains and surpassing the mountains which no one can.
Here's a list of Pakistani Mountaineers we've compiled:
Ali Sadpara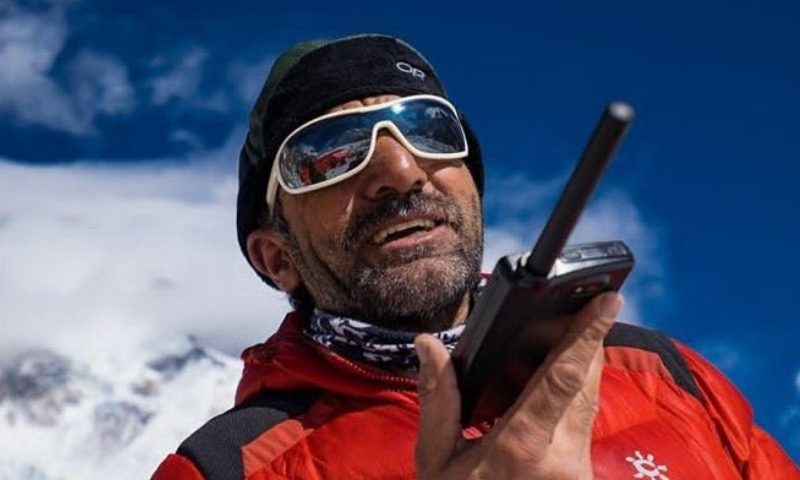 Muhamad Ali Sadpara (born February 2nd, 1976)(went missing on February 6th, 2021) is a Pakistani mountaineer. He was part of the team that successfully achieved the first-ever winter summit on Nanga Parbat in 2016. Both his teammates, Alex Txikon and Simone Moro, have gone on record stating that they could not have done it without Sadpara's brilliance. He had successfully climbed four eight-thousanders in a calendar year and a total of eight in his career.
Sadpara and his son, Sajid Sadpura, who climbed K2 in 2019, teamed up with Icelandic mountaineer, John Snorri and Chilean mountaineer, Juan Pablo Mohr Prieto for a joint K-2 Winter 2021 mission on February 5th 2021. Sajid had to come back because of a technical issue leaving the others at the Bottleneck, close to the summit. His father, Snorri and Mohr kept climbing up, but they didn't come back by night, as programmed. A rescue mission with two army helicopters was organized on February 6th. Unfortunately, the three climbers are still missing.
Mountaineering experience
He has climbed 8 of 14 Eight-thousanders. His first climb was Gasherbrum II in the Karakoram.
List of mountains climbed:
Gasherbrum II (Pakistan) in 2006
Spantik Peak (Pakistan) in 2006
Nanga Parbat (Pakistan) in 2008
Muztagh Ata (China) in 2008
Nanga Parbat (Pakistan) in 2009
Gasherbrum I (Pakistan) in 2010
Nanga Parbat First Winter Ascent (Pakistan) in 2016
Broad Peak (Pakistan) in 2017
Nanga Parbat First Autumn Ascent (Pakistan) in 2017
Pumori Peak First Winter Ascent (Nepal) in 2017
K2 (Pakistan) in 2018
Lhotse (Nepal) in 2019
Makalu (Nepal) in 2019
Manaslu (Nepal) in 2019
Samina Baig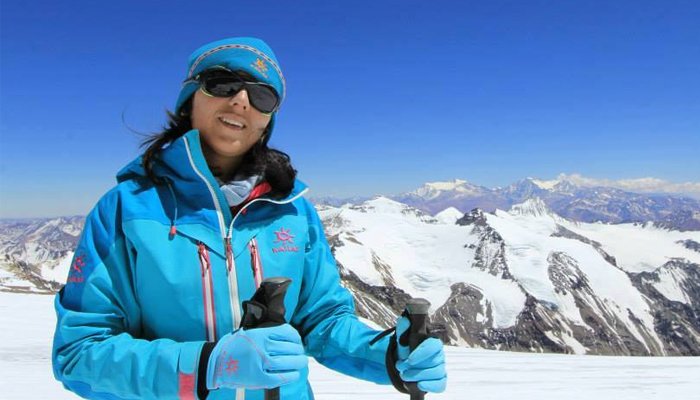 Samina Khayal Baig is a Pakistani high-altitude mountaineer who in 2013 climbed Mount Everest and then all Seven Summits by 2014. She is the first Pakistani woman to climb Everest and the Seven Summits. She is also the first and youngest Muslim woman to climb Mount Everest, having done so at the age of 21
Samina was the first to climb the peak Chashkin Sar (above 6,000 meters) in Pakistan in 2010, which was later renamed Samina Peak after her. She reached the summit of 'Koh-i-Brobar' ('Mount Equality') in 2011. An attempt at the seven-kilometer high Spantik Peak ended in failure for Baig, due to adverse weather conditions.
Nazir Sabir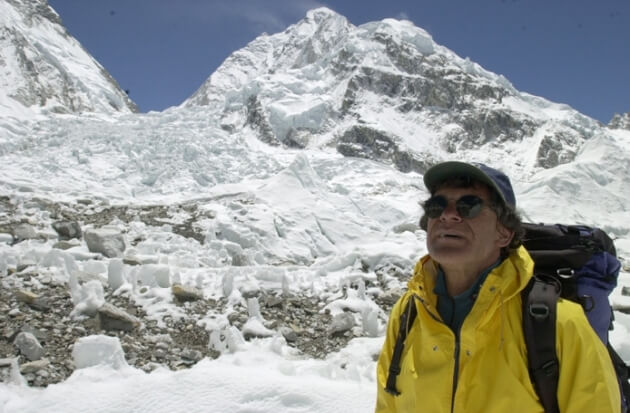 Nazir Sabir is a Pakistani mountaineer born in Hunza. He has climbed Mount Everest and four of the five 8000 m peaks in Pakistan, including the world's second-highest mountain K2 in 1981, Gasherbrum II 8035m, Broad Peak 8050m in 1982, and Gasherbrum I (Hidden Peak) 8068m in 1992. He became the first from Pakistan to have climbed Everest on 17 May 2000 as a team member on the Mountain Madness Everest Expedition led by Christine Boskoff from the United States that also included famed Everest climber Peter Habeler of Austria and eight Canadians.
Mirza Ali Baig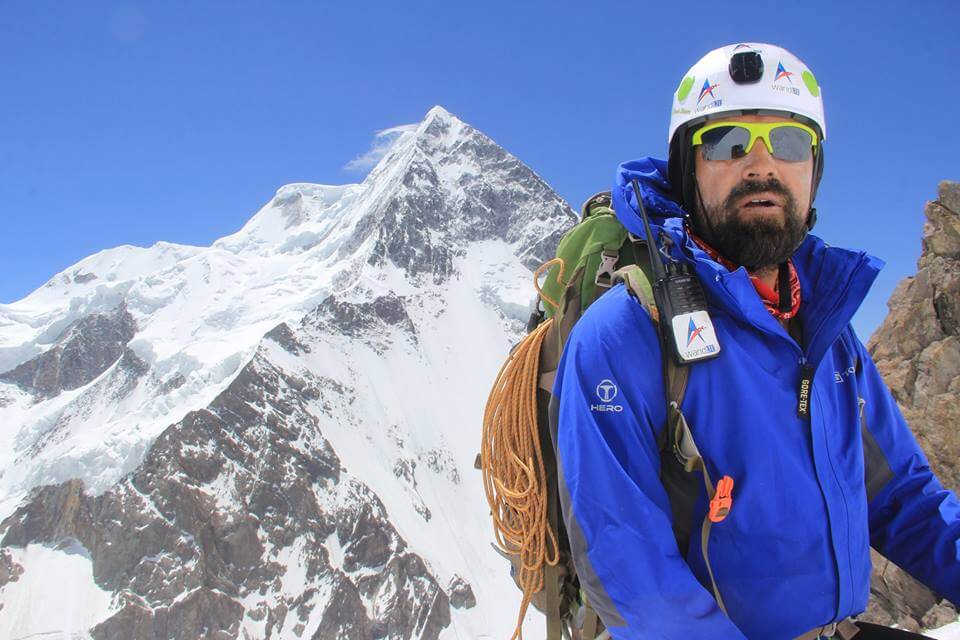 Mirza Ali Baig is a Pakistani high-altitude mountaineer and the first Pakistani man to summit all seven highest peaks in seven continents. Also, Mirza is a professional tourism expert, he is the pioneer who introduced extreme sports to women in Pakistan and made several documentaries related to extreme adventure in Pakistan particularly women in mountaineering and outdoor.
After Everest expedition for Gender equality and women empowerment, he created yet another project 7 Summits 7 Continents. For Adventure diplomacy, connecting people through Mountains, thus Mirza could bring 5 embassies together to be support group as "Adventure Diplomacy Support Group" Mirza Ali went on this Diplomacy expedition with his sister to conquer the 7 highest peaks in 7 continents and within eight months Samina Baig conquered all 7 Mountains while Mount Everest remains to be conquered by Mirza Ali, If Mirza Ali conquers Mount Everest they going to be the first siblings accomplish this feat. Mirza Ali is trying to show positive face of Pakistan and brave face of Pakistani women.
Hassan Sadpara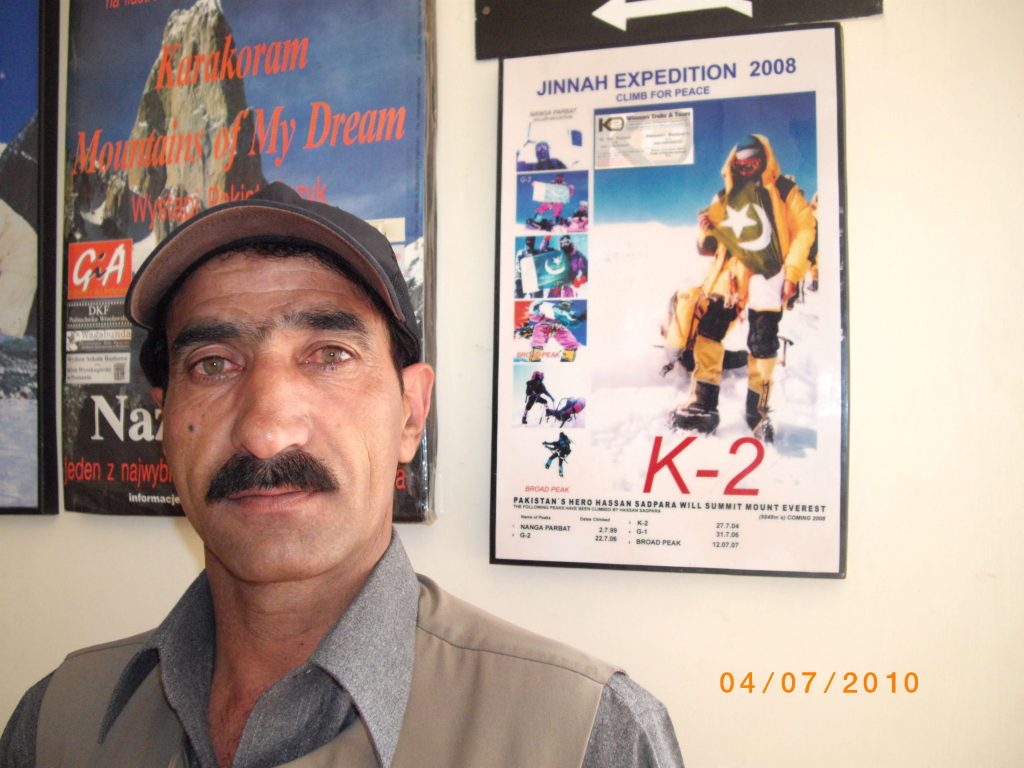 Hassan Sadpara (April 1963 – 21 November 2016) was a Pakistani mountaineer and adventurer from Skardu in Gilgit-Baltistan, Pakistan. He is the first Pakistani to have climbed six eight-thousands including the world's highest peak Everest (8848m), K2 (8611m), Gasherbrum I (8080m), Gasherbrum II (8034m), Nanga Parbat (8126 m) and Broad Peak (8051m). He is also credited for summiting five of the eight-thousands without using supplemental oxygen. Contrary to initial reports, Hassan Sadpara clarified that he used supplemental oxygen during his Everest ascent due to bad weather. He died due to cancer on 21 November 2016 in Rawalpindi, Pakistan.
List of mountains climbed:
K2 (8611m) on 27 July 2004
Nanga Parbat (8126m) on 2 July 1999
Gasherbrum I (G-1) (8080m) in 2006
Broad Peak (8051m) in 2007
Gasherbrum II (G-2) (8034m) in 2006
Mount Everest (8848m) on 11 May 2011