High-profile celeb weddings have always been a hot topic of discussion in our country. As the new year has just started, let's reflect back on all the spectacular wedding ceremonies that took place last year.
Pakistani Celebrity Weddings in 2022
It wouldn't be wrong to call 2022 the year of celebrity weddings. Here's a list of all the celebrities that said 'Qubool hay' In 2022.
Saboor Aly and Ali Ansari
Haris Rauf and Muzna Masood
Sehar Hayat and Sami Rasheed
Kanwal Aftab and Zulqarnain Sikander
Hiba Bukhari and Arez Ahmed
Minna Rubina Tariq and Imran Sheikh
Mariam Nafees and Amaan Ahmed
Mehar Bano and Shahrukh Kazim Ali
Saboor Aly and Ali Ansari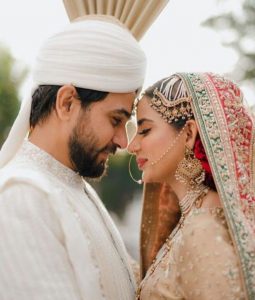 Although most celeb weddings turn out to be love marriages, a handful chose to pass on the responsibility to their family and let them do the search. Saboor Aly and Ali Ansari are also among them. As per sources, Ali Ansari's sister, Mariam Ansari, picked Saboor for her brother. In one tv show, she said that she had been wooing Saboor for her brother for more than seven years. Indeed, Saboor and Ali are now the super cute Jodi in Pakistan. They are also often seen offering a bunch of couple goals to the audience.
Haris Rauf and Muzna Masood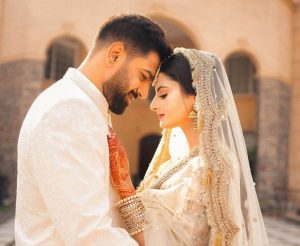 Haris Rauf, a lauded bowler, shocked the netizens when he announced his engagement to Muzna Masood Malik, a social media influencer. Rauf wore an ivory sherwani on the wedding day and invited only close friends and family. The bride, on the other hand, opted to wear a dress with muted tones and embellishments from the most recent wedding collection by Hussain Rehar.
Sehar Hayat And Sami Rasheed
A prominent Pakistani tikokter, Sehar Hayat also chose the year 2022 to marry the love of her life. She married the singer Sami Rasheed after appearing in one of his music videos. Their wedding ceremony was intimate with a lot of their dear ones. The duo also had an extremely colorful Ubtan, which other TikTokers attended.
Kanwal Aftab and Zulqarnain Sikander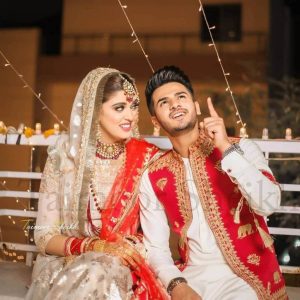 Kanwal Aftab and Zulqarnain Sikandar also tied the knot in 2022. In a spectacular ceremony that was attended by their family and tiktoker friends, the pair said "qabool hai." It is worth noting that people had been speculating about their marriage for quite some time, as they had been seen on numerous occasions together.
Hiba Bukhari and Arez Ahmed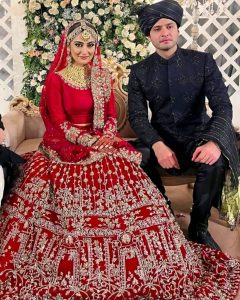 Hiba and Arez kicked off the wedding season with a small yet elegant wedding ceremony in Bhawalpur. Like many other celebrity couples, this couple also didn't invite any celebrity friends and co-stars and kept the wedding small. Hiba Bukhari is renowned for her flawless portrayal of Nageen in the GEO TV drama Deewangi. While Arez Ahmed also performs admirable roles in Pakistani films and television.
Minna Rubina Tariq and Imran Sheikh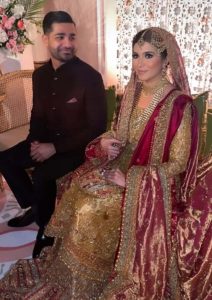 The daughter of veteran TV actress Rubina Ashraf tied the knot with the love of her life on January 13, 2022. This was a lovely modest daytime Nikkah ceremony, and both the bride and groom looked stunning. Their stunning photographs also quickly went viral as a result of this. Also present on the occasion were Waseem Abbas, Behroze Sabzwari, and Saba Hameed. Besides that, the ruswai actress wore a heavily embellished silver lehenga and got her makeup done by a renowned makeup artist, Omayr Waqar.
Mariam Nafees and Amaan Ahmed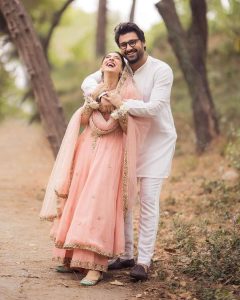 Mariyam Nafees, a model-turned-actress, wed her beloved in a stunning wedding ceremony in Swat. The nicest part of her wedding was that she didn't wear a pricey designer outfit; instead, she wore a custom-made dress that she crafted herself with the assistance of her sister. Her wedding date was 25th March 2022.
Mehar Bano and Shahrukh Kazim Ali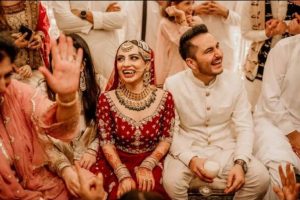 The bold and confident actress of the Pakistani TV industry, Mehar Bano tied the nuptial knot with her best friend Shahrukh Kazim Ali in October 2022. The 'Qaatil Haseenaon Ke Naam' actress looked like a fairy in her stunning bridal outfit and heavy gold jewelry. For her cosmetics, she chose a peachy lip color and a light gold eyeshadow.
So these were the top eight celebrities who had said "Qubool Hai" to the love of their life in 2022. If you liked the post, please tell us in the comment section below.