Movies have become a part of our culture. From watching movies online to visiting cinemas at events, movies add to the fun and are great ways to make memories with friends and family.
Like every year, movie fans can watch action-packed and comedy movies at Cinema this Eid ul Azha.
To make sure you can book your tickets on time, here is all the info you will need.
Here is a list of Pakistani movies that will be released this Eid-ul-Azha. We have added the release dates, plot summaries, and trailers so you can easily pick the right one.
Release Date: 10 July 2022
Plot Summary: The movie revolves around a morally askew and devilishly handsome cop (Fahad Mustafa), and a strong, social activist (Mahira Khan).
The movie is a light take on corruption and how changing the system can lead to consequences.
The movie takes lots of twists and turns, and with superb stunts, the movie will surely keep you on your toes.
Trailer
Here is the trailer of the movie "Quaid e Azam Zindabad:
Release Date: 10 July 2022
Plot Summary: A girl finds out that her hometown is not London but a town in Pakistan where her maternal side of the family lives. She visits Pakistan to find answers to all her questions.
When she comes back to London she discovers her feelings for her cousin.
Will she go back? Will her cousin come after her to London? Will he break his promise and go to London to bring his love back? Watch the movie to find out!
Trailer:
Here is the trailer of the upcoming movie "London Nahi Jaunga":
3. Lafangay
Release date: 10 July 2022
Plot Summary: 4 people who aspire to achieve success in life but have no plans, spend a night inside a haunted house. They encounter supernatural experiences that are horror and humorous. 
Is the house really haunted or is it a plot to scare them away? Find out, in cinemas this eid.
Trailer
Here is the trailer of the upcoming movie "Lafangay":
https://www.instagram.com/tv/CfUjI4VISUO/?utm_source=ig_web_copy_link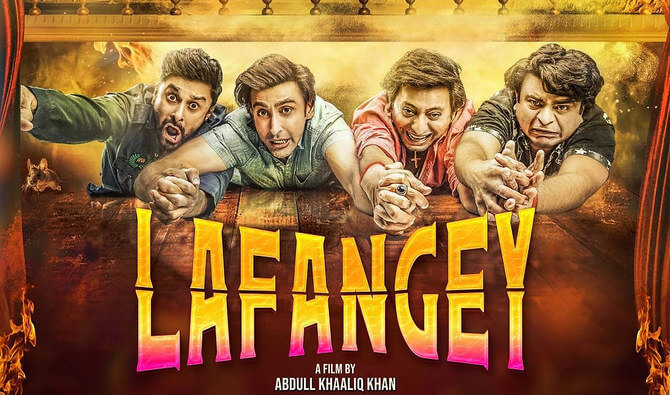 Book Your Tickets in Advance!
London Nahi Jaunga is a subtle romantic comedy that you can enjoy with your friends and family on Eid.
On the other hand, Quaid e Azam Zindabad is an action-based comedy which is great if you want to watch a movie with a message!
If you want to watch something completely new, watch the horror-comedy Lafangey and you will surely have a great time.
Do check out the above movies to support the local film industry and to appreciate their hard work and struggles!