The Pixel Buds Pro, Google's new wireless earbuds, were unveiled during the company's Google I/O event.
With a starting price of $199, the Google Pixel Buds Pro are Google's most expensive wireless earbuds, but they won't be replacing the $99 Pixel Buds A-series. They are helpful devices that allow a hands-free experience with Google Assistant for tasks that traditionally require the use of a phone, such as providing walking directions and translating spoken words, are being marketed by Google as Pixel Buds.
The Pixel Buds Pro, a direct competitor to Apple's AirPods Pro, features active noise canceling, a transparent mode, multi-point Bluetooth connectivity, and an IPX4 water resistance classification.
The carrying case appears almost comparable to that of the 2020 Pixel Buds, and the Pro earbuds will be available in charcoal, fog, lemongrass, and coral. With the new Pixel Buds, you'll notice a greater number of microphone inlets on the outside, and they're designed to sit deeper in your ear canal than the previous Pixel Buds.
Pixel Buds Pro are designed to instantly switch between your most frequently used Android devices without requiring you to enter any Bluetooth settings, just like the AirPods Pro. The Pixel Buds offer Bluetooth multipoint, allowing you to simultaneously connect to two audio sources, in addition to this supposedly "intelligent" switching of audio sources.
Battery life for the Pixel Buds Pro is expected to be remarkable, according to Google's predictions. It's claimed that the headphones can be used for seven hours with active noise cancellation enabled and 11 hours when it's turned off.
When it comes to phone calls, the Pixel Buds Pro is said to work very well thanks to noise cancellation that eliminates external disturbances like wind and traffic. Both the earphones and their casing are rated IPX4 for water resistance, which makes them appropriate for exercising.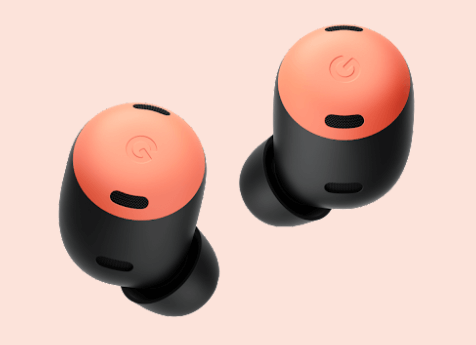 Pixel Buds Pro Specs: Summary
Audio driver: 11mm with active pressure relief
Eartips: "Moldable"
Connection: Bluetooth 5.0 with Multipoint support
Chip: Custom six-core audio processor
Battery life (Earbud): 11 hours without ANC, 7 hours with ANC
Battery life (Earbud + Case): 31 hours without ANC, 20 hours with ANC
Spatial Audio: Coming with an update
Active Noise Cancellation: Yes
Colors: Charcoal, Fog, Lemongrass, Coral
Water resistance: IPX4 earbuds, IPX2 case
Charging: Qi or USB-C
Price: $199
Pixel Buds Pro will be available to pre-order starting July 21st.
Great Sound, All Around!