PTA's Complaint Management System is a newly launched user-friendly mobile app for telecom consumers.
PTA has an online portal for the citizens of Pakistan to register a complaint against various telecom services. Now, PTA has launched a mobile app that will serve the same purpose at your ease.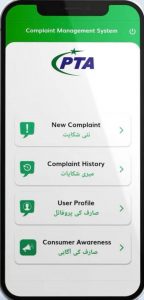 Pakistan Telecommunication Authority has launched a mobile app under the name "PTA CMS". This Complaint Management System will facilitate telecom users and has the following features:
Complaint registration against various services
Tracking of the same complaint
Feedback on the complaint
History of complaints
Consumer awareness on different issues
The type of complaints that can be registered through this app can be against the telecom services offered by various services providers, mobile registration/DIRBS, internet content, stolen mobile handset/IMEI, etc.
PTA demonstrates a commitment to innovation and deep concern for the consumers' needs by providing progressive solutions. Users can now lodge a complaint through this mobile app anywhere and anytime.
The mode of language is English and Urdu making it a user-friendly mobile app easily understandable by everyone. The app is compatible with iOS and Android.