It's not every day that you get to see major planets together in the sky, right! On June 17th, 5 planets will be seen aligned in the sky. The planets that will align in a rare occurrence include:
Saturn
Neptune
Jupiter
Mercury
Uranus
You will be able to see the alignment on the morning of June 17th, before sunrise.
During an alignment, multiple planets appear very close to each other in the sky, and it appears as if they are in a line.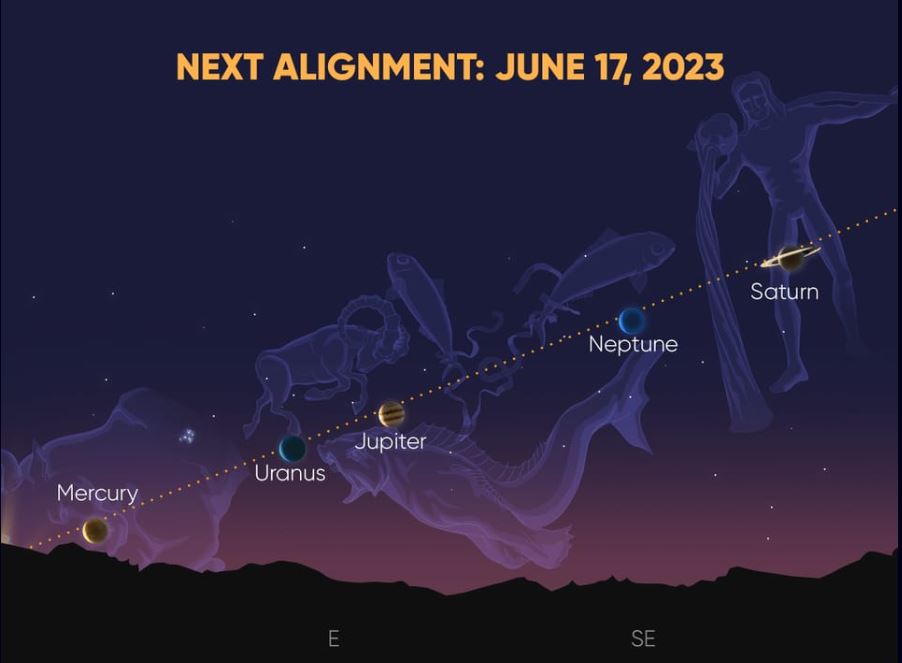 What is a Planetary Alignment?
A Planetary Alignment is an event when several planets gather closely on one side of the Sun at the same time and appear to be aligned in the sky to a viewer on Earth.
These events are a rare spectacle and shouldn't be missed. Some planets in an alignment can be seen with the naked eye, while planets further from the Earth require the use of a binocular or a telescope.
How to See the Alignment in June?
If you want to see the planets align, you will have to wake up before sunrise. An hour early would be good enough. Use an app like Star Walk 2 or Sky Tonight to locate planets in the sky.
Using the above apps is super easy, and you can quickly get started without assistance.
To view the June 17th alignment, you can start looking an hour before sunrise. You can check the sunrise time for your area, as it would be different based on your location.
It is worth noting that the alignment in June is a great planetary alignment as it will showcase 5 planets together.
Note: Depending on your location, and weather, you might not be able to see alignment on June 17th, but you can keep an eye on the sky a few days before and after the alignment to make the most of the event.