Last weekend, Taylor Swift fans in Seattle took her hit song "Shake It Off" quite literally, causing seismic activity equivalent to a 2.3-magnitude earthquake, according to seismologists.
The concert, part of her Eras tour, drew around 70,000 attendees, resulting in vibrations recorded by nearby seismometers. The event has been playfully dubbed the "Swift Quake."
The seismic data indicated a maximum ground acceleration of approximately 0.011 meters per second squared.
Seismologists use acceleration to measure ground vibrations, which are then translated into the Richter scale, commonly used to gauge earthquakes.
While seismometers can detect various types of ground vibrations, the magnitude of the "Swift Quake" has drawn comparisons to the 2011 "Beast Quake".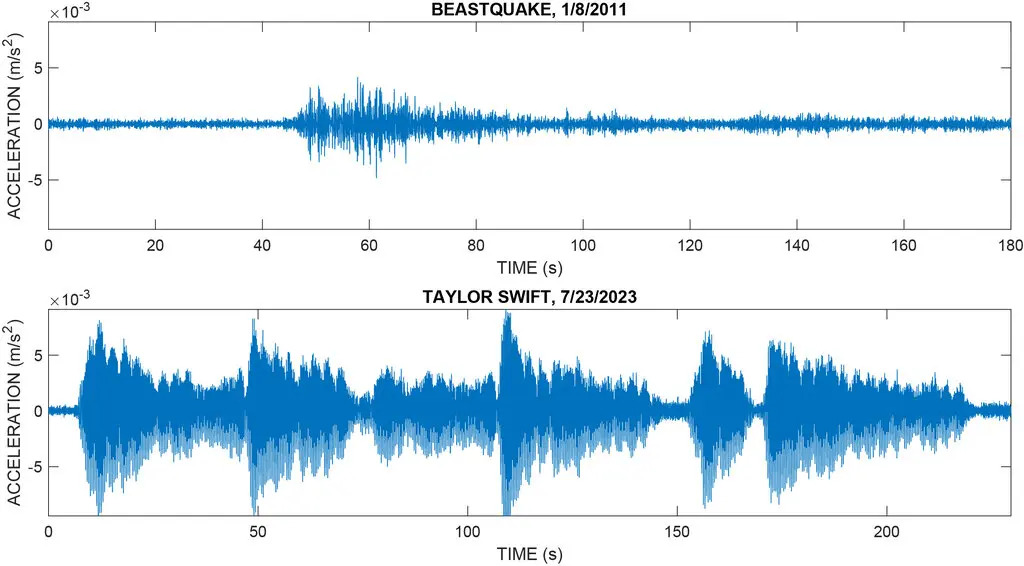 Image Credit: NYTimes
Earlier Quakes at Concerts
The "Beast Quake" was caused by Seattle Seahawks fans celebrating Marshawn Lynch's last-minute touchdown during an NFL game.
However, the Taylor Swift concert's shaking was even more intense, approximately twice as strong, and lasted longer, making it a remarkable occurrence.
Dr. Jackie Caplan-Auerbach, a geology professor at Western Washington University, analyzed the data from both nights of the concert and noted that the patterns of signals were nearly identical.
Over the two nights, a total of 144,000 fans attended the sold-out shows, setting a new seismic activity record for concerts in Seattle.
Seismic waves, typically used to study natural phenomena such as landslides, ocean weather, and glaciers, now revealed an intriguing aspect of human activities.
Concerts, with thousands of enthusiastic fans dancing in sync, have the potential to induce significant vibrational forces on the ground, leading to detectable seismic events.
As high-precision seismic instrumentation improves, we might expect to hear of more such social events being detected in the future.
The "Swift Quake" remains a fascinating reminder of the power of music and collective enthusiasm, leaving its mark on both the concertgoers' memories and the seismological records.